Steven Universe
Season 1
Steven Universe
Season 1
First Air Date: November 04, 2013

| | | |
| --- | --- | --- |
| First Aired on | : | 2013 |
| Episodes | : | 49 episodes |
Episodes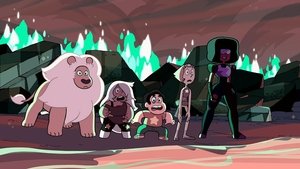 1x49 Jail Break (March 12, 2015)
---
Trapped on Peridot's ship, Steven attempts to rescue the Gems from the Homeworld's clutches, including two Gems named Ruby and Sapphire.
---
1x48 The Return (March 12, 2015)
---
Peridot and her new partner, Jasper, arrive on Earth.
---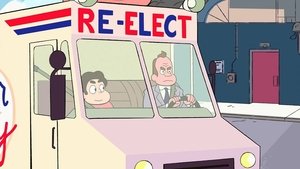 1x47 Political Power (March 11, 2015)
---
The Gems cause a power outage in Beach City, and Steven helps Mayor Dewey with damage control.
---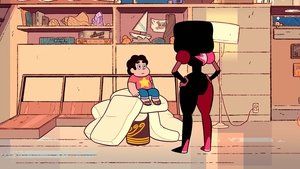 1x46 The Message (March 10, 2015)
---
Steven and the Gems need Greg's help to retrieve a message from the Wailing Stone.
---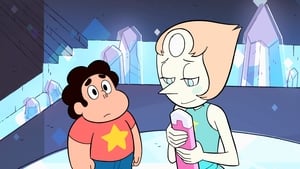 1x45 Rose's Scabbard (March 09, 2015)
---
Pearl takes Steven to a special place that belonged to Rose Quartz after Lion finds the scabbard for Rose's sword.
---
1x44 Marble Madness (March 05, 2015)
---
When several droids from space descend towards warp pad zones, Steven and the Gems attempt to track down their purposes.
---
1x43 Maximum Capacity (February 26, 2015)
---
While cleaning out Greg's storage unit, Greg and Amethyst are reunited with their favorite sitcom Li'l Butler.
---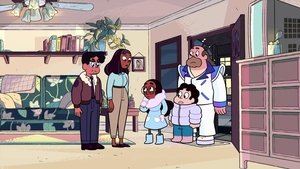 1x42 Winter Forecast (February 19, 2015)
---
Steven has to take Connie back to her home before a blizzard hits Beach City, and Garnet shows him some outcomes before they leave.
---
1x41 Horror Club (February 12, 2015)
---
Steven goes to the lighthouse to watch scary movies with Ronaldo, Lars and Sadie.
---
1x40 On the Run (February 05, 2015)
---
Steven and Amethyst try life out on the road. During so, Amethyst reveals a dark secret about herself and the Gems to Steven.
---
1x39 Future Vision (January 29, 2015)
---
Steven learns that Garnet can see into the future and becomes paranoid about the possible dangers around him.
---
1x38 The Test (January 22, 2015)
---
Steven finds out that the Lunar Sea Spire mission from the third episode was a test and demands a new one.
---
1x37 Alone Together (January 15, 2015)
---
While practicing how to fuse with Gems, Steven accidentally fuses with Connie, forming a half-human and half-Gem, human fusion called Stevonnie.
---
1x36 Warp Tour (January 08, 2015)
---
Steven becomes uneasy after seeing an unknown object traversing through a warp stream, despite the Gems' attempts to disprove his claims.
---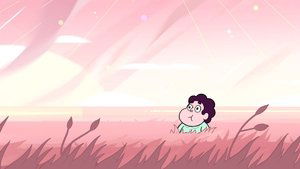 1x35 Lion 3: Straight to Video (December 04, 2014)
---
Lion keeps lying on Steven's face while he's sleeping. This leads to Steven discovering a pocket dimension in Lion's mane.
---
1x34 Watermelon Steven (November 20, 2014)
---
Steven grows a patch of watermelons shaped like himself, but they soon come to life and attack people.
---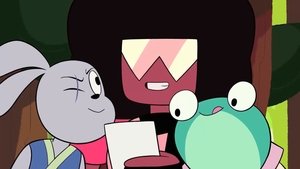 1x33 Garnet's Universe (November 13, 2014)
---
Steven interprets what Garnet did during the day after a recent mission.
---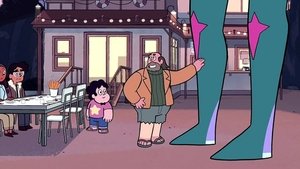 1x32 Fusion Cuisine (November 06, 2014)
---
Steven asks the Gems to fuse together and pretend to be his mother at dinner with Connie's family.
---
1x31 Keep Beach City Weird! (October 30, 2014)
---
Steven is taken in by Ronaldo's conspiracy theories about paranormal occurrences in Beach City.
---
1x30 Island Adventure (October 23, 2014)
---
Steven tries to mend Lars' and Sadie's friendship by taking them on vacation to a magical beach.
---
1x29 Secret Team (October 16, 2014)
---
After they accidentally pop a bubble containing gem shards, Steven, Amethyst and Pearl form a secret team to retrieve the shards before Garnet finds out.
---
1x28 Space Race (October 09, 2014)
---
Steven, Pearl and Greg work together to build a spaceship so that Pearl can revisit the wonders of the cosmos, but Pearl gets a little carried away.
---
1x27 House Guest (October 02, 2014)
---
Left homeless and with a broken leg after the events of the previous episode, Greg stays with Steven and the Gems as a temporary house guest and unintentionally interferes with Steven's healing powers.
---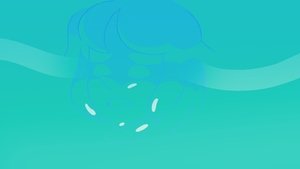 1x26 Ocean Gem (September 25, 2014)
---
Lapis Lazuli disappears after reigniting a past conflict with Garnet, Amethyst and Pearl, and takes the ocean along with her, leaving Beach City in a panic on the first day of summer. Steven, Connie, Greg, Lion and the Gems go on a mission to confront Lapis and set things back to normal.
---
1x25 Mirror Gem (September 25, 2014)
---
Steven befriends a magical mirror that can mysteriously communicate with only him and ends up setting free its trapped inhabitant, a Gem named Lapis Lazuli.
---
1x24 An Indirect Kiss (September 18, 2014)
---
Steven tells Connie about his mission with the Gems to heal Amethyst after she cracks her gemstone.
---
1x23 Monster Buddies (September 11, 2014)
---
Steven attempts to tame a monster's wild form when he accidentally releases it from its gem bubble.
---
1x22 Steven and the Stevens (September 04, 2014)
---
Steven needs a musical partner for an upcoming show, so he uses a time travel device to recruit himself as the perfect bandmate.
---
1x21 Joking Victim (August 28, 2014)
---
Steven works at the Big Donut when Lars leaves Sadie with all the work.
---
1x20 Coach Steven (August 21, 2014)
---
Against Pearl's wishes, Steven becomes determined to get stronger after watching Garnet and Amethyst fuse into the mighty Sugilite.
---
1x19 Rose's Room (May 14, 2014)
---
Steven's desire for some alone time unlocks a new room in the Temple that answers his every wish.
---
1x18 Beach Party (April 30, 2014)
---
After a battle damages the Fish Stew Pizza sign, the Gems are banned from the restaurant, so Steven throws a cookout on the beachside to mend the relationship between the Pizza family and the Gems.
---
1x17 Lion 2: The Movie (April 23, 2014)
---
Steven and Connie try to ride Lion to the movie theater, but Lion has other plans.
---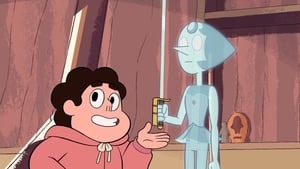 1x16 Steven the Sword Fighter (April 09, 2014)
---
Pearl gets injured and retreats into her gem to heal and make a new body to project after she tries to teach Steven the art of sword-fighting using a holographic version of herself.
---
1x15 Onion Trade (March 17, 2014)
---
A toy trade between Steven and Onion escalates into epic proportions.
---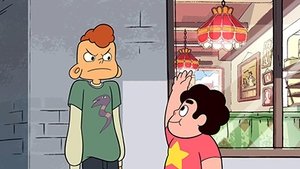 1x14 Lars and the Cool Kids (March 10, 2014)
---
Steven and Lars get to hang out with the cool kids (Jenny Pizza, Buck Dewey and Sour Cream) in town, but their teenage shenanigans get them into magical trouble.
---
1x13 So Many Birthdays (March 03, 2014)
---
After learning that the Gems are thousands of years old, Steven decides to make up for all the birthdays they've missed.
---
1x12 Giant Woman (February 24, 2014)
---
Steven urges Amethyst and Pearl to fuse together into a four-armed "giant woman" named Opal (Aimee Mann). Amethyst and Pearl, however, keep on quarrelling.
---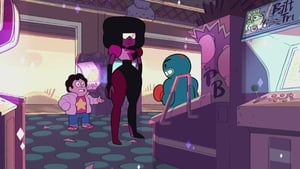 1x11 Arcade Mania (February 17, 2014)
---
Steven takes the Gems on his own kind of adventure by bringing them to the Fun Land Arcade, where Garnet soon becomes enchanted by a dancing game.
---
1x10 Steven's Lion (January 27, 2014)
---
Steven befriends a magical lion he finds in the desert during a mission with the Gems.
---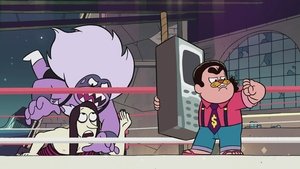 1x09 Tiger Millionaire (January 20, 2014)
---
Steven joins an underground wrestling league with Amethyst, who is tired of Pearl and Garnet bringing her down.
---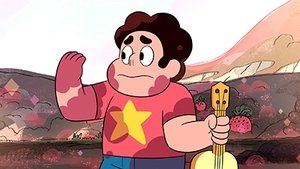 1x08 Serious Steven (January 13, 2014)
---
While navigating out of an ancient Gem maze, Steven tries to prove himself worthy to Garnet by being serious.
---
1x07 Bubble Buddies (December 02, 2013)
---
Steven creates a magic bubble around himself and a girl he likes, Connie, to save her from a falling rock, but has no idea how to make it disappear.
---
1x06 Cat Fingers (November 25, 2013)
---
Steven tries to master his shapeshifting abilities from Amethyst, but turns his fingers into cats, making it harder to do things.
---
1x05 Frybo (November 18, 2013)
---
Steven brings a mascot costume to life with a magic shard owned by Pearl to help his friend Peedee with his job, but it backfires when the mascot goes rogue.
---
1x04 Together Breakfast (November 11, 2013)
---
Steven's attempt to get the Gems to share his special breakfast tradition lands him on a journey through their ancient Gem temple.
---
1x03 Cheeseburger Backpack (November 11, 2013)
---
The Gems go on a mission to place a Moon Goddess statue on top of the ruined Lunar Sea Spire, and Steven tries to prove he can be useful with the help of his new novelty cheeseburger backpack.
---
1x02 Laser Light Cannon (November 04, 2013)
---
When a menacing red eye is about to hit Beach City, the only thing that can destroy it is a Laser Light Cannon which once belonged to Steven's mother, Rose Quartz. Thus, Steven enlists the help of his father, Greg, and they search through his storage for the cannon.
---
1x01 Gem Glow (November 04, 2013)
---
Steven gets depressed when his favorite ice-cream sandwich brand, Cookie Cat, has been taken off the market. He soon cheers up when the Gems manage to get a hold of some of the last remaining Cookie Cats, which Steven believes may hold the key to activating his gem.
---