Rowhouse Showdown
Season 1
Rowhouse Showdown
Season 1
First Air Date: July 09, 2014

| | | |
| --- | --- | --- |
| First Aired on | : | 2014 |
| Episodes | : | 10 episodes |
Episodes
1x10 Finale! (September 10, 2014)
---
Carter stages an open house so Price Hill, Cincinnati can finally see the renovated houses and celebrate the teams who are helping rejuvenate the neighborhood. The teams are relived the hard work is done...or is it?
---
1x09 Curb Appeal (September 03, 2014)
---
Teams have one last chance to make a first impression. It's time to pull it all together by finishing the front yard and facade of the house. Curb appeal can mean the difference between a home sells quickly and a home that sits on the market for months. Dan and Katie are down $1,000 and have to decide how to spend wisely, Geoff and Josh make a splash on their biggest canvas yet and Anya and Alena try to keep in stride with the other teams.
---
1x08 Salvage City (August 27, 2014)
---
Three teams continue their quest to revitalize the once thriving neighborhood of Price Hill, Cincinnati. This week, they are given the task of tackling their guest room. After two straight wins can Dan and Katie run away with the competition? Anya and Alena pull out all the stops in a attempt get their first win. Josh and Geoff battle to get back on top, but will they finally push their carpenter over the edge? With only two spaces left, every decision is crucial!
---
1x07 Battle of the Backyards (August 20, 2014)
---
The teams take to their backyards to create outdoors spaces that feel like an extension of their homes. With plenty of cash, and lots of options, Dan and Katie go back to their roots and design with families in mind, Geoff and Josh decide they have to spend money to make money and Alena and Anya try to bring the sandy beaches and palm trees of their hometown Miami to Cincinnati.
---
1x06 Bonus Room (August 13, 2014)
---
The teams' flipping and real estate knowledge is put to the test when they get to design their home's bonus room. They must choose between another bedroom, a home office or a multi-function room that would do the most to increase property value. Sick of playing second fiddle to Josh and Geoff, Dan and Katie decide to switch up their design approach. Meanwhile, new team Alana and Anya get a rude welcome.
---
1x05 The Bitchin' Kitchen (August 06, 2014)
---
The teams finally confront the kitchen, one of the most important factors in upping the value of their renovated homes. Each team dives in as creativity, demolition and installation of sleek new cabinets and appliances gets underway. Dan and Katie don't see eye to eye, Ted and Krystal struggle to keep their heads in the game but Geoff and Josh are in heaven; designing kitchens is their specialty. A major twist comes to town when Ted and Krystal are asked to leave the competition and a new team adopts their house mid-renovation!
---
1x04 Flushed (July 30, 2014)
---
This week's challenge has the teams tackling a big impact project: the bathroom. They all come up against plumbing problems in super small spaces and get close to the boiling point of the competition. Tired of playing it safe, Dan and Katie decide to show the judges they can take design risks, Ted and Krystal continue to fight and the judges question their commitment to the competition while Geoff and Josh streamline their work load.
---
1x03 Dining Room Surprise (July 23, 2014)
---
In the spirit of rejuvenating the surrounding community, this week's challenge comes with a twist: instead of making over the dining rooms in their own homes, each team will go out and renovate a dining room in the neighborhood. To make things more interesting, the teams have to depend on their clients design wishes and will only have their carpenters to assist them, leaving the rest of the work to be done by them. Dan and Katie struggle with focus and inspiration, the stress between Ted and Krystal puts a strain on their relationship and after getting a harsh critique Geoff and Josh learn to shut up and get to work.
---
1x02 How Suite It Is... (July 16, 2014)
---
The teams take on the master bedrooms and adjoining suite but it's up to them to decide what will result in the highest property evaluation; a bathroom, a dressing area or walk in closet? They consider their neighborhood and target market as they decide what will increase the appeal of their home the most. Dan and Katie keep it simple but Ted and Krystal start to show signs of being in over their heads and Geoff and Josh learn the hard way that walls don't paint themselves.
---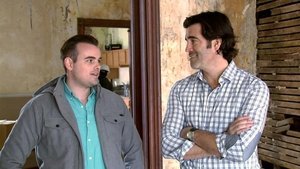 1x01 Welcome to the Neighborhood! (July 09, 2014)
---
Host Carter Oosterhouse welcomes three teams of renovation experts to Cincinnati, Ohio where they are each given a dilapidated rowhouse and the task to transform one room each week. The teams start off with a shocking tour of their rundown property and immediately start tearing down walls and opening up rooms. The first assignment is to completely renovate the living room, but they only have four days to do it and each team must quickly define their style; Dan and Katie create a "moditional" space, while Ted and Krys introduce the judges to "lumberjack sexy" and Geoff and Josh look to impress with their signature "coastal elegance" motif.
---