Green Acres
Season 3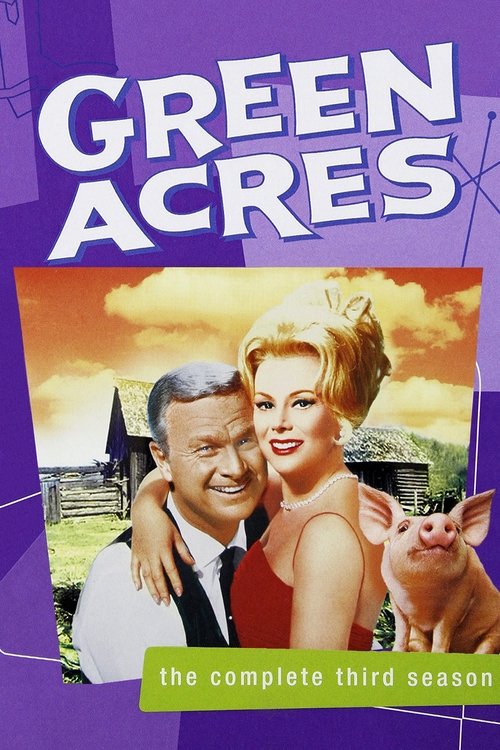 Green Acres
Season 3
First Air Date: September 06, 1967

| | | |
| --- | --- | --- |
| First Aired on | : | 1967 |
| Episodes | : | 30 episodes |
Episodes
3x30 A Star Named Arnold is Born (Part 2) (April 10, 1968)
---
Oliver and Lisa chaperone Arnold's trip to Hollywood, where he lands a starring role in a motion picture.
---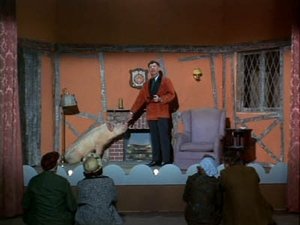 3x29 A Star Named Arnold is Born (Part 1) (April 03, 1968)
---
Arnold the pig appears in a play at the Hooterville Theater. Lisa arranges for an old friend to give him a chance in show business.
---
3x28 Instant Family (March 27, 1968)
---
When an expectant mother goes into labor, Oliver takes her to the hospital, and Lisa takes her seven other children to live with the Douglases until she recovers.
---
3x27 The Rutabaga Story (March 20, 1968)
---
Oliver decides that all Hooterville farmers should plant rutabagas as their primary cash crop, and initiates a publicity campaign to make America more "rutabaga conscious."
---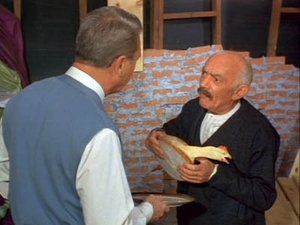 3x26 The Hungarian Curse (March 13, 1968)
---
A fellow Hungarian, Lazlo Broslav, visits Lisa and becomes an unwanted house guest. It is revealed that Lazlo once saved the life of Lisa's uncle, and now her family must repay the debt.
---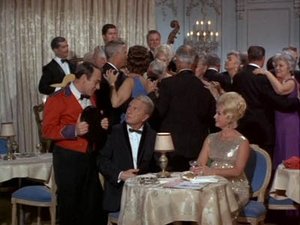 3x25 Oliver's Jaded Past (March 06, 1968)
---
Lisa reminds Oliver that he promised her a New York vacation if she stayed with him on the farm for two years.
---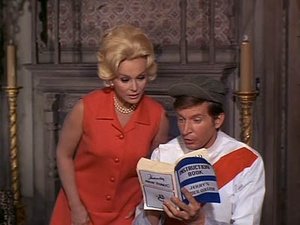 3x24 Our Son, the Barber (February 28, 1968)
---
Eb decides on a career as a barber and talks Oliver into putting him through a do-it-yourself mail-order barber college.
---
3x23 The Spring Festival (February 21, 1968)
---
Spring fever sets in at Green Acres when Lisa sets out to produce a Spring festival celebration.
---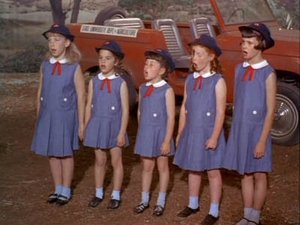 3x22 My Mother, the Countess (February 14, 1968)
---
Lisa reveals that her mother, the Countess, is going to pay a visit to Green Acres.
---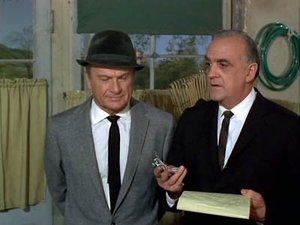 3x21 Flight to Nowhere (February 07, 1968)
---
As part of an agricultural exchange program, Oliver and other Hooterville farmers are offered a chance to join a chartered government flight to Europe.
---
3x20 Arnold, Boy Hero (January 31, 1968)
---
Lisa and Oliver are taken hostage by two bank robbers who hide out in their farmhouse.
---
3x19 How to Suceed in Television Without Really Trying (January 24, 1968)
---
Lisa invests $28 in a 10-year-old's "Electric Company;" to show his gratitude, the young wizard "electronificates" the Douglases' farm.
---
3x18 Home is Where You Run Away From (January 10, 1968)
---
A mysterious young boy shows up at the Douglas farm and claims to be from another world.
---
3x17 Not Guilty (January 03, 1968)
---
Eb is accused of taking $300 from Sam Drucker's safe when he shows up with a new car, which just happens to cost $300.
---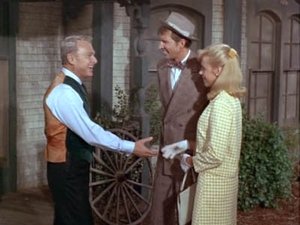 3x16 Eb Returns (December 27, 1967)
---
The Douglas' handyman returns home from his honeymoon and reveals that he did not get married.
---
3x15 No Trespassing (December 20, 1967)
---
Oliver shows symptoms of overwork, so Lisa talks him into going on a picnic.
---
3x14 Alf and Ralph Break Up (December 13, 1967)
---
Ralph, the lady carpenter, runs away from home and stays with the Douglases after having a fight with her brother, Alf.
---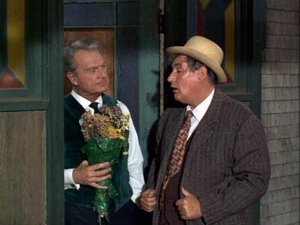 3x13 Haney's New Image (November 29, 1967)
---
When Mr. Haney finds out first that the Douglas farm is the possible site for an interchange for a proposed new highway, he offers to buy back the farm.
---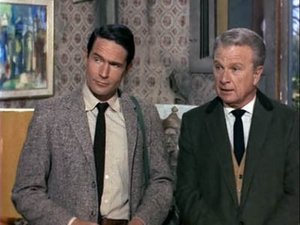 3x12 Jealousy, English Style (November 22, 1967)
---
Oliver informs Lisa that he plans to attend a farm symposium without her.
---
3x11 Won't You Come Home, Arnold Ziffel? (November 15, 1967)
---
The residents of Hooterville are in an uproar when Arnold Ziffel the pig is missing.
---
3x10 Das Lumpen (November 08, 1967)
---
Lisa tells another war story - this one details how she saved Oliver from the Nazis during World War II and how their romance began.
---
3x09 The Thing (November 01, 1967)
---
Oliver stops paying storage rates for an item that neither he nor Lisa can remember owning, and the unknown item is shipped to the farm.
---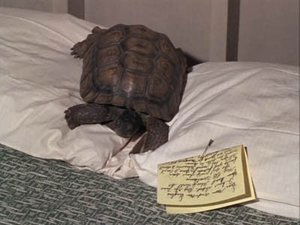 3x08 Eb Elopes (October 25, 1967)
---
Oliver and Lisa wake up one morning to find that their handyman has eloped.
---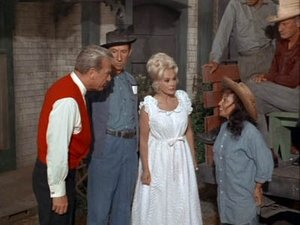 3x07 Don't Count Your Tomatoes Before They're Picked (October 18, 1967)
---
Oliver sets out to harvest his tomato crops.
---
3x06 A Kind Word For the President (October 11, 1967)
---
Oliver sets out to accomplish to changes at the Hooterville Phone Company, now that he's president.
---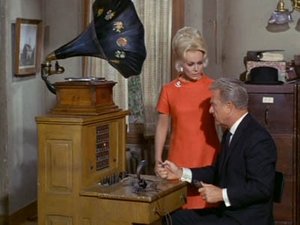 3x05 Oliver Takes Over the Phone Company (October 04, 1967)
---
Mr. Trendell turns over the keys of the Hooterville Phone Company to Oliver Douglas.
---
3x04 Oliver vs. the Phone Company (September 27, 1967)
---
Oliver starts a feud with the Hooterville Phone Company and launches a campaign to recall its management.
---
3x03 Love Comes to Arnold Ziffel (September 20, 1967)
---
An unlikely but hilarious love affair between Arnold the pig and Cynthia the basset hound captivates the residents of Hooterville.
---
3x02 Lisa's Jam Session (September 13, 1967)
---
Oliver decides it would be a great idea for Lisa to make her own jam preserves.
---
3x01 The Man For the Job (September 06, 1967)
---
The committee to select a new state senator considers Oliver Douglas for the job.
---