Kill la Kill
Season 1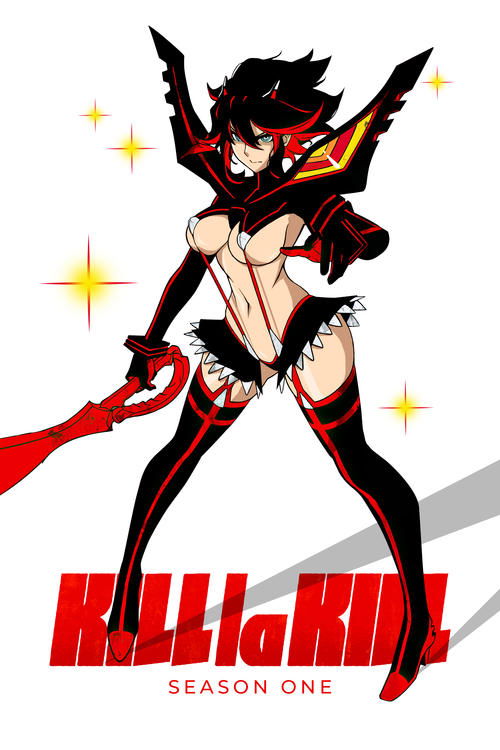 Kill la Kill
Season 1
First Air Date: October 04, 2013

| | | |
| --- | --- | --- |
| First Aired on | : | 2013 |
| Episodes | : | 24 episodes |
Episodes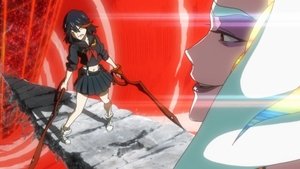 1x24 Past the Infinite Darkness (March 28, 2014)
---
The final confrontation is at hand! Will Ragyo and Nui bring on the end of the world, or will Ryuko and the others be able to stop them?
---
1x23 Imitation Gold (March 21, 2014)
---
The ongoing battle presses towards Honnouji Academy, but Ragyo and the Original Life Fiber stand in the way. Ryuko and Satsuki set off to face them, leaving Nudist Beach's defense to... Mako?! Meanwhile, a crazed Nui continues working feverishly...
---
1x22 Tell Me How You Feel (March 14, 2014)
---
A surprising turn of events catches Nui Harime off guard and gives Nudist Beach a chance to regroup and plan their next step in the fight against Ragyo. But will Ryuko and Satsuki be able to settle their recent conflicts?
---
1x21 Incomplete (March 07, 2014)
---
Ryuko's rampage continues, and thanks to Ragyo and Nui she has an unexpected new ally. With Satsuki as the target, will the Elite Four and Nudist Beach be able to withstand the onslaught?
---
1x20 Far from the Maddening Crowd (February 28, 2014)
---
Ryuko is awake and she's not happy. Intent on killing Ragyo and Nui, she heads out, leaving her allies behind. Without her power, Nudist Beach must decide what their next step is, but a new piece of intel spurs them to action!
---
1x19 Raindrops Keep Falling On My Head (February 21, 2014)
---
A startling revelation turns Ryuko's world upside down! But she's not the only one in turmoil, as Satsuki, the Elite Four and the members of Nudist Beach are left scrambling in the aftermath of the Honnouji Academy Cultural & Sports Grand Festival!
---
1x18 Into the Night (February 14, 2014)
---
The Honnouji Academy Cultural & Sports Grand Festival comes to an abrupt and very unexpected conclusion! Battle lines are drawn and Ryuko must decide who is friend and who is foe. But will she have the power to resist the power of the Life Fiber?
---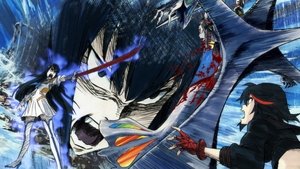 1x17 Tell Me Why (February 07, 2014)
---
Preparations are underway for the Honnouji Academy Cultural & Sports Grand Festival! The school is in a fervor as Ragyo Kiryuin will be attending, but what are her and Satsuki's real intentions for the event?
---
1x16 The Girl Can't Help It (January 31, 2014)
---
The Tri-City Schools Raid Trip is returning to Honnouji Academy, when Satsuki Kiryuin is unexpectedly summoned home. Meanwhile, Ryuko begins to learn the truth behind the series of events that brought her and Senketsu together.
---
1x15 Don't Stop Me Now (January 24, 2014)
---
Satsuki Kiryuin joins the front line of Osaka to battle Kaneo Takarada, the heir to the Takarada Conglomerate. Using the influence of money, Takarada rallies the locals to fight, but Satsuki is suspicious there is another power behind the city's defense.
---
1x14 Ride Like the Wind (January 17, 2014)
---
The Tri-City Schools Raid Trip has commenced! The three-pronged attack on the Kansai region is off to an interesting start, with some unusual defenses to overcome. But what part will Ryuko be able to play, with Senketsu in the hands of the enemy?
---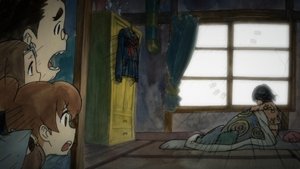 1x13 Crazy For You (January 10, 2014)
---
Honnouji Academy is mobilizing for the Tri-City Schools Raid Trip! But after her recent rampage, Ryuko is moping in bed, unwilling to fight. However, Shinjiro Nagita, formerly with the Newspaper Club, is determined to get her back into uniform!
---
1x12 Spit Your Sadness Away (December 20, 2013)
---
Ryuko comes face to face with her father's killer, but can she contain her rage? Mako and the Elite Four look on as sh e rampages on, coming closer and closer to death. Will Satsuki or anyone else be able to stop her?
---
1x11 I'm Not Your Cute Woman (December 13, 2013)
---
Nui Harime, the slayer of Ryuko's father, unexpectedly arrives.
---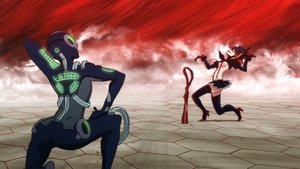 1x10 I Want to Know More About You (December 06, 2013)
---
Ryuko faces her next opponents Houka Inumuta and Nonon Jakuzure. Meanwhile, her evolving uniform is a source of concern.
---
1x09 A Once in a Lifetime Chance (November 29, 2013)
---
Ira and Ryuko fight. Though Ira is able to dominate, Senketsu evolves a new form to defeat him.
---
1x08 I Will Wipe My Own Tears (November 22, 2013)
---
Satsuki announces a new election system where students must survive a seven-day battle with each other in order to stand out on top. One student, Ira Gamagoori, gives aid to Ryuko and later the two have to face off.
---
1x07 A Loser I Can't Hate (November 15, 2013)
---
Mako is offered a better life away from poverty. To do so she must don a suit and face Ryuko in combat.
---
1x06 Don't Toy Me on a Whim (November 08, 2013)
---
While Ryuko tries to find out more about Tsumugu, she must face a student council member who has super-speed and can read all her moves.
---
1x05 Trigger (November 01, 2013)
---
A mysterious sniper named Tsumugu Kinagase attempts to assassinate Ryuko, but is hampered by the various clubs that try to defeat Ryuko.
---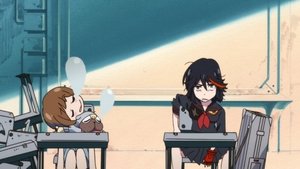 1x04 Dawn of a Miserable Morning (October 25, 2013)
---
Ryuko is faced with "No-Late Day", an event where students must navigate a trap-filled obstacle course to reach school on time, or else they will be expelled.
---
1x03 Junketsu (October 18, 2013)
---
Satsuki, the student council president at Honnoji, decides to use her family uniform Junketsu against Ryuko.
---
1x02 So Sexy She Might Pass Out (October 11, 2013)
---
Ryuko stays over at Mako's home. She later goes up against the tennis champion of Honnoji.
---
1x01 If Only I Had Thorns Like A Thistle (October 04, 2013)
---
Ryuko Matoi arrives at Honnoji Academy and faces off with its boxing champion. Beaten at first, she finds a suit that gives her powers and odds turn in her favour.
---