Last Week Tonight with John Oliver
Season 3
Last Week Tonight with John Oliver
Season 3
First Air Date: February 14, 2016

| | | |
| --- | --- | --- |
| First Aired on | : | 2016 |
| Episodes | : | 30 episodes |
Want to see ?
Trailer: Season 3: Promo: Last Week Tonight with John Oliver (HBO)
Episodes
3x30 President-Elect Trump (November 13, 2016)
---
The presidential race has been a hell of a ride. 'Last Week Tonight' closes out the election and Season 3 with a bang.
---
3x29 Multilevel Marketing (November 06, 2016)
---
Multilevel marketing companies claim to be legitimate businesses, but some seems awfully pyramid shaped, and that's a problem.
---
3x28 School Segregation (October 30, 2016)
---
Public schools are increasingly divided by race and class. John Oliver discusses the troubling trend towards school resegregation.
---
3x27 Opioids (October 23, 2016)
---
John Oliver discusses the extent and root of the nation's epidemic of opioid addiction.
---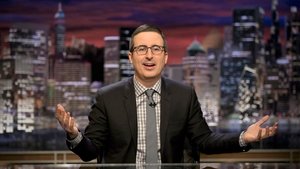 3x26 Third Parties (October 16, 2016)
---
Third party candidates want to be serious contenders, so John Oliver considers them seriously as potential presidents.
---
3x25 Guantánamo (October 09, 2016)
---
John Oliver examines the legal and moral issues surrounding the military prison at Guantánamo Bay.
---
3x24 Police Accountability (October 02, 2016)
---
John Oliver discusses the systems in place to investigate and hold police officers accountable for misconduct.
---
3x23 Scandals (September 25, 2016)
---
Taking a walk down memory lane, 'Last Week Tonight' assesses Donald Trump's vs. Hillary Clinton's scandals.
---
3x22 Charter Schools (August 21, 2016)
---
Charter schools are privately run, publicly funded, and irregularly regulated. John Oliver explores why they aren't at all like pizzerias.
---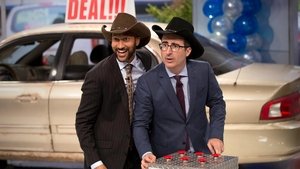 3x21 Auto Lending (August 14, 2016)
---
Auto lenders can steer vulnerable people into crushing debt. Keegan-Michael Key and Bob Balaban help John Oliver show exactly how.
---
3x20 Journalism (August 07, 2016)
---
John Oliver has some bad news about the state of the industry that gives us our news.
---
3x19 Democratic National Convention (July 31, 2016)
---
Main segment: Democratic National Convention. Segments: Voter ID Laws, 2016 Turkish Purges
---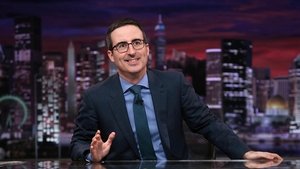 3x18 Republican National Convention (July 24, 2016)
---
Main segment: Republican National Convention. Segments: Hillary Clinton's VP Pick; Boris Johnson as Britain's Foreign Secretary; Roger Ailes Resignation; Unauthorised use of music by politicians
---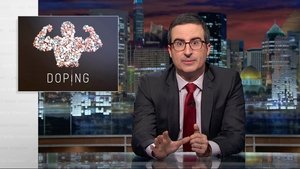 3x17 Doping (June 26, 2016)
---
Main segment: 2016 Summer Olympics and doping in sports. Segments: Aftermath of the United Kingdom EU membership referendum.
---
3x16 Brexit (June 19, 2016)
---
John Oliver on "Brexiting" from the EU: There might be an innate British desire to diss Europe, but Last Week Tonight lays out exactly why it's a mistake to leave the EU.
---
3x15 Retirement Plans (June 12, 2016)
---
John Oliver Covers Ins and Outs of Retirement Plans: Saving for retirement means navigating a potential minefield of high fees and bad advice - Last Week Tonight is here to help.
---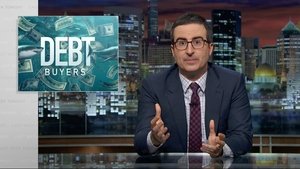 3x14 Debt Buyers (June 05, 2016)
---
John Oliver Takes On Debt Buyers: Companies that purchase debt on the cheap will aggressively collect on it. 'Last Week Tonight' took a hands-on approach to addressing this issue.
---
3x13 Primaries and Caucuses (May 22, 2016)
---
Last Week Tonight Tackles U.S. Primaries and Caucuses: The United States selection process for presidential nominees is convoluted — to say the least. Nevertheless, John Oliver reminds Americans that the "middle of the game" is the worst possible time to change the rules.
---
3x12 911 (May 15, 2016)
---
John Oliver on 911 Reliability: Things you never want to hear: there are no guarantees when you call 911. Emergency call centers are in desperate need of funding and new technology, so "no guarantees" is the unfortunate reality.
---
3x11 Scientific Studies (May 08, 2016)
---
John Oliver on Sticking to the Facts: Media outlets often report new findings from scientific studies, but how many are true?
---
3x10 Puerto Rico (April 24, 2016)
---
Puerto Rico is suffering a massive debt crisis. Lin-Manuel Miranda joins John Oliver to call for relief.
---
3x09 Lead (April 17, 2016)
---
Lead poisoning is a national problem. If only lawmakers were as concerned as the puppets on Sesame Street.
---
3x08 Credit Reports (April 10, 2016)
---
Credit reports play a surprisingly large role in our lives, but even more surprising is how often they contain critical mistakes. John Oliver helps credit agencies see why this is a problem.
---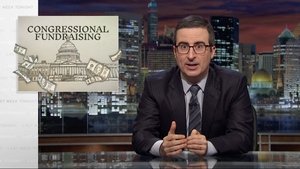 3x07 Congressional Fundraising (April 03, 2016)
---
Lawmakers have to raise money to keep their jobs, but a surprising amount of their job now consists of raising money. John Oliver sits down with Congressman Steve Israel to discuss the costs of political spending.
---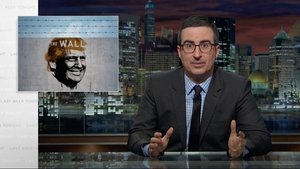 3x06 Border Wall (March 20, 2016)
---
Donald Drumpf wants to build a wall on the U.S.-Mexico border. Is his plan feasible?
---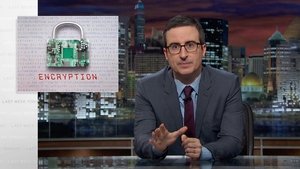 3x05 Encryption (March 13, 2016)
---
Strong encryption poses problems for law enforcement, is weakening it worth the risks it presents? It's…complicated.
---
3x04 Special Districts (March 06, 2016)
---
Special districts spend more public money than all city governments combined. That's odd considering most of us don't know they exist.
---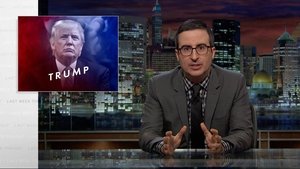 3x03 Donald Trump (February 28, 2016)
---
Our main story was about Donald Trump. We can't believe we're saying that either.
---
3x02 Abortion Laws (February 21, 2016)
---
Abortion is theoretically legal, but some states make it practically inaccessible. And how is Hollywood whitewashing still a thing?
---
3x01 Voting (February 14, 2016)
---
John talks about Scalia's love of the Letter of the Law, Chipotle's avian mascot, and how Voter ID laws should be applied to those who write them.
---