Too Cute
Season 3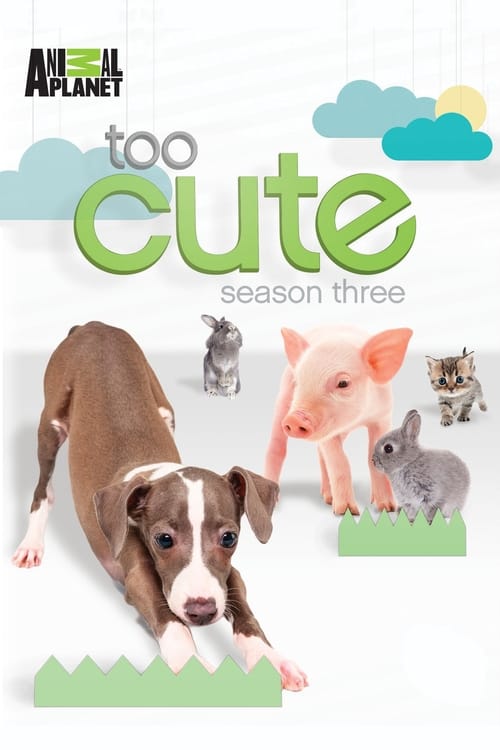 Too Cute
Season 3
First Air Date: August 03, 2013

| | | |
| --- | --- | --- |
| First Aired on | : | 2013 |
| Episodes | : | 15 episodes |
Episodes
3x15 Fuzzy Puppy Stars (November 23, 2013)
---
Star-struck Snow is a Great Pyrenees puppy who dreams of following in her movie star mom's paw prints. A pair of Border Collie pups will need to be brave if they're going to be champion herders. And a Scottish Terrier tries to win over the resident cat.
---
3x14 Animal BFFs - Baby Baboon, Teacup Pig (November 16, 2013)
---
A baby Baboon is taken under the wing of a Golden Retriever. A Teacup Pig and a Flemish Rabbit sneak away from their day jobs and get into trouble. And an adventurous goat and a timid lamb break out of their everyday routine. Note: 30 min episode/special
---
3x13 Animal BFFs - Cuddly Bear, Cautious Kangaroo (November 16, 2013)
---
A bear cub befriends a lonely German Shepherd. A deer and a kangaroo have their world turned upside down by a mischievous lemur. And a pygmy goat has a hard time fitting in until he meets a shy puppy. Note: 30 min episode/special
---
3x12 Big Jobs, Little Paws (November 09, 2013)
---
Four tiny Tibetan Spaniels - all boys - are born into a family of watchdogs. A extra large litter of Newfoundland puppies take to the water as they train to be rescue dogs. And a patchwork puppy tries to blend into a family of Retriever Mixes.
---
3x11 Little Wildcats (October 26, 2013)
---
A black-and-white kitten plays with its adopted brother, a baby skunk; an orange tabby kitten tries to befriend a canine housemate; a Savannah kitten seeks a playmate.
---
3x10 Roly-Poly Puppies (October 19, 2013)
---
A shy Papillon puppy named Kitty comes out of her shell with the help of her siblings. A trio of St Bernard puppies follow their noses to big adventures. And finally, an Airedale Terrier named Merlin tries to disappear from her eight brothers and sisters.
---
3x09 Kittens Growing Up (October 12, 2013)
---
Catching up with litters of Persian, Bengal and British shorthair kittens after one year.
---
3x08 Rainbow Colored Kittens (October 05, 2013)
---
In a litter of six Maine Coon kitties, only boy Maurice struggles to fit in with his sisters. A quiet kitten with a limp tries to find his voice in a litter of super-chatty Siamese cats. And a shy black kitten tries to befriend an older butterscotch tabby
---
3x07 Puppies Growing Up Fluffy (September 14, 2013)
---
Catching up with litters of Portuguese water dog, Rhodesian ridge-back and dachshund puppies after one year.
---
3x06 Perfectly Precious Puppies (August 31, 2013)
---
Poodles, Basset Hounds and Bull Terrier puppies are featured.
---
3x05 Puppies Growing Up (August 31, 2013)
---
Catch up 1 year later with German Shepherd, French Bulldog and Mini Australian Shepherd puppies.
---
3x04 Puffy Beach Kitties (August 24, 2013)
---
Spotted Bengal kittens are bowled over by a lumbering Newfoundland. 4 fluffy Norwegian Forest Cats dip their toes in the surf at their neighborhood beach, and, at a rescue home, 2 kittens find their way into the den mother's heart.
---
3x03 Mischievous Puppies (August 17, 2013)
---
Irish terriers meet their bothersome teenage brother. 8 Corgis help on the farm, and an Akita puppy finds her place among her brothers.
---
3x02 Tiny Puppies, Big Paws (August 10, 2013)
---
A foursome of Neo-Mastiffs have big paws to fill if they're going to be be guard dogs like their Mom. A shy Chihuahua puppy learns that her tiny family have big hearts. And a litter of seven English Setters compete for first place.
---
3x01 Puppies and a Piggy (August 03, 2013)
---
One dozen goldendoodles take over a home and a pet pig's bed; a Westie chases after her wandering twin brother; Swiss mountain puppies find their stride.
---