Highway Thru Hell
Season 8
Highway Thru Hell
Season 8
First Air Date: October 07, 2019

| | | |
| --- | --- | --- |
| First Aired on | : | 2019 |
| Episodes | : | 17 episodes |
Episodes
8x17 Fire Mountain (January 27, 2020)
---
After surviving a near-fatal heart attack, Ken leads the Mission crew on its most daunting recovery in years; lodged in the trees, 200 feet below a mountain road, the damaged dump truck pushes Kens team to the edge of disaster.
---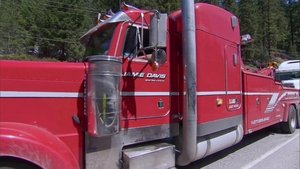 8x16 The Warrior (January 20, 2020)
---
A lost load of lumber pulls Jamie and Colin Mclean into a battle on the banks of B.C.s Skagit River; Al takes a chance with "Big Green" to rescue a sinking excavator; James and Rooster wrestle a twisted wreck near Merritt.
---
8x15 Fried Chicken (January 13, 2020)
---
Near Hope, B.C., a burning truck hauling frozen chicken has Cam and Jamie in a race to move the smoky hazard off the highway; a flipped logging truck near Merritt turns into a tussle for Mitch and James.
---
8x14 Rock and a Hard Place (January 06, 2020)
---
Brandon and Cam team up to rescue a lumber truck tangled in a rock face on Highway 3; Al digs out a buried semi on a notorious corner on The Coq; a tractor fire puts James in the hot seat.
---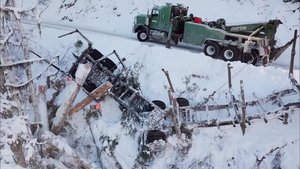 8x13 Off Road (December 30, 2019)
---
Jamie and his tow brothers discuss some of their toughest backroad adventures on HIGHWAY THRU HELL; Al, Ken, Jason and Mitch swap tales and share advice on some of their most spectacular off-road recoveries.
---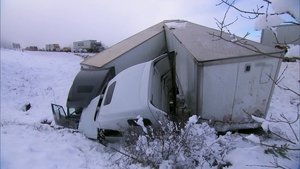 8x12 Double Crossed (December 23, 2019)
---
Mitch discovers a massive wreck involving two semis; Reliable and Aggressive Towing join forces to recover a pair of entangled 18-wheelers; a tippy trailer abandoned on a soft shoulder tests Jamie; Gord finds himself in deep in a peat bog.
---
8x11 Lives On the Line (December 16, 2019)
---
A terrifying crash involving one of their own shocks Team Reliable; Dylan and Merv pair up to lift a heavy load of steel pilings off a highway; Cam races to rescue a fellow tow operator stuck on a blind corner.
---
8x10 Sub Zero (December 09, 2019)
---
A polar vortex brings extreme cold and brutal working conditions to truck drivers and heavy wrecker operators on The Coq; Colin fights to recover a frozen rig; Cam finds himself in a dilemma with one of Jamies classic wreckers.
---
8x09 Door to Door (December 02, 2019)
---
James Luke and "Black Sheep" rush to clear a tractor trailer on its side loaded with heavy doors. An 18-wheeler filled with firewood tests Cam and Colin. And Gord and Al must perform a delicate manoeuvre to move a shipping container full of garbage off the Trans Canada Highway.
---
8x08 Road to Recovery (November 25, 2019)
---
A tractor trailer clinging to the edge of a mountain has Mitch, Merv and James pulling together to save the load; after years of relying on older equipment, Jamie Davis brings home a surprise for the team.
---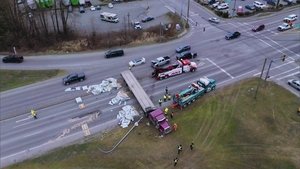 8x07 Heavy Hearts (November 18, 2019)
---
Merv is dispatched in Aggressive Towings 50-ton rotator to open the road after a collision in Fraser Valley; Jamie takes a classic wrecker on a 2,000-kilometre journey north; news about a key member of the Mission Towing family hits home.
---
8x06 Thin Ice (November 11, 2019)
---
A cliffside recovery on the banks of Coldwater River puts James and Adam on thin ice; Colin makes a roadside repair in the middle of a winter storm; Al and Gord race to move a house off a busy highway.
---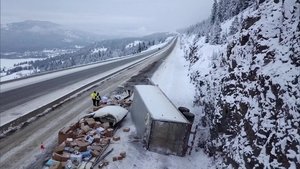 8x05 Return to Sender (November 04, 2019)
---
Near Merritt, a parcel delivery truck is torn open, scattering hundreds of packages across The Coq; facing high winds, high speed traffic and the threat of falling rocks, Reliable Towing overcomes numerous obstacles to clear the wreck.
---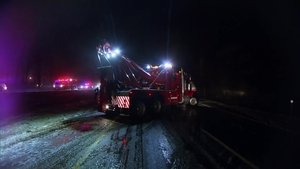 8x04 Oil And Water (October 28, 2019)
---
In Hope, Jamie, Colin and Cam battle heavy rains to recover a rolled semi blocking the highway through town; with traffic to The Coq cut off and a trailer full of cooking oil starting to rip, Jamies crew must get the road open.
---
8x03 Chain Saw (October 21, 2019)
---
When a dump truck and trailer crash into dense bush, Al Quiring and Sons become heavy rescue lumberjacks; with the help of Gord Boyd, Team Green overcame environmental obstacles and a twisted wreck trapped in the trees.
---
8x02 Battle in the Gravel (October 14, 2019)
---
Jamie tests the limits of his classic wrecker against a rock crusher in a gravel pit; Mitch and James scramble to save a truck and camper on an icy cliff; Colin finally gets a crack at Mighty Mo's push bumper.
---
8x01 Winter Strikes (October 07, 2019)
---
On B.C.'s Coquihalla Highway, an early snowfall catches truckers off guard and puts Jamie Davis face to face with a heavy fuel tanker; sparks fly when James Luke and The Black Sheep try to rescue a semi in deep snow.
---