Highway Thru Hell
Season 1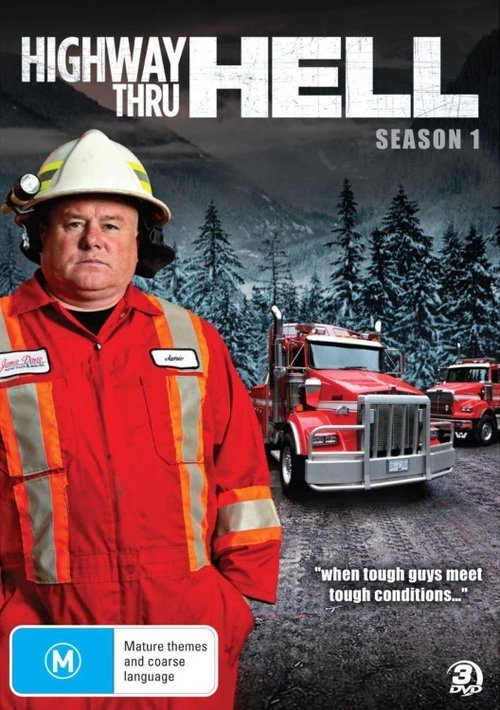 Highway Thru Hell
Season 1
First Air Date: September 04, 2012

| | | |
| --- | --- | --- |
| First Aired on | : | 2012 |
| Episodes | : | 10 episodes |
Episodes
1x10 After the Crash (December 25, 2012)
---
HIGHWAY THRU HELL: AFTER THE CRASH catches up with the heavy rescue crew as they reflect over the highs and lows on the mountain last winter. In between highlight clips, showing some of the best and worst times they had the over the season's eight gripping episodes, the guys talk about their toughest wrecks, worst injuries, stormiest weather, tense moments on the team, and why they stick it out despite it all.
---
1x09 I Can't Take It Anymore! (October 30, 2012)
---
When a semi full of mail goes off a cliff, Adam and the crew are sent out to unload and recover it. When a winter-worn cable snaps, narrowly missing Adam's head, Jamie's most senior driver threatens to go on strike.
---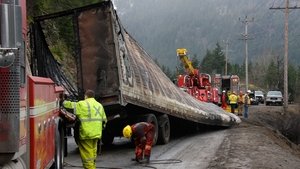 1x08 Yin & Yang (October 23, 2012)
---
A head-on collision between two semis has the crew battling to clear the charred wreckage and get the road open. While Kevin captures the action on tape, Samy does most of the heavy lifting, earning him a bottle of scotch.
---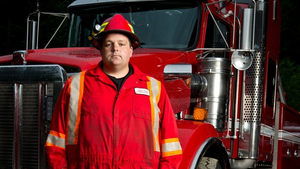 1x07 Family Business (October 16, 2012)
---
In the mountains of the Pacific Northwest, on the Coquihalla Highway, a small job turns into a major headache and a father's dreams of his stepson joining the family business backfires as Brandon Kodallas' aspirations of being a gym instructor and his disdain to drive a manual transmission vehicles does not sit well with anybody else, while teaching Ken about rigging, something the Richmond-based city towie doesn't do.
---
1x06 The Avalanche Zone (October 09, 2012)
---
Heavy snowfall has created avalanche conditions on the Coq. Plow crews are barely able to keep up. When traffic starts backing up in high-risk avalanche zones, highway authorities decide to close the road in both directions. A team of avalanche techs flies up the mountain in helicopters to drop concussion bombs and release the build-up, but bad weather hampers their first attempt. With the Coq closed overnight, trucks are using the back roads to get through.
---
1x05 No Tears in Towing (October 02, 2012)
---
Jamie isn't the only tow guy on the Coq. Lone wolf Al Quiring is a tough as nails wrecker and Jamie's main rival. Their dads did battle a generation ago, now Jamie and Al are fighting it out for the title - 'King of the Coq'.
---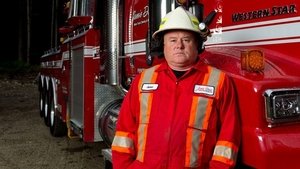 1x04 Roughing Up the Rookie (September 25, 2012)
---
To keep up with a busy season, Jamie hires a new guy, greenhorn driver Rob. When Rob turns out to be a slow learner - and then goes AWOL during a major blizzard - Jamie's patience is pushed to the breaking point.
---
1x03 It's Stormy Everywhere (September 18, 2012)
---
Jamie's right hand man Kevin shows up to a wreck without the gear he needs to control traffic. When Jamie confronts him, Kevin storms off the job.
---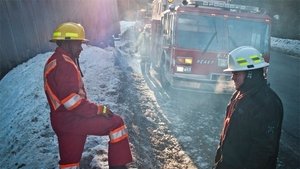 1x02 Where's My Rotator? (September 11, 2012)
---
A double-trailer load of lumber has flipped and spilled across a quarter mile of highway. Even with three heavy rescue trucks, Jamie's crew doesn't have enough equipment to do the job.
---
1x01 Death on the Coq (September 04, 2012)
---
Jamie Davis Heavy Rescue's 'A' team, Adam and Kevin, spend a busy morning clearing spun-out semis off the road when word comes that a multi-vehicle pile-up has closed down both northbound lanes.
---