Remington Steele
Season 1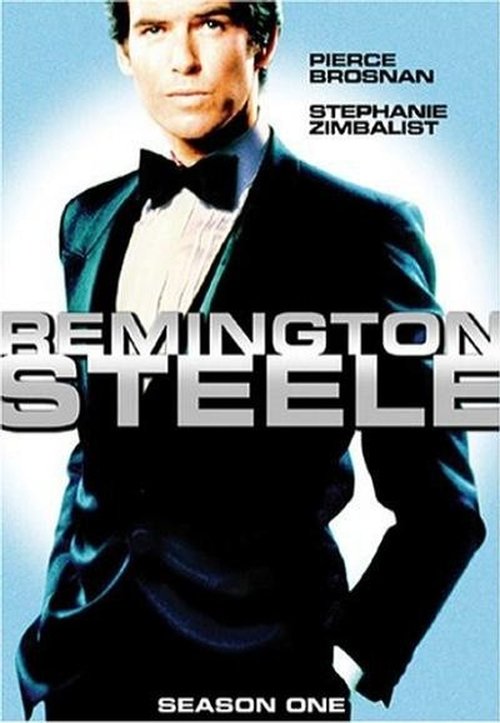 Remington Steele
Season 1
First Air Date: October 01, 1982

| | | |
| --- | --- | --- |
| First Aired on | : | 1982 |
| Episodes | : | 22 episodes |
Episodes
1x22 Steele in Circulation (April 12, 1983)
---
Steele stops a distraught young man from killing himself then must find a missing girl and a ""borrowed"" $50,000 to keep him from trying again.
---
1x21 Sting of Steele (April 05, 1983)
---
Steele's mentor, Daniel Chalmers, comes to California to ask for Steele's help in dealing with a vindictive crook.
---
1x20 Steele's Gold (March 22, 1983)
---
A prospector's journal stolen during a party leads Laura and Steele on a wild gold hunt through the desert.
---
1x19 Vintage Steele (March 15, 1983)
---
Laura's former flame asks her help when he discovers a corpse in the trunk of his car, a corpse that keeps returning as they check out a winery he's involved with.
---
1x18 Steele in the News (March 04, 1983)
---
Laura and Steele investigate the increasingly dangerous pranks someone is pulling on the news team of a local television station.
---
1x17 Steele Among the Living (February 25, 1983)
---
Laura searches for a vanished artist whose works have suddenly appreciated in value, for both her husband and the owner of an art gallery.
---
1x16 Steele Crazy After All These Years (February 18, 1983)
---
Murphy's college homecoming is marred by a murder that awakens memories of a bombing on campus ten years before.
---
1x15 To Stop a Steele (February 11, 1983)
---
Laura and Steele wind up working for opposite sides of a jewelry theft when the frightened thief looks for help when someone else beats him to the jewel.
---
1x14 Hearts of Steele (January 28, 1983)
---
Steele and Laura pose as a battling couple while they investigate murder attempts against an aggressive divorce lawyer.
---
1x13 A Good Night's Steele (January 21, 1983)
---
Laura and Steele go undercover at a sleep-disorders clinic to investigate the disappearance of morphine and a doctor.
---
1x12 Steele Flying High (January 14, 1983)
---
Steele gets involved with the murder of a naturalist when he serves on a committee to save the bald eagle.
---
1x11 Steeling the Show (January 07, 1983)
---
Steele comes to the aid of an aging B-movie queen whose daughter is trying to commit her and who someone is apparently trying to kill.
---
1x10 Steele Trap (December 10, 1982)
---
A client commits suicide in the office so Steele and Laura attend a house party on an island owned by a wealthy publisher in his place in an attempt to find out why.
---
1x09 In the Steele of the Night (December 03, 1982)
---
Steele investigates a murder when Laura's former colleagues gather for a reunion and old grievances begin to re-emerge.
---
1x08 Your Steele the One For Me (November 26, 1982)
---
A lesson in detective work for Steele escalates a jaywalking accident into an encounter with Japanese gangsters.
---
1x07 Etched in Steele (November 19, 1982)
---
Laura and Steele investigate the murder of an author whose steamy novels badly mirror her own married life.
---
1x06 Steele Belted (November 12, 1982)
---
A loser asks the agency to help him, but his alibi witness is found dead in Steele's apartment and his lawyer seems more interested in Laura than in the case.
---
1x05 Thou Shalt Not Steele (November 05, 1982)
---
A woman from Steele's past asks him to help her steal a valuable painting that Laura has already agreed to protect.
---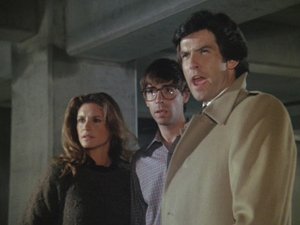 1x04 Signed, Steeled and Delivered (October 29, 1982)
---
Laura and Steele spend the weekend trying to keep a CIA researcher alive and on time for his wedding.
---
1x03 Steele Waters Run Deep (October 22, 1982)
---
A video game genius disappears just before a merger, with $5 million and the plans for his company's latest video game.
---
1x02 Tempered Steele (October 08, 1982)
---
Laura tackles a case of industrial espionage in a family-owned business while Steele enlists an old pal to help him install a burglar alarm.
---
1x01 License to Steele (October 01, 1982)
---
"License to Steele" is the premiere episode of the television series Remington Steele. This episode introduces and sets all the central elements of the series; the truth about Laura's fictional boss, the mysterious character posing as Steele, the romantic tension, Steele's love of old movies, et cetera.
---