Bannertail: The Story of Gray Squirrel
Season 1
Bannertail: The Story of Gray Squirrel
Season 1
First Air Date: April 07, 1979

| | | |
| --- | --- | --- |
| First Aired on | : | 1979 |
| Episodes | : | 26 episodes |
Episodes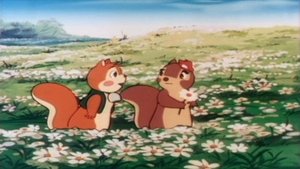 1x26 In a New Forest (September 29, 1979)
---
All troubles seemed to be left behind, they have a place to stay and now they can further explore the new forest. But Banner is still not happy. A sense of loneliness gradually takes over him and he begins to feel sad. His mood and behavior is noticed by his friends and they advise him talk to Flappy about his feelings. However, it appears that confessing love and courting Flappy could be harder than he could imagine.
---
1x25 Winter Journey (September 22, 1979)
---
Banner and Flappy continue to seek for a forest where they would be able to live but their journey is fraught with peril. Despite the winter cold, hunger and despair, they should find themselves a new home.
---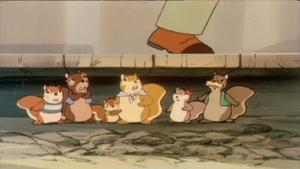 1x24 City Adventure (September 15, 1979)
---
In order to procure food for his friends, Banner goes to the town. He will face some difficulties, but by chance he finds his adoptive mother cat. Now they are reunited, but Banner now feels himself as a true squirrel and tells her he knows that he is just an adopted orphan. Banner has to make a difficult choice between his mother and his true squirrel nature and way of life.
---
1x23 Dangerous Quarrel (September 08, 1979)
---
Time passes, autumn comes to an end . Desperately foraging, squirrels continue their path to a new forest. Lador has found some nuts but doesn't want to share them with anyone. His selfish action causes a fight. Lador decides to leave the group and continue on his own. But when Lador gets in trouble the others will come to help him anyway.
---
1x22 To a New Forest (September 01, 1979)
---
After a long journey, full of dangers, they finally found a forest. But disappointment comes later because Senior, the leader of the group, says that it's a dead forest and is not suitable for living.
---
1x21 Farewell to Hickory Forest (August 25, 1979)
---
People have came to the forest. They cut down trees and hunt for sport, one after the other animals are losing their homes and have no alternative but to leave forest. After last glance at their old home and they will start looking for a new one.
---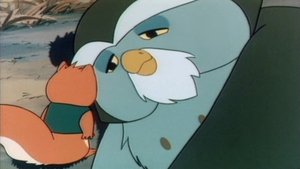 1x20 Death of a Horned Owl (August 18, 1979)
---
Gocha got frightened by Owl - wise friend of Banner. No matter that Owl doesn't even touched him, Gocha complained about him to Banner. Banner asks Owl not to eat any squirrels, but it angers Owl and he makes hard decision - to end friendship with Banner, friendship that has gone too far for an rodent and predator. He frightens Banner by attacking him, but feels very sorry later. Banner is suffering as well - he lost one of his best friends.
---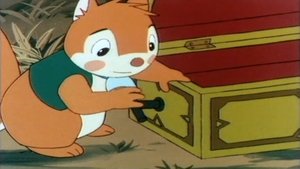 1x19 Found a Music Box (August 11, 1979)
---
Lador finds a music box and says it is a gift from God, however, Banner knows that it belongs to humans. Flappy becomes some kind addicted to the melody that music box plays, but Banner is not impressed because he have lived with humans and have seen such a things before.
---
1x18 Blooming in Autumn (August 04, 1979)
---
Banner prefers to play football with Clay better than collect supplies. When hungry, Banner is accustomed to eat nuts that he can found in the forest. Flappy, as usual, tries to teach him, this time about proper retaining stocks of food. But Banner has his own ideas about that.
---
1x17 Topsy-Turvy Confusion (July 28, 1979)
---
Clay's birthday party is approaching. Gocha has his birthday at the same day, but he thinks that nobody remembers it. He doesn't care much about Clay, but in the end he showed up to Clay's birthday party with a gift. However, he is misunderstood by others. Very offended and depressed Gocha leaves the party. He is in desperate state and decides to leave the forest and live on his own. He even starts thinking about putting end to his life, because he thought that nobody cares about him at all, but then an eagle attacks him and he sees, that his life is in real danger. Following the advice of Owl he returns home to his friends.
---
1x16 Sue's Star Fortunetelling (July 21, 1979)
---
Flappy has a new fun - predicting the future when she is seeing the stars fall. Two of her predictions have come true and the squirrels are impressed with her ability. In one of the stars falling Flappy sees a prince with a crown of flowers on his head, and she believes, that she is the chosen one to marry that prince. Banner and Lador both want to be that prince and marry on Flappy, but it appears Flappy is just laughing at them and expecting someone better.
---
1x15 Wandering Porcupine (July 14, 1979)
---
Lador complained that he had been hurt by the quills of Porcupine. Apparently he deserved it. But this incident raises all sorts of rumors about this new inhabitant of forest. Banner is not impressed by such stories and will better seek advice from the wise Owl. Soon he becomes a close friend of Porcupine. But others still believe the stories invented by aunt Woodpecker and Lador, so they want cast out Porcupine. Finally Porcupine leaves forest forever. Later they have to admit, that they made a great mistake.
---
1x14 Run While You Can (July 07, 1979)
---
A ground squirrel accidentally killed a fox and became quite arrogant. He tells everyone that he killed the fox and he can defend all squirrels from foxes. That makes all male squirrels angry as they do not believe it is true. Banner is jealous and wants to prove his courage, so he challenged the ground squirrel by fighting with an eagle and a fox, but almost lost his life.
---
1x13 Lure of the Mushrooms (June 30, 1979)
---
Acacio, Banner's rival for the affections of Flappy makes an evil prank. He deceives Banner by feeding him some poisonous hallucinogenic mushrooms. Instantly Banner becomes aggressive and selfish. Flappy is seriously worried about Banner's antisocial behavior and talks to him after he had a terrible hangover.
---
1x12 Scary Field Trip (June 23, 1979)
---
Banner and Clay are allowed to go for a walk in the woods. After some adventures they reached the end of the forest. Tired, they fall asleep. When they woke up they realized, that the sun is setting and they should return home quickly.
---
1x11 Rabbit in a Rose Briar (June 16, 1979)
---
A hare, who helped Banner escape from the mouth of the fox, has lost her son. Banner says if she wants she can adopt him. Banner tries to behave and live as a hare. However, things get ugly when the weasel appears and Banner who had tied his tail can not run away fast. The hare saved him, but then she realized that adopting grown squirrel is horribly wrong. Then she leaves. For the second time in his life, Banner feels abandoned.
---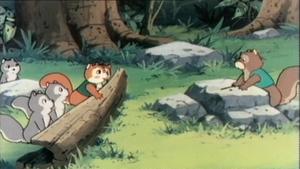 1x10 Squirrel School (June 09, 1979)
---
Young squirrels have to learn to fight against the dangers that the forest provides. So they have founded a school of squirrels and Senior is appointed as director.
---
1x09 Moving-Out Curse (June 02, 1979)
---
Banner is finally integrated as a member in the family of squirrels. A terrible lightning storm destroys his home, but thanks to help from the rest of the squirrels he builds a new nest and gives a grand opening party. Despite the occasional difficulties, there will be a lot of fun.
---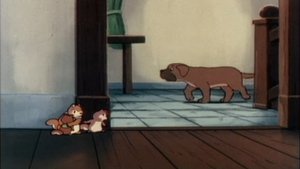 1x08 Clay Rescue Mission (May 26, 1979)
---
Banner arrives at the village followed by other forest dwellers. They find Clay, but he is so afraid of what he's told his mother, that he refuses return to the forest. However, Banner with other squirrels have planned a rescue operation and freed Clay. During the operation, the farmer captures Clay's mother Mrs. Lori. But finally, thanks to the help of all friends and team work, they rescued her from peril.
---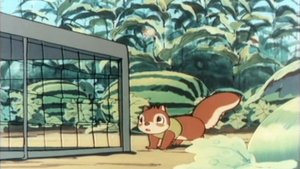 1x07 Clay Runs Away (May 19, 1979)
---
Mrs. Lori, the mother squirrel always worried about her son Clay. He is not allowed to play with Banner. Clay was so upset, that runs away from home. He is too incautious and falls into a trap. The farmer takes him to the village. All forest dwellers, and especially Mrs. Lori, are desperate, they'll try to rescue Clay.
---
1x06 We're All Friends (May 12, 1979)
---
Banner can not go home, because now the weasel knows where he lives. Flappy allowed him to stay at her home until he can find himself a new home. Meanwhile, Flappy lives with her grandfather.
---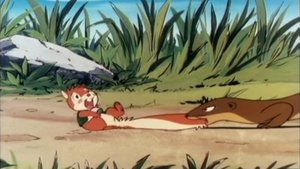 1x05 Tail Parachute (May 05, 1979)
---
Banner has alienated everyone and is alone again. He also has to face a new danger, a weasel. Banner does not know how to fly from tree to tree so narrowly escaped death thanks to his friend Owl. After this experience, Banner starts to hate life in the forest. But then Flappy cares about Banner again and teaches him everything, even how to fly.
---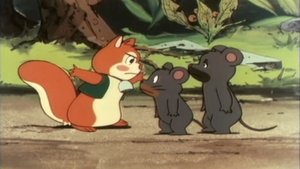 1x04 A Strange Thief (April 28, 1979)
---
Banner just came to the forest and has no idea that he should pick up supplies for the winter. Instead he has fun walking through the trees where he meets many animals, including two mischievous mice, that seem very appetizing to him. Fact, that he tried to eat mice is so funny, that they can't stop laughing. But that's not all. Banner is suspected of stealing supplies for the winter from another squirrel Acacio. Banner investigates this case and manages to discover who the real thief is.
---
1x03 Banner's Own Home (April 21, 1979)
---
Banner decides to stay in the forest. Now he must find himself a house. When finally found, he arranged an opening party for all his friends, and of course, Owl is invited. But the other squirrels flee in terror when they see Owl. The wise bird, by an act of courage, decides to return next to Banner after what happened. Banner feels very alone even with his new house.
---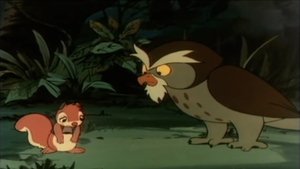 1x02 Friends of the Forest (April 14, 1979)
---
Living in the forest is very strange and difficult for a young orphaned squirrel raised by a kindly mother cat. Owl is the first denizen of the forest who Banner encounters. Initially he intends to eat him, but Banner, thinking himself a cat, fights back rather than flee, earning owl's respect and eventually his friendship. Later he meets other squirrels living in forest, However he got little support from them. Hunger leads him to the lake, because the only food that he knows himself to provide is fish. His strange actions attracted attention of young and beautiful squirrel Flappy and she decides to help him.
---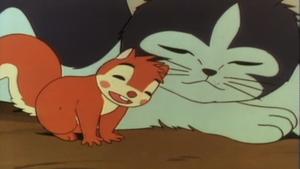 1x01 A Kitten is a Squirrel? (April 07, 1979)
---
Soon after birth a young squirrel gets caught by a boy and is taken to a farm. Boy then tries to feed him to their pet cat. However, the cat feels sorry for the squirrel and adopts him as her own child and names the squirrel Banner. Banner and cat lived happily in the farm, but their happy days don't last long. A fire destroys the farm, and Banner is separated from his mother cat.
---