Ranma ½
Specials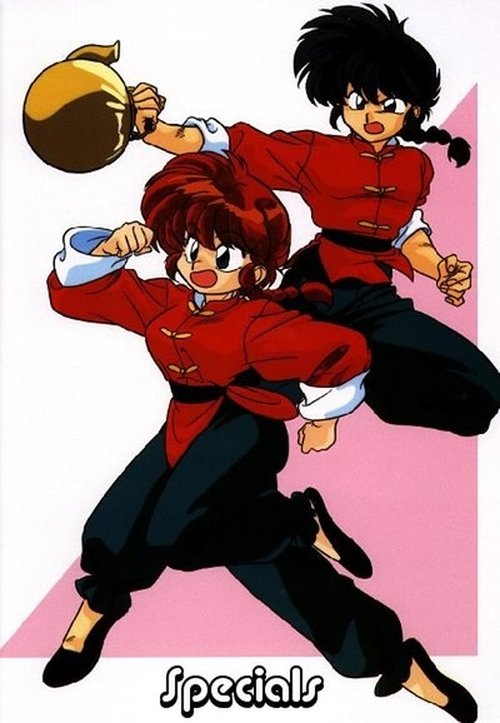 Ranma ½
Specials
First Air Date: November 07, 1990

| | | |
| --- | --- | --- |
| First Aired on | : | 1990 |
| Episodes | : | 20 episodes |
Episodes
0x20 Episode 20 (August 20, 1994)
---
---
0x19 Episode 19 (August 01, 1992)
---
---
0x18 Episode 18 (November 02, 1991)
---
---
0x17 Nightmare! The Incense of Spring Sleep (July 30, 2008)
---
Twelve years after the final OVA was shown, and the end of the manga, a new piece of Ranma ½ animation was made for the "It's a Rumic World" exhibition of Rumiko Takahashi's artwork. The new 30 minute special is based on the "Nightmare! Incense of Spring Sleep" manga story from volume 34, and was shown on odd numbered days at the "It's A Rumic World" exhibition in Tokyo from July 30th to August 11th, 2008.
---
0x16 It's a Rumic World: 50th Anniversary Weekly★Shonen Sunday Special (March 19, 2008)
---
---
0x15 The Two Akanes - Ranma, Look at Me! (January 19, 1996)
---
Staying at a resort, Ranma bumps into a doll on display there. Unfortunately, it's cursed, seeking it's revenge by switching bodies with Akane to try to kill him...
---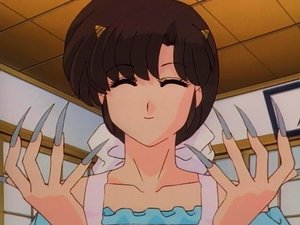 0x14 Hell Hath No Fury Like Kasumi Scorned (November 17, 1995)
---
An ancient ogre is let loose upon the Tendo Dojo, capable of possessing people, twisting even the most innocent individual towards evil.
---
0x13 Oh, Cursed Tunnel of Lost Love! Let My Love Be Forever (September 21, 1995)
---
Shampoo and Ukyo send Akane and Ranma off to a haunted cave, rumored to permanently break up any couple that tries to make it through it. Of course, it's not like the two "love birds" need much help to start arguing...
---
0x12 Battle ga Ippai 29-nin no Korinai Yatsura (March 03, 1995)
---
---
0x11 Reawakening Memories (2) (February 17, 1995)
---
As she, Shinnosuke and his grandfather are looking for the source of the water of life, Akane is determined to repay her debt to him... even at the expense of her relationship with Ranma.
---
0x10 Reawakening Memories (1) (December 16, 1994)
---
A news report on TV sends Akane's mind racing back to a holiday the Tendo's had to a remote region of Japan, where she got lost and was saved from a monster by a young boy. Discovering she still has the old whistle the boy gave her to keep her 'safe from the monsters', she goes off on her own to give it back to him.
---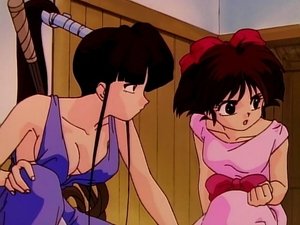 0x09 The One to Carry On (2) (August 19, 1994)
---
Out on the street, Akane and Ranma each hone their martial arts skills, hoping to get good enough to win back the dojo.
---
0x08 The One to Carry On (1) (June 17, 1994)
---
Two poor sisters with amazing martial art skills insist on paying back Akane through service when she shares some food with them. Since they've been living on the street, searching for their father, Soun invites them to stay for a while. Little does he realize what he's in for...
---
0x07 Stormy Weather Comes to School! Growing Up With Miss Hinako (June 21, 1994)
---
A new teacher arrives - Miss Hinako, a peculiar young girl capable of draining people's energy, turning herself into a sultry 20-something in the process. Seeing her take out Happosai with one blast, Ranma desperately wants to learn how she does it.
---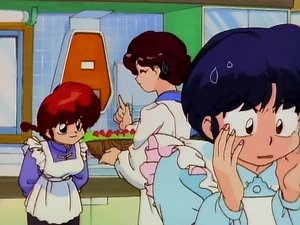 0x06 Akane vs. Ranma! I'll Be the One to Inherit Mother's Recipes! (February 18, 1994)
---
Kasumi falls ill, and Akane volunteers to take over the household's cooking duties using the newly discovered book of recipes left by her mother. Luckily, Mrs. Saotome arrives to assist her.
---
0x05 Tendo Family Christmas Scramble (December 17, 1993)
---
After seeing Santa in a dream, Kasumi decides to hold a big Christmas party at the Tendo Dojo, and everyone's invited.
---
0x04 Shampoo's Sudden Switch - The Curse of the Contrary Jewel (October 21, 1993)
---
When Shampoo suddenly starts treating him like garbage, Ranma pulls out every trick in the book trying to win back her affection.
---
0x03 Tendo Family's Annoying Acquaintances (August 30, 1992)
---
---
0x02 Nettou Uta Gassen (2) (November 21, 1990)
---
---
0x01 Nettou Uta Gassen (1) (November 07, 1990)
---
---