Baki the Grappler
Childhood + Underground Arena Sagas
Baki the Grappler
Childhood + Underground Arena Sagas
First Air Date: January 08, 2001

| | | |
| --- | --- | --- |
| First Aired on | : | 2001 |
| Episodes | : | 24 episodes |
Episodes
1x24 The King's Ransom (June 25, 2001)
---
Baki fights Dr. Shinogi Kureha.
---
1x23 Medical Miracle (June 18, 2001)
---
The fight between Doppo Orochi and Yujiro Hanma continues; after Dr. Shinogi Kureha performs a medical miracle, he demonstrates his physical abilities to the crowd; one of Kureha's former patients visits Baki.
---
1x22 Head On Collison! (June 04, 2001)
---
Dr. Shinogi Kureha reveals to his brother, Kousho Shinogi, the Cord-Cutter, why he is fighting Baki Hanma; Doppo Orochi and Yujiro Hanma fight.
---
1x21 An Unlikely Challenger (May 28, 2001)
---
Yujiro Hanma shows up after Baki's fight and knocks him out, and Doppo Orochi challenges Yujiro to a fight. After watching Doppo spar with his students, Baki spars with him. Yujiro starts a fight with a group of boxers at their gym, and he fights with Izou Motobe and Baki's next opponent is revealed.
---
1x20 An Honorable Loss (May 21, 2001)
---
Baki fights Mount Toba, a professional wrestler.
---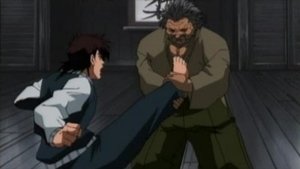 1x19 The Right To Fight (May 14, 2001)
---
Kiyosumi Katou spars with the fighters in Doppo Orochi's dojo; Kozue Matsumoto interferes with some bullies that are bothering Baki Hanma, which causes problems for her later; several fighters petition Mitsunari Tokugawa to be Baki's next opponent; Baki trains with Izou Motobe.
---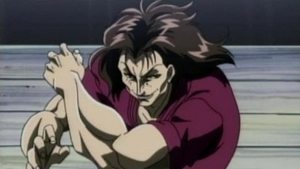 1x18 The Cord-Cutter (May 07, 2001)
---
Baki Hanma fights Kousho Shinogi, a master of Cord-Cut Karate.
---
1x17 Champion (April 30, 2001)
---
Flash forward three years: Baki Hanma is now the champion of the underground arena. Mitsunari Tokugawa meets with Doppo Orochi, a great Shinshinkai karate fighter, and asks him to enter his son in the arena. Doppo finds Kiyosumi Katou, a former student, at his dojo beating up his fighters, and he introduces Katou to the arena. Baki trains for a fight at the boarding house where he is staying, where Kozue Matsumoto, the daughter of the woman who owns the house, has a crush on him.
---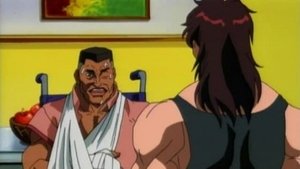 1x16 Coming Home (April 23, 2001)
---
Antonio Igari, a pro wrestler, tells Mitsunari Tokugawa, an old man who runs an underground fighting circuit, about Baki Hanma and his recent global travels. In the narrative, Baki is seen training and fighting, and, while in Brazil, he visits a fighting master named Dickson. Learning of the circuit, Baki returns to Japan to meet with Tokugawa, and he fights Tokugawa's bodyguards to earn a chance to enter the circuit.
---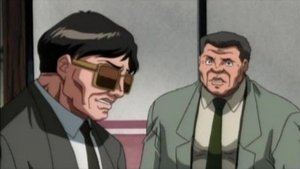 1x15 Reflections (April 16, 2001)
---
A recap episode. Detective Kido reflects upon his experiences with Baki Hanma, and Hitoshi Kuriyagawa tells Kido about Baki's relationship with his mother and his fight with Yujiro.
---
1x14 Lullaby (April 09, 2001)
---
Baki fights his own father, Yujiro.
---
1x13 The Midnight Hour (April 02, 2001)
---
All of Baki's friends show up to watch his fight with Yujiro and to help him warm up; meanwhile, Yujiro fights Gaia. Also, Hanayama opens up to Baki about his mother.
---
1x12 Bite Marks (March 26, 2001)
---
Yujiro Hanma breaks into the Prime Minister's office to prove a point; Baki Hanma fights the swordsman Kurokawa; Yujiro forces the archer Kanemoto to shoot an arrow at him; Baki visits his mother after she is rejected by Yujiro.
---
1x11 Gaia (March 19, 2001)
---
Baki fights Gaia (an alter ego of Nomura).
---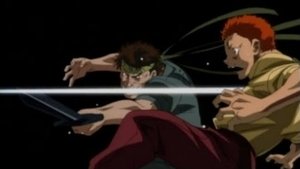 1x10 Battlefield (March 12, 2001)
---
Captured by the mercenaries as soon as he parachutes in, Baki must free himself and fight his way out against Nomura's jungle warfare team (Copperhead, Kuraishi, and the Chiba twin brothers, Sanada and Chiba). Meanwhile, an old friend warns Strydum of Gaia's fighting ability.
---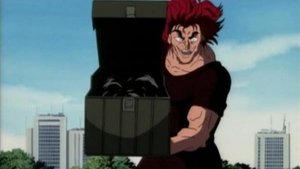 1x09 The Division (March 05, 2001)
---
Baki explains to his mother why he fights, visits Hanayama in the hospital, and trains. After a brief encounter with Yujiro, who killed the Yasha Ape, which made Baki angry since Yasha was Baki's friend after their fight, they decide that Baki and Yujiro will fight in one month. Baki then meets Captain Gerry Strydum, who tells him of a mercenary group in Hokkaido, and Baki decides to go there to defeat them.
---
1x08 Demon (February 26, 2001)
---
Baki's father, Yujiro Hanma, shows up after Baki's fight with Kaoru Hanayama. After the story of how Yujiro met Baki's mother is told, Yujiro and Hanayama fight.
---
1x07 Gripper (February 19, 2001)
---
Baki and Hanayama continue to fight, and Hanayama's tattoo is explained.
---
1x06 Spirit (February 12, 2001)
---
After being knocked down by Baki, Hanayama flies into a rage in his office. Afterward, he visits his sick mother in the hospital. Also, Baki visits Yuri and his sister, Nina in the hospital before his rematch with Hanayama.
---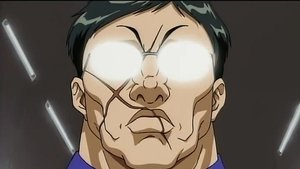 1x05 A Warrior's Heart (February 05, 2001)
---
After returning home, Baki learns that Yuri will be fighting for the heavyweight title, so he visits Yuri at his gym. Meanwhile, Kuriyagawa tells Hanayama that he can't fight Baki until Baki has fought Yuri, but Hanayama has other plans. Before Yuri's title fight, he is attacked by Hanayama who defeats him and destroys his hand.
---
1x04 The Fang and the Tears (January 29, 2001)
---
Baki Hanma fights a rematch with the Yasha Ape. After very hard fight, Baki eventually defeat the giant monster. Later he and Yasha Ape becomes a friends and Yasha Ape gives Baki his fang.
---
1x03 The Beast of Yasha Crag (January 22, 2001)
---
Baki meets his friend Reiichi Ando in the woods and stays with him. While there, Baki adopts some of Ando's training techniques, and he camps alone on Yasha Rock, hoping to fight with the Yasha Ape.
---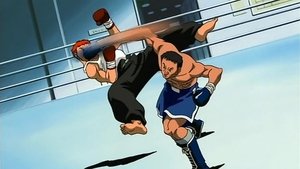 1x02 Those Who Squirm (January 15, 2001)
---
Baki spars with Yuri. Meanwhile, Kuriyagawa meets with Kaoru Hanayama, a gangster and renowned brawler, to set up a fight with Baki.
---
1x01 Stirrings of Destiny (January 08, 2001)
---
Baki Hanma fights a gang of 100 thugs; afterward, he is walked home by Detective Kido and his partner, who watched the fight. Baki then trains and thinks about what he should do to get stronger. Meanwhile, Kuriyagawa, the man who hired the thugs to fight Baki in order to test his strength, pays the gang's leader. Also, Baki watches a sparring match between Yuri Chakovsky, the international welterweight boxing champion, and Dinoy, Thailand's Muay Thai champion.
---