Colditz
Season 1
Colditz
Season 1
First Air Date: October 19, 1972

| | | |
| --- | --- | --- |
| First Aired on | : | 1972 |
| Episodes | : | 15 episodes |
Episodes
1x15 Gone Away (2) (January 25, 1973)
---
The escape is on and there is tension in the air and not everything goes according to plan – but as some escapees find out, getting out of Colditz is only one part of the battle – getting out of Germany proves to be much more difficult.Flt-Lt Carter has been caught trying to escape but has managed to pass on valuable information which has made a previous escape plan possible. Captain Grant has been relieved of his duties as Escape Officer to lead them.
---
1x14 Gone Away (1) (January 18, 1973)
---
Dick Player believes he has an excellent escape plan, but the escape officer rejects the idea and the feeling is that there are too many good escape ideas being rejected which results in an impromptu escape by Simon which coincides with an inspection visit – however, Simon learns some valuable information and the original escape looks as if it's back on – but Colonel Preston lays down certain surprising conditions.
---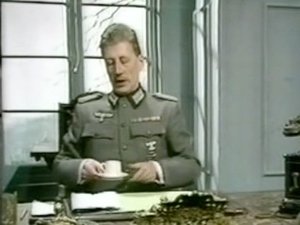 1x13 The Way Out (January 11, 1973)
---
Mc Donald, a Scottish officer, receives a ""dear John"" letter and wants to escape desperately to put things right at home which puts the escape committee in a spot. Phil Carrington befriends the man and does what he can to help, but McDonald is tall and loud and stands out in a crowd – will anyone want to escape with him?
---
1x12 Murder? (January 04, 1973)
---
One of the German guards is found murdered, but fearing reprisals from the Gestapo, the Kommandant reports it as suicide. The Gestapo decide nevertheless to investigate but at the same time, Colonel Preston asks Simon Carter to look for a murderer among the prisoners and clues indicate that Simon may have his hands full.
---
1x11 Court Martial (December 28, 1972)
---
A new doctor joins the German staff at Colditz and his stickling for rules causes problems with the prisoners, but then Simon Carter sees this as an opportunity to be court-martialled which means being sent to Leipzig where there is a better chance to escape, but things don't go as planned and soon Simon is in danger.
---
1x10 Tweedledum (December 21, 1972)
---
Wing Commander Marsh assists the British doctor as an orderly and he proposes escaping by feigning mental illness in order to be repatriated. The escape committee is not told of the plan and Marsh starts acting irrationally – however, the ever suspicious Ullmann appoints Private Hartwig to watch Marsh. Hartwig has a mentally disturbed brother and knows exactly what to look for. Will the wing commander be able to live the part and convince him?
---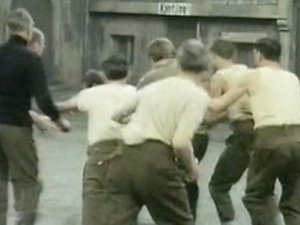 1x09 Bribery and Corruption (December 14, 1972)
---
Colonel Preston receives bad news from home and has to make a decision about his command. Meanwhile Dick Player has to go to the dentist in town and gets set to escape, but while there he finds out information which could assist in a mass escape. It all depends on being able to bribe one of the guards, Private Heller – but will he play ball?
---
1x08 The Traitor (December 07, 1972)
---
German guards are foiling too many escape attempts which leads Colonel Preston to believe that there is an informer working within the imprisoned population, so an inquiry is started to identify the suspect, but this sets off a chain of events which reveal the darker side of life in Colditz.
---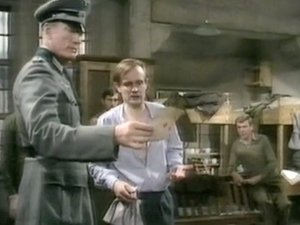 1x07 Lord, Didn't It Rain (November 30, 1972)
---
When a lorry drives into the Castle courtyard, Captain Grant seizes the opportunity to put a blitz escape operation into action.
---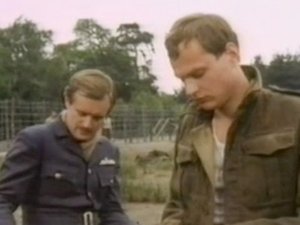 1x06 The Spirit of Freedom (November 23, 1972)
---
Flight Lieutenant Carrington (Robert Wagner) joins the British contingent in Colditz and he is viewed with resentment, especially by Simon Carter (David McCallum) and after they have a scuffle that ends up with the American in solitary, Carrington announces that he wishes to write a book that examines the war from the German point of view. The Gestapo come to interview Carrington and grant permission, but do they trust Carrington – and does he trust them?
---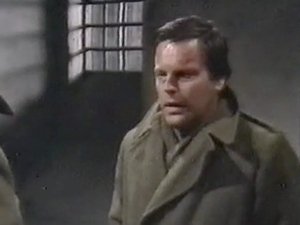 1x05 Maximum Security (November 16, 1972)
---
The arrival of a new security officer – Haupman Ullman, leads to a tightening up of security. However the British contingent manages to eavesdrop on a meeting that will decide the strategic use of Colditz and they are surprised at what they learn. Meanwhile, the disillusioned German second in command (Michael Gough) is giving cause for concern with his behaviour, and when the Gestapo arrive, they spring a surprise on the Kommandant and his new security chief.
---
1x04 Welcome to Colditz (November 09, 1972)
---
Colditz gets a new senior British officer, Colonel Preston (Jack Hedley). (The previous senior British officer, Major Donaldson is referred to in this episode but never seen). On his arrival he witnesses a futile escape attempt by Flight Lieutenant Carter and when the Kommandant meets him, he believes Preston is a man of honour who he can deal with. The colonel's new orders that seem to be appeasing the Germans cause conflict and dissension in the ranks, but there is method in the colonel's madness, which could come unstuck when a Polish officer decides to escape.
---
1x03 Name, Rank and Number (November 02, 1972)
---
The bruised and unconscious body of submariner Lieutenant Dick Player is washed up on a beach somewhere in France. He is wearing plain clothes and speaks fluent German, which makes his captors believe he may be a spy. He escapes from the hospital where he is taken to recover but is recaptured and interviewed by the Gestapo. Player had once lived in Germany as the son of a diplomat and manages to get to speak to a childhood friend – now an important government official who offers Dick a chance to work with a plot to overthrow Hitler, but at a price.
---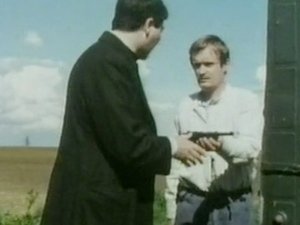 1x02 Missing, Presumed Dead (October 26, 1972)
---
Action takes place in May 1940. After having a disagreement with his new wife, Flight Lieutenant Simon Carter (David McCallum) sets off for a night mission over Germany but he is forced to bail out of his crashing aircraft. On the ground, he befriends a young priest but the Gestapo arrests them both. Carter escapes first from the Gestapo and then from the prisoner of war camp he is assigned to – from there he is despatched to Colditz.
---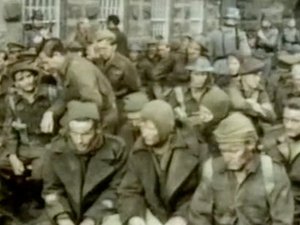 1x01 The Undefeated (October 19, 1972)
---
The opening episode takes place in June 1940. Captain Pat Grant (Edward Hardwicke) is captured and taken to a camp where he immediately starts organizing escape activity. After an unsuccessful escape he is sent to Colditz.
---