Aria
Aria the Origination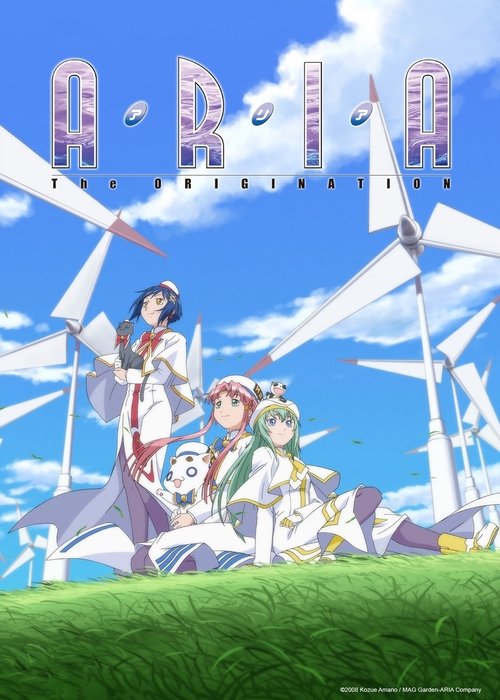 Aria
Aria the Origination
First Air Date: January 08, 2008

| | | |
| --- | --- | --- |
| First Aired on | : | 2008 |
| Episodes | : | 13 episodes |
As winter melts into spring, Akari, Aika, and Alice continue to work hard on becoming Neo-Venezia's top gondoliers. Aika starts to take on more responsibility around Himeya, Alice travels up the challenging canal near Hope Hill; even Akari spends a day working on a huge gondola called a traghetto! But there's still so much to learn... and the final test to become a Prima, which once seemed so far off in the future, might not be so far off anymore.
Episodes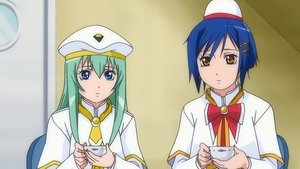 3x13 To That New Beginning... (April 01, 2008)
---
Over the years, the Aria Company has changed. First it was Grandma's Aria Company, then it was Alicia's, and someday, it will be Akari's Aria Company. But that day might come sooner than Akari expected. Will she be ready for the future that lies ahead?
---
3x12 Embraced by That Blue Sea and Wind... (March 25, 2008)
---
As Akari and Aika leave for practice one cold winter morning, Aika has something to tell Akari. The two of them can't practice together anymore... As if that shock weren't enough, Alicia has something important to say as well.
---
3x11 Those Ever-Changing Days... (March 18, 2008)
---
Alice is so busy now; every waking moment is full of appointments and work. Though she enjoys the life she has now, she still misses the time that she spent with her friends. It's starting to feel like she might never see Akari and Aika again.
---
3x10 The Excitement on That Moon-Gazing Night... (March 11, 2008)
---
Akari, Aika and Alice decide to partake in an old Manhome tradition, Moon-watching. Aika secretly invited Al to their get-together, but he hasn't shown up yet. Aika goes to look for him, but she has no idea what surprises the night has in store.
---
3x09 Surrounded by That Orange Wind... (March 04, 2008)
---
Alice has just graduated from middle school. She feels confident, and excited about what's to come. And then, Athena suggests that they finally go on the picnic that they've been planning for so long. Alice's world is about to change...
---
3x08 The Memories of That Precious Person... (February 26, 2008)
---
Alice and Athena are going on a picnic! Alice chooses a date and makes all sorts of elaborate plans... but Athena gets overloaded with work, and can't come. Athena tries to chase after Alice to apologize, but trips and falls - and somehow loses her memory!
---
3x07 In That Gently Passing Time... (February 19, 2008)
---
Akari and Alicia are going to visit Anna, the woman who trained with Alicia in the early days of the Aria Company! Many memories will be shared on this visit, including how the Aria Company itself was first founded.
---
3x06 That Wonderful Extracurricular Lesson... (February 12, 2008)
---
Akari can be a bit clumsy and makes plenty of mistakes, but it seems like Alicia never gets angry with her. Alice makes it her mission to see how Alicia handles Akari's faults, and to see if it's true that no matter what, she never scolds Akari.
---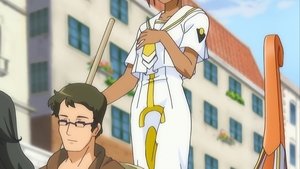 3x05 That Keepsake Clover... (February 05, 2008)
---
Athena and Alicia both have wonderful talents, but what about Akira? For that matter, what about Aika? Aika gets discouraged, thinking that maybe she doesn't have any natural talent, but Akira has an old story to tell that might lift Aika's spirits.
---
3x04 Those Who Aim for Tomorrow... (January 29, 2008)
---
Akari wants to help out more around the Aria Company, but she's only a Single. So Alicia suggests she try her hand at working on a Traghetto! A Traghetto is a ferry-style gondola run exclusively by Singles. Will Akari be up to the challenge?
---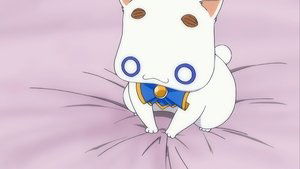 3x03 Those Feelings Within... (January 22, 2008)
---
A new vendor has opened up shop in Piazza San Marco, selling heart-shaped chocolates in glass bottles. Akari buys a bottle, and later goes to buy another, but by then, the patissier has mysteriously disappeared. Where did he go, and will he ever return?
---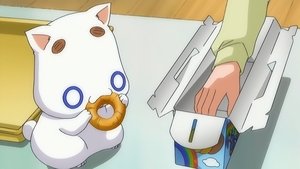 3x02 That Smiling Customer... (January 15, 2008)
---
Someone has requested Akari for a gondola tour! An old woman with a kind smile says that she'd like to see a side of Neo-Venezia that only Akari can show her. Akari takes her to many unique spots, but the woman already seems familiar with them all...
---
3x01 That Imminent Spring Breeze... (January 08, 2008)
---
As winter melts into spring, Akari, Aika and Alice all continue to practice and set new goals for themselves. But Akari still feels like she isn't good enough to become a Prima. Will she or any of the girls ever be truly satisfied with their talents?
---