Love Live! School Idol Project
Season 2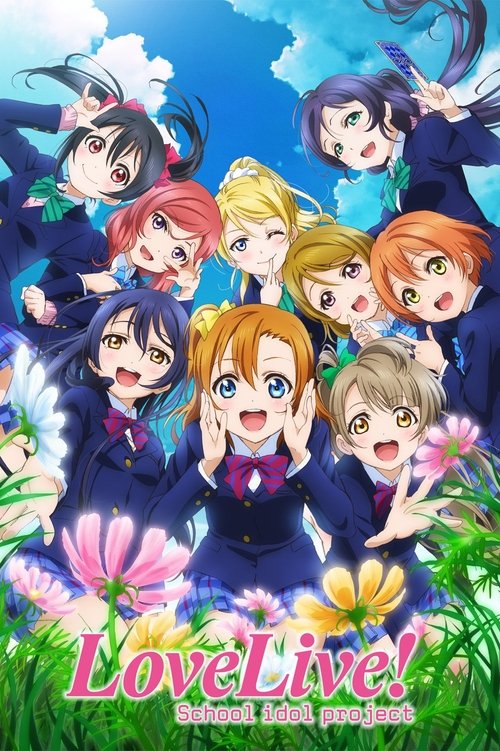 Love Live! School Idol Project
Season 2
First Air Date: April 06, 2014

| | | |
| --- | --- | --- |
| First Aired on | : | 2014 |
| Episodes | : | 13 episodes |
With Otonokizaka Academy saved by Kousaka Honoka and members of µ from being shut down, students are now back to their normal campus lives — for a brief period. Members of µ are now brought back to the stage and compete with other idol groups for regional tournaments.
Episodes
2x13 May Everyone's Dream Come True! (June 29, 2014)
---
Today is graduation. Having finally finished her farewell address, Honoka heads to school in high spirits. At the gates she meets Rin and her friends. They head to the club room together, where they find a trophy and flag.
---
2x12 Last Concert (June 22, 2014)
---
When the Love Live ends, so will μ's. The day before the event, the members reach a unanimous decision. As usual, the girls gather on the roof and end their practice amidst a friendly atmosphere, but when they realize it's their last practice together, they find themselves unable to go home and end up spending their last night together at school at Honoka's suggestion.
---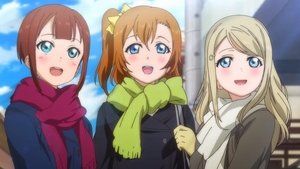 2x11 Our Decision (June 15, 2014)
---
When Yukiho and Alisa are accepted into Otonokizaka High, the girls discuss the future of μ's. Nico says idols keep their name even after losing members, but Hanayo says it's not μ's without all nine members.
---
2x10 μ's (June 08, 2014)
---
On their first shrine visit of the year, Honoka and her friends run into A-RISE, who give them words of encouragement for the Love Live. Yes, µ's had won the Tokyo regional final preliminaries. Teams participating in the event can post a catch phrase on their team introduction page.
---
2x09 Melody of the Heart (June 01, 2014)
---
The day of the final preliminaries, the second years try to make their way to the event after giving an address from the student council at the school's information session, but their means of transportation are paralyzed due to the snow. The girls try walking through the snow to reach the event, but...
---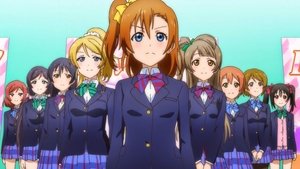 2x08 My Wish (May 25, 2014)
---
When μ's has trouble agreeing on a song for the final preliminaries, Nozomi suggests writing a love song. The members are shaken by the idea of performing and unfamiliar genre, but Eli is suprisingly supportive.
---
2x07 We Have to Do Something! (May 18, 2014)
---
A physical examination reveals Honoka has gained weight. Umi scolds her for her carelessness, and when she attempts to put on the outfit from the first concert...
---
2x06 Happy Halloween (May 11, 2014)
---
μ's is invited to perform as a guest at the Akihabara Halloween event. They need local support to win the Love Live. By putting on a impressive performance, μ's hopes to close the gap between themselves and A-RISE before the final preliminaries.
---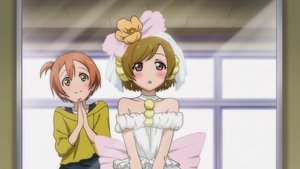 2x05 A New Me (May 04, 2014)
---
While the second years are away on their school trip, Rin is selected to be the temporary leader. However, instead of living up to the members' recommendations, Rin seems unenthusastic and bewildered. When her opinion as the leader is demanded over a trivial disagreement during practice, she is unable to handle the situation.
---
2x04 Best Idol in the Universe (April 27, 2014)
---
μ's makes it through the regional preliminaries. Learning their rivals A-RISE have made it through as well, the girls become even more fired up. Meanwhile, for some reason Nico begins skipping practice. Suspicious of her actions, the girls follow Nico to a supermarket where they witness her shopping for groceries.
---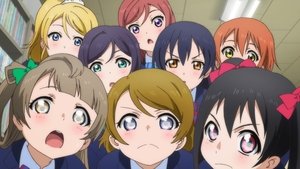 2x03 Door of Dreams (April 20, 2014)
---
The Love Live regional preliminaries are just before the girls. Because the group is free to choose any location for their performance, Honoka suggests they perform at school, but Nico and Hanayo insist they cannot win unless they choose a location with greater impact.
---
2x02 Aiming for Victory (April 13, 2014)
---
Once again μ's begins pursuing the Love Live. Just as they're getting started, a new rule is announced declaring only previously unperformed songs can be sung at the regional preliminaries. In order to write a new song in just under a month, the girls head to the mountains on a camping trip! Naturally, they stay at Maki's cabin.
---
2x01 Another Love Live! (April 06, 2014)
---
Having avoided the closure of Otonokizaka High, the members of μ's return to their everyday lives. News of a second Love Live reaches the girls. This time teams that win their regional preliminaries move onto the finals.
---