Oreshura
Season 1
Oreshura
Season 1
First Air Date: January 06, 2013

| | | |
| --- | --- | --- |
| First Aired on | : | 2013 |
| Episodes | : | 13 episodes |
Episodes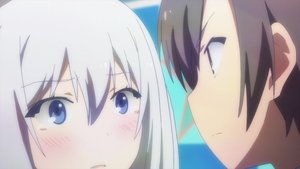 1x13 A Battlefield That Leads to a New World (March 31, 2013)
---
The competition begins and goes through the contestants. When its Masuzu's turn for her speech, Eita confesses to her and that they have the worst personalities together and deserve each other. The couple share a kiss on stage as the other girls look on from the crowd. He has chosen the battlefield route instead of a harem. He attempts to make each girl hate him outside of Masuzu so that they move on. He inadvertently makes all three girls decide to fight all the harder for him while trying to distance himself from them. Chiwa steals a kiss and Masuzu steps in immediately afterwards. The episode closes with Chiwa and Masuzu standing on opposite sides of Eita.
---
1x12 The Result Following a Scheme is a Battlefield (March 24, 2013)
---
The club went to a trip to the beach. All of them had a quality time as a club. Chiwa, Ai, and Hime decided to have a key chain or a cellphone strap as a uniform or thing that symbolizes their club. This action made Masuzu realize that they are not like her. She also told Eita that she would not win the contest and thanks him for everything and she also told Eita that she would set him free after the contest. In the end of the episode, Eita got ran over accidentally by Mana. They have a short conversation and Mana realizes that Eita likes Masuzu and thanks him for that. Eita asks her if who could stand being with a liar, Mana hints him that only her accomplice would be able to that.
---
1x11 The Excitement The Night Before a Trip is a Battlefield (March 17, 2013)
---
Saeko offers the girls a chance to save money on the trip by entering a marketing contest for her new game, but intentionally excludes Masuzu. She also explains why she thinks the relationship is fake. As everyone prepares for the trip to the beach, Eita realizes that Ai, Hime and Chiwa have become good friends while leaving Masuzu alone. Both Masuzu and Eita are also rattled by Saeko-san.
---
1x10 Summer Training Camp Meetings are a Battlefield (March 10, 2013)
---
The club decides to go to the beach for their summer club activity. Chiwa asks Eita to accompany her to buy a swimsuit. Masuzu steps in to interfere with Chiwa and Eita's date, while Himeka and Ai follow Eita in secret. All of them end up spending time together. On their way home, they meet Eita's aunt, Saeko, who realizes that Masuzu and Eita's relationship is fake, and questions Eita about which girl he likes the most.
---
1x09 Promises That Come Back are a Battlefield (March 03, 2013)
---
Eita read Ai's delusions note by accident. As apologies, Eita accompany Ai to the local festival. Ai reveals herself to be Eita's childhood friend in kindergarten. However, much to Eita's surprise, they are also engaged to each other as their childhood promise. The club is reopen with Ai joining the club as club adviser.
---
1x08 Movie Theater Double Dates are a Battlefield (February 24, 2013)
---
Masuzu hasn't given up on finding Fuyuumi's weakness, so she has ordered Eita to go on a date with her. Chiwa is to run counter to Kaoru but she forgets her mission.
---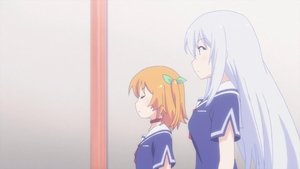 1x07 They're Only Summer Classes, But They Too Are A Battlefield (February 17, 2013)
---
Fuyuumi Ai has forced the club to shut down. Masuzu wants Eita to get closer to her and find a weakness.
---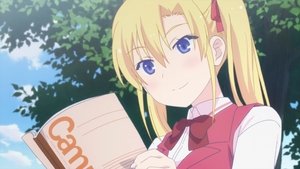 1x06 A Battlefield Where the Gray World is Cut to Shreds (February 10, 2013)
---
Eita and the others are forced to clean the pool after being caught by the hall monitors. Mana shows up once again and so does a red haired hall monitor, named Ai.
---
1x05 The Truth of the Love Letter is a Battleground (February 03, 2013)
---
A new love letter every day is placed in Eita's shoebox, but before he can deal with it a new girl shows up and kisses him in front of Masuzu.
---
1x04 Fighting over a Guy is a Battlefield (January 27, 2013)
---
Eita gets up early to spy on Chiwa's first date with Sakagami.Masuzu having the same idea but she is there to watch something else unfold.
---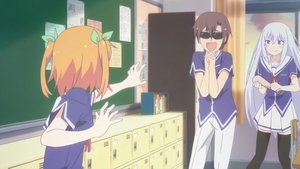 1x03 A Battleground over the Tears of a Childhood Friend (January 20, 2013)
---
The new plan to make Chiwa popular is to expand on her past life, but how long can she keep up the ruse.
---
1x02 Starting a New Club is a Battleground (January 13, 2013)
---
Chiwa confronts Eita about his new new girlfriend Masuzu. Chiwa tells Eita that she will be popular and get a boyfriend. Masuzu makes a school club to help to help Chiwa become popular and ends up embarrassing Chiwa in front of other students. Masuzu tells Eita that she wants him to be only her boyfriend.
---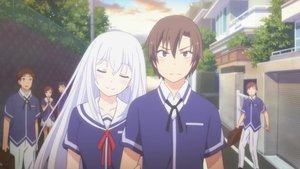 1x01 The Start of My High School Life is a Battleground (January 06, 2013)
---
Eita wants to study, get good grades, and get into a promising school; love will have to wait.But the silver hair beauty in his class has other plans regarding that.
---