Fireman Sam
Season 6
Fireman Sam
Season 6
First Air Date: February 11, 2008

| | | |
| --- | --- | --- |
| First Aired on | : | 2008 |
| Episodes | : | 28 episodes |
Episodes
6x28 Wie gewonnen so zerronnen (November 19, 2012)
---
---
6x27 Steuermann Norman (November 18, 2012)
---
---
6x26 Mike's Rocket (March 17, 2008)
---
Mike has built a rocket and is preparing to launch it. Norman has become fascinated by Mike's project and wants to build and launch one of his own.
---
6x25 Open Day (March 14, 2008)
---
It is open day at Pontypandy Fire Station and everyone is invited to visit and have a look around. Norman and James end up stuck on the roof when they want to see more and have to be rescued by Fireman Sam.
---
6x24 Norman's Ark (March 13, 2008)
---
The residents of Pontypandy wake up to find the whole of the town flooded! Fireman Sam and Tom Thomas the helicopter pilot lend a hand where they can and Fireman Elvis Cridlington and Firefighter Penny Morris come to the rescue in the rescue boat. Meanwhile Norman Price goes off to look for Woolly and Lambikins.
---
6x23 Three Legged Race (March 12, 2008)
---
In the annual three-legged race in Pontypandy, Fireman Sam is partnered with a less-than-confident Dilys Price. Norman Price tries to cheat but then hurts his leg. Fireman Sam and Tom Thomas come to the rescue in the helicopter.
---
6x22 Model Plane (March 11, 2008)
---
James has a new model airplane which Norman has a go at but flies it into Station Officer Steele who demands that he not fly it in Pontypandy. Norman persuades James to take it to the Mountain Rescue Center and fly it but it lands in a tree and leads to them getting stuck.
---
6x21 Day At The Seaside (March 10, 2008)
---
It is Station Officer Steele's day off from the Fire Service. Elvis persuades Sam to let him be in charge at the fire station. Station Officer Steele, Trevor Evans, Nurse Flood, Mandy, Norman and Dilys Price go to the seaside together, but will the SatNav get them there?
---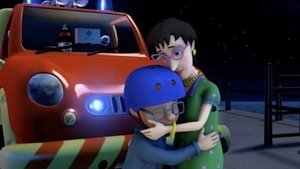 6x20 Dilys' Big Surprise (March 07, 2008)
---
Norman Price tries to make his Mum's birthday special by making a cake with Mike Flood, but they end up causing a fire. Fireman Sam comes to the rescue.
---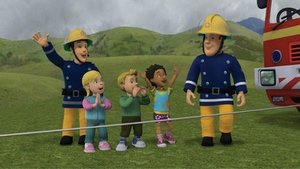 6x19 Fireman James (March 06, 2008)
---
James is keen to be a firefighter and listens to calls to Jupiter on his walkie-talkie. After one call he gets to Norman and Lion first and helps rescue them, but then a later call sees him trapped by fire at the Flood's house.
---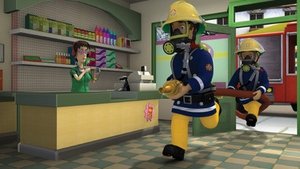 6x18 Sailor Steele (March 05, 2008)
---
Fireman Sam and the rest of the team are training Mike Flood and Charlie Jones to be reserve firemen, and Station Officer Steele is very pleased with their progress. Both Charlie and Mike are itching to fight a fire but the training has prevented Charlie from going out in his fishing boat and there is no fish for the Wholefish Cafe. Charlie and Station Officer Steele they go out in the fishing boat, but are cast adrift after an engine fire leaves their boat stranded.
---
6x17 Double Trouble (March 04, 2008)
---
Norman Price sends his cousin Derek on a wild goose chase to get some Pontypandy pansies but starts worrying he has got into some kind of trouble when he doesn't return. Fireman Sam comes to the rescue.
---
6x16 Twitching The Night Away (March 03, 2008)
---
Norman and Trevor go bird watching. Elvis is preparing to go on a TV show and says he might not be a fireman for much longer. However he decides to help when the forest catches fire.
---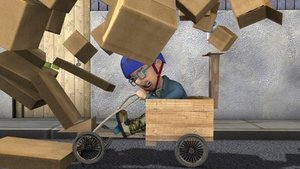 6x15 The Pontypandy Pioneers (February 29, 2008)
---
With Fireman Sam out on an emergency, Trevor Evans leads some young explorers on a nature walk to the Mountain Rescue Centre, but is he up to it? He gets himself stuck and Fireman Sam comes to the rescue.
---
6x14 Pirates Of Pontypandy (February 28, 2008)
---
James and Norman get trapped in a row boat at sea when their pirating adventures get a little out of hand. Lion the cat is not allowed in the Fire Station so Fireman Sam takes him back to Bronwyn.
---
6x13 Poorly Penny (February 27, 2008)
---
On Fireman Sam's day off the crew are inundated with the Jones' emergencies. Firefighter Penny Morris has caught a cold, but she still tries to perform her firefighter duties. However, when the Joneses get stuck on Charlie's boat, Penny's illness takes hold while she is out on Neptune alone, and Sam has to come to the rescue.
---
6x12 Norman's Ghost (February 26, 2008)
---
It's Halloween and everyone in Pontypandy is looking forward to the big party at the Floods' house. Norman Price gets into the Halloween spirit by pretending Pontypandy is haunted by a ghost, but then manages to set the Floods' house on fire. Firemen Sam, Elvis and Station Officer Steele come to the rescue.
---
6x11 Sheepdog Trials (February 25, 2008)
---
Norman Price practices his new career as a shepherd by rounding up Woolly with Radar. However, Woolly and her lamb run into the road and make Mike Flood's van tip over. Firefighter Cridlington and Station Officer Steele get the hiccups.
---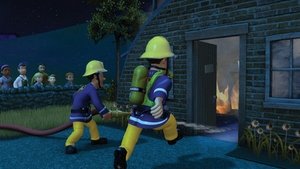 6x10 Stranded (February 22, 2008)
---
Mandy Flood and Norman Price head off to the beach with their buckets and nets challenging each other to see who will obtain the best catch of the day where Mandy finds a whale stranded on the beach and the crew have to try to rescue it.
---
6x09 Off Duty Sam (February 21, 2008)
---
It is Fireman Sam's day off, but it doesn't last! He saves Mike Flood from the roof, and saves Norman Price from quicksand. He stops Trevor Evans' bus going off the road, and then puts out a fire in Dilys Price's store.
---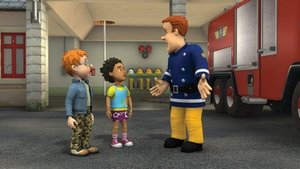 6x08 Flood's Flood (February 20, 2008)
---
As preparations are made for a Pontypandy Karaoke night, Sam and the other firefighters prepare for a drill. Mike Flood works on repairs for Bronwyn but he gets trapped in the Jones' basement, after he accidentally jams the door and causing a small leak to turn into a flood. Fireman Sam comes to the rescue.
---
6x07 Sausages Versus Shrimps (February 19, 2008)
---
Norman Price gets Trevor Evans and Tom Thomas to have a competition to see whose food tastes better. Trevor Evans puts a lot of coal on to his barbecue, soon causing some trees to catch fire.
---
6x06 Stuck In The Muck (February 18, 2008)
---
There's trouble for Trevor Evans as the school bus swerves off the road and breaks down in the Pontypandy hills. Unfortunately, mobile phones have no signal up in the Welsh hills and he is stranded - with a beast about. Fireman Sam comes to the rescue, with the assistance of Tom in the helicopter. Then they search for Trevor, who made an attempt of finding help. In the end everyone is safe and they go home. Norman spots a black animal passing over the road just before the bus rounds a corner, but when he tells everyone else about his sighting, nobody believes him.
---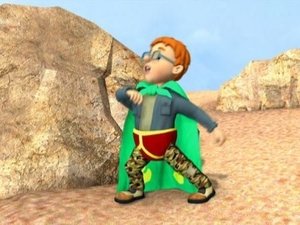 6x05 Heap Of Trouble (February 15, 2008)
---
For the Pontypandy Flower and Vegetable show, Mike is entering a marrow that he has been growing on his compost heap. But he did not heed Sam's advice about turning over his compost regularly, so when he removes his marrow, the air gets into the heap and starts a fire!
---
6x04 Fireworks For Mandy (February 14, 2008)
---
While playing hide-and-seek in the mountains with Norman, Mandy finds a distress flare. Norman wants to let it off but Mandy resists, fearing that it could be dangerous. When they discover Penny stranded on a cliff, they use the flare to raise the alarm. It is up to Sam, Elvis and Tom to rescue Penny.
---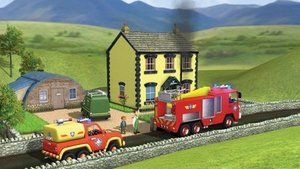 6x03 Elvis Sings The Blues (February 13, 2008)
---
Elvis Cridlington breaks his leg dancing around the Fire Station and begins to wonder if he is really cut out to be a firefighter. But when Mike Flood ends up dangling precariously from his roof and Norman gets his head stuck in railings, it is up to Elvis to save the day.
---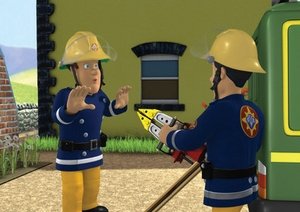 6x02 Pontypandy Extreme (February 12, 2008)
---
Norman is upset when Trevor accidentally runs over his skateboard. Not prepared to wait until his birthday for a new board, Norman decides to retrieve coins from the bottom of a wishing well and buy one himself. When Norman becomes trapped, Sam must use the abseiling skills he has just learned from Tom to rescue him.
---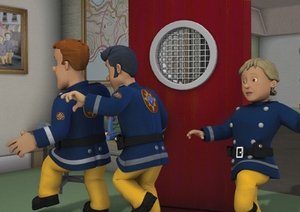 6x01 Blow Me Down (February 11, 2008)
---
Station Officer Steele gets out his kite and pretends it's his nephew's. When he tries to fly it at the Flood's house, it gets stuck on the roof. Meanwhile Norman Price, Charlie Jones and Dilys Price are in need of help in the sea. Fireman Sam is in charge at the Fire Station, so he goes to the rescue.
---