Fireman Sam
Season 5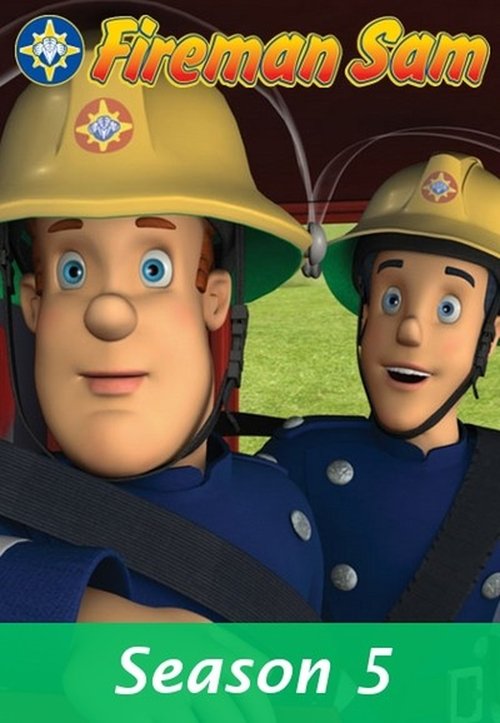 Fireman Sam
Season 5
First Air Date: March 31, 2003

| | | |
| --- | --- | --- |
| First Aired on | : | 2003 |
| Episodes | : | 26 episodes |
Episodes
5x26 The Big Freeze (May 03, 2003)
---
Norman raises everyone's temperature with the bed he builds for his pet lamb Woolly.
---
5x25 Let it Snow (May 02, 2003)
---
---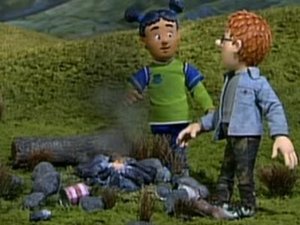 5x24 Fields of Fire (May 01, 2003)
---
---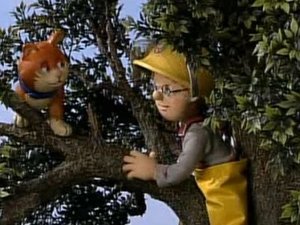 5x23 Firefighter of Tomorrow (April 30, 2003)
---
---
5x22 Birthday Surprise (April 29, 2003)
---
---
5x21 Fiery Finale (April 28, 2003)
---
---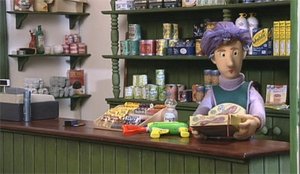 5x20 The Case of the Liquorice Shoelaces (April 25, 2003)
---
Someone has been stealing shoelaces from Dilys's shop and the prime suspect is Naughty Norman. Surprisingly he isn't to blame and he sets out to prove his innocence.
---
5x19 High Jinx (April 24, 2003)
---
Norman uses a power kite to help his with his deliveries.
---
5x18 Norman's Invisible Friend (April 23, 2003)
---
Norman invents a fictitious friend to get double helpings of everything.
---
5x17 King of the Jungle (April 22, 2003)
---
The Tarzanesque jungle cry of naughty Norman Price raises the alarm when the twins get caught in a blazing haystack.
---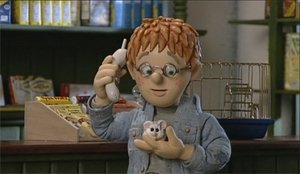 5x16 Trouble and Squeak (April 21, 2003)
---
Norman has taken the school mouse home to look after. Unsurprisingly, it escapes and causes havock when both Rosa and the mouse end up stuck in Bella's chimney.
---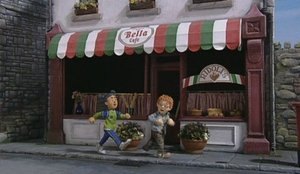 5x15 Fun Run (April 18, 2003)
---
Today in Pontypandy, a fun run has been organised for charity. Unfortunately Norman's cheating ways put James and the other competitors in danger.
---
5x14 Pizza Palaver (April 17, 2003)
---
Bella is as sick as a parrot when a bird's nest falls down the chimney and into her new oven.
---
5x13 Beast of Pontypandy (April 16, 2003)
---
A black beast has appeared in Pontypandy and Woolly has disappeared...
---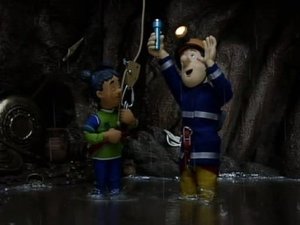 5x12 Deep Water (April 15, 2003)
---
Mandy and Norman get into deep water when they go hunting for treasure.
---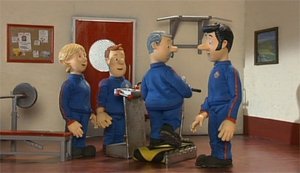 5x11 Fit For Nothing (April 14, 2003)
---
The Fire-fighters are training hard to appear in the Wales Fittest Fire-fighters calendar. It's a competition to see who is the fittest.
---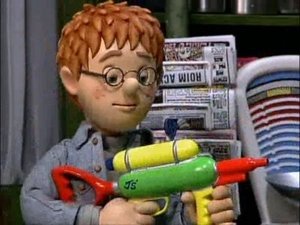 5x10 Joker Soaker (April 11, 2003)
---
To everyone's horror, Norman has a new toy - a ""Joker Soaker"" water pistol!
---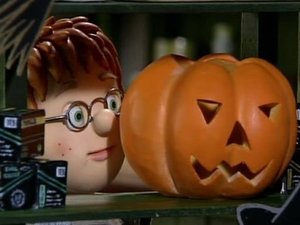 5x09 Mummy's Little Pumpkin (April 10, 2003)
---
Halloween is scarier than normal after Norman leaves his pumpkin lantern unattended.
---
5x08 Carnival of Junk (April 09, 2003)
---
A rubbish tip proves to be a trap for the unwary James, but then the recycled rubbish becomes the centrepiece in a Caribbean-style carnival.
---
5x07 Twitchers in Trouble (April 08, 2003)
---
Trevor is looking forward to his date with Dilys and decides to take her birdwatching. However, a fire at Trevor's birdwatching hide ensures that the date is hotter than planned.
---
5x06 Neighbourhood Watchout (April 07, 2003)
---
Mandy, Sarah and James decide to start a junior neighbourhood watch scheme, but get rather carried away.
---
5x05 Bathtime for Dusty (April 04, 2003)
---
Scruffy dog Dusty is chosen to be the fire station mascot, but first he must have a bath. Dusty is not keen on the idea, though.
---
5x04 Bug Eyed Boy From Venus (April 03, 2003)
---
When Trevor Evans tells the children that there's no such thing as little green men from outer space, Norman is determined to prove him wrong.
---
5x03 A Real Live Wire (April 02, 2003)
---
Mandy thinks a squirrel will be a good pet, but its taste for electrical cables causes a fire.
---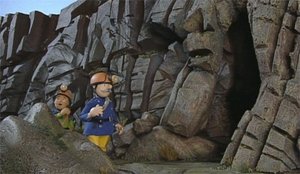 5x02 Twist of Fate (April 01, 2003)
---
Station Officer Steele takes Norman and Mandy Flood pot-holing, but he soon ends up in a tight spot.
---
5x01 Danger Falling Sheep (March 31, 2003)
---
When naughty Norman tries to conquer Pontypandy Mountain he finds himself stranded on a ledge with a fallen lamb.
---