The First 48
Season 7
The First 48
Season 7
First Air Date: January 09, 2008

| | | |
| --- | --- | --- |
| First Aired on | : | 2008 |
| Episodes | : | 32 episodes |
Episodes
7x32 Obstruction / Flight Risk (January 15, 2009)
---
Cincinnati police investigate the shooting death of a 28-year-old from Detroit; Dallas police enlist the help of the Travis County SWAT team after they get a tip that a murder suspect is headed for Mexico.
---
7x31 Coma / Disappeared (December 09, 2008)
---
In Dallas, two teenaged boys are shot outside a nightclub—one is critically wounded, the other is left in a coma. As Detective Eddie Ibarra puts the pieces of the case together, he is temporarily pulled away to assist in the search of woman who has been missing for six days.
---
7x30 After the First 48: Fool For Love / Crash (October 14, 2008)
---
Now that some of our strongest cases have been adjudicated, we can take viewers inside the powerful and dramatic events that unfolded after the arrest, up to and including the conviction.
---
7x29 After the First 48: Murder on the Interstate / At Close Range (October 07, 2008)
---
UPDATE: Follow this case through the justice system. We have already seen the bodies discovered and the arrests made. Now we get to see the court process and the verdicts handed down.
---
7x28 Smoke / Touch of Evil (September 23, 2008)
---
A man is found dead outside in a vacant lot. Detective have no leads, no witnesses and the motive for the killing. Can the detectives track down suspects in time? Murder is always bad, but the murder of an innocent child drives detectives to work harder. When a young mother and her 10-year-old son are brutally stabbed and killed, detectives work against the clock to track killers.
---
7x27 Snapped / Fallen Angel (September 16, 2008)
---
Two teenage suspects are questioned when a man is found beaten to death in a stairwell. Detectives are shocked at the boys ages and what prompted the attack. An up and coming singer is found shot in a car, it looks like a drug deal has gone bad and left the man dead. Could a troublesome past in Mexico play a role? Or is it just random evil?
---
7x26 River's Edge (September 09, 2008)
---
Along the bank of the mighty Mississippi River is the body of a unknown man. The victim is homeless which makes identifying the man even more difficult. Working against a ticking clock detectives work to find a suspect of the beaten homeless man.
---
7x25 In Cold Blood / Red Handed (September 02, 2008)
---
A grandfather hears a knock on his door, little does he know that a killer stands on the other side of it. The suspect flees the scene and crashes his car just down the road. Will the car be the key to identifying the killer? In a bedroom and elderly man lies dead, his killer strangled him. Is the strange man people saw knocking on doors the killer? Can detectives identify him and find him in time?
---
7x24 Collateral / Driven to Kill (August 26, 2008)
---
The lone survivor of a triple shooting lay dieing in a hospital bed. Can detectives get the information they need to put the double murderer behind bars in time? A man is run over by a crazed driver. He is left for dead as detectives search for a killer. They locate two suspects, now they have to determine which one was driving.
---
7x23 Unwelcome Guest / Wrecked (August 19, 2008)
---
Inside an apartment a victim lay dead from a brutal beating. With little evidence and no witnesses the lead detective must rely on the crime scene to give them a suspect. A car accident leaves a man dead, but not because of the wreck because someone pulled a gun. As a suspect comes into sight they zero in on him, and see how a accident turns to murder.
---
7x22 Moving Out / Among Thieves (August 05, 2008)
---
A man lays dead outside his home, he has been gunned down. Investigators find a witness to the crime. After following leads they are surprised when their witness turns into the suspect. A silver Infinity is spotted at he scene of a carjacking gone bad that leaves one man dead. Leads are few and far between, detectives on the case must look under ever stone to find these killers.
---
7x21 The Last Yard / Root of All Evil (July 29, 2008)
---
The murder of a football player at the University of Memphis, is making top news. The young man was cut down in his prime by a killer with a gun. Did someone have a vendetta? Or was it an accident? A married couple found shot to death in their own home, has detectives jumping through hoops and over state lines. Two suspects fled the area the day after the double homicide. Can detectives find them in time?
---
7x20 Blackout (July 22, 2008)
---
Investigators lead a cross country search for the killer of a young man killed during a robbery. With nothing more than street names for their killers to go on, the set out on their manhunt.
---
7x19 Bail Out / Seeing Red (July 22, 2008)
---
A home invasion has turned deadly, investigators are called to the scene of a young man found dead. With their eyes on a suspect they have to wonder if this killer is just a suburban mom or if she is a cold blooded killer. A hard working and loved grandfather is stabbed and left for dead. The detectives interview friends and family. Could this killer be closer than she appears?
---
7x18 Breaking the Silence / Letters of Intent (July 15, 2008)
---
A thriving 28-year-old man is shot and killed. There is a cloak of silence in this case that is hard to break, detectives are determined to do it. A social worked is murdered. Can it be connected to the convicted killer that she has been reaching out to?
---
7x17 Lester Street (July 15, 2008)
---
Four adults and two children lay dead in was is being called the worst mass murder in 15 years. Detectives scramble for clues and learn the deaths may be gang related. Can detectives locate these killers for before they take anyone else out?
---
7x16 Last Night Out /Death Do Us Part (July 08, 2008)
---
One young man is dead and another young man is seen fleeing the scene. Detectives rely on eye witnesses to identify this killer, and bring him to justice. A young mother is shot dead in her vehicle. Her year old twins crying from the back of the vehicle. They leads are more mysterious than they are helpful but every single one is followed up on to catch this killer.
---
7x15 Last Fare (July 01, 2008)
---
A young father-to-be is robbed and killed, detectives are hot on the tail of the killers because of a tip. Can detectives locate their killers before they leave the country?
---
7x14 Frenzy / Hard Truth (May 29, 2008)
---
Two men lay dead in the middle of a busy street. The roommate of the two victims is missing and detectives think he may hold a clue about the murders. One man is dead and another is wounded. With limited leads and witnesses they hold out hope the survivor will be able to identify the shooter.
---
7x13 Ashes and Snow (May 15, 2008)
---
The tragic murder of a woman strangled just days before Christmas has detectives scrambling for clues. To make matters worse their killer burned the car the victim was in and there is a snowstorm looming.
---
7x12 Deal Breaker / Gunplay (April 17, 2008)
---
A family man is robbed then shot and killed. Detectives hunt for his killer. A local high school kid is gunned down in cold blood as he walks home with him friends. Now detectives a hunting for two suspects.
---
7x11 Shell Shocked / Cradle to Grave (April 10, 2008)
---
A sting operation is put in motion to catch a killer. A brutal execution goes down in the middle of a busy neighborhood.
---
7x10 Dropped Call / Derailed (April 03, 2008)
---
A young man lay shot dead in the middle of a street. Can a cell phone and a pawnshop ticket hold the clues detectives will need? The body of a woman is found dumped on some railroad tracks. Detectives are shocked when a tip comes in that someone may be holding out on them. They are convinced when they learn this person knows things they shouldn't know unless they are the killer.
---
7x09 Lured In / Disaster (March 27, 2008)
---
A man is robbed and left for dead in a motel bathroom. Detectives have little to go on, and rely on the victims missing items to lead to their killer. Gunshots ring out in the middle of the afternoon in a residential neighborhood. Finally a witness steps up and says she saw a man flee the scene.
---
7x08 Last Ride / Trailer Trap (March 20, 2008)
---
A young man is gunned down and left in the trunk of an abandoned car. Can his killer be found? The brutal killing of a man in a trailer park sends detectives searching for a killer.
---
7x07 Better Days / Wildflower (March 13, 2008)
---
The local community is shocked when an elderly man is gunned down. With the help of the locals two suspects are brought in. Their tight lips will make the detectives jobs even harder. A woman is outside collecting wildflowers when she is shot and killed. With little to go on, detectives unravel leads which seems to make the case even hard to solve.
---
7x06 American Dream / Easter Sunday (March 06, 2008)
---
A man is found dead in his truck. Detectives learn that he had fled the war in Bosnia, just to killed in the streets of Memphis. The streets are hard and young people fight to break the hold the streets have on them. A young father was doing just that when he was gunned down and left in the back of a car.
---
7x05 Burden of Proof / Backfire (February 07, 2008)
---
A woman is shot and killed in her home. The detectives find the victims car with a suspect behind the wheel. Holding the suspect on stolen property can the gather enough evidence for murder? When two men try to rob a vender one is shot and killed. Once the trigger man is found they need the second robber to put all the piece together.
---
7x04 Unnecessary Roughness / Stolen Life (January 31, 2008)
---
Gunfire rings out leaving a teenager dead, ironically during a Children's Peace Bowl for street violence. With little to go on detectives need a witness to come forward. A popular basketball coach is gunned down, detectives are left scratching their heads. Leads are few and far between, can detectives find their killer?
---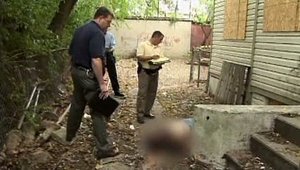 7x03 Dead Sleep / Tag Team (January 24, 2008)
---
A body is found brutally beaten. Detectives have to identify the victim and search for a killer. A local teenager is killed. Detectives enlist the help of some eyes in the sky for help tracking their killer.
---
7x02 Double Time (January 17, 2008)
---
The detectives are called to the scene of a shooting at a café. The witnesses on scene say it was a robbery gone wrong. While working one case, the team gets a second case. The are working against the clock on both cases.
---
7x01 Inked in Blood (January 10, 2008)
---
In Memphis, Sergeant Connie Justice investigates the murder of a 32-year-old tattoo artist shot to death during a robbery. The victim's husband, who survived the robbery, only knows the suspects' nicknames. Armed with stencils of tattoos the customers received before the robbery, Justice must identify and track down the multiple suspects.
---