The First 48
Season 3
The First 48
Season 3
First Air Date: October 05, 2005

| | | |
| --- | --- | --- |
| First Aired on | : | 2005 |
| Episodes | : | 12 episodes |
Episodes
3x12 Pack of Lies (March 02, 2006)
---
In Miami, Sgt. Altarr Williams and Detective Leo Tapanes discover a young man brutally stabbed to death in his house. The investigators soon learn that the victim may have been killed by associates in an alleged crystal meth ring. To find the killer, they must infiltrate the drug ring in order to discover the truth buried in a pack of lies.
---
3x11 Close Ties / Last Call (February 09, 2006)
---
When Phoenix Detective Alex Femenia is called to a scene where three young people are found dead in their home, it is his job to cull through the evidence and determine what happened at this bloody scene. As night falls, the detective waits for the Medical Examiner to arrive to determine if this is the scene of a triple murder or a murder suicide. In Memphis, TN Sergeant Tony Mullins and Lead Investigator Sgt. aroline Mason get their first call of the week. A woman calls 911 to report a dead body laying on the front lawn of a home. When the detectives arrive on the scene the mother of the victim is there and gives the Sgt's a clue, she tells them the last time she saw her son alive, he was with his girlfriend. With the clock ticking it is now up to the Sergeants to locate the girlfriend and find out exactly what she knows.
---
3x10 Dead Man Running / Crash (January 12, 2006)
---
For homicide detectives, the clock starts ticking the moment they are called. Their chance of solving a case is cut in half if they don't get a lead in "The First 48". Each passing hour gives suspects more time to flee, witnesses more time to forget what they saw, and crucial evidence more time to be lost forever. Follow detectives from around the country during these critical hours as they race against time to find the suspect.
---
3x09 Last Exit / Out Cold (January 05, 2006)
---
Two patrol officers driving on a service road to the Black Canyon freeway notice a dark shape at the curb. When they pull over they find a man lying dead in the road. Responding Homicide Detective Jeremy Rosenthal has been with Phoenix Police Department for eight years, and this is just his fifth case a homicide detective. He and Sr. Detective Alex Feminia will investigate this mysterious case. In Miami, Detectives Armando Aguilare and Fernando Bosch are investigating the death of a man found in front of a bar on a little Havana sidewalk, his skull cracked. With no leads, they have to find out who their victim is and how he ended up out cold. But after the autopsy they know one thing for certain--this is a homicide.
---
3x08 Point Blank / Shoot Out (December 29, 2005)
---
Memphis Sergeants respond to an unusual scene, a dead man hunched over a swing set. Working with clues found on the crime scene, Sergeants piece together information and locate potential witnesses. The case takes an unexpected turn when they are able to locate and crack an uncooperative witness. In Miami, Detective Fernando Bosch investigates a murder that takes him across state lines. On a desperate search to find the killer of a man who died in Miami, their leads take them to a potential suspect who has reportedly fled to Atlanta. What the detectives find out when they get there surprises them all.
---
3x07 Torched (December 22, 2005)
---
In Miami, Sgt. Mo Velazquez and Detective Freddy Ponce discover an unidentified victim in the back seat of a torched rental car. The investigation takes a bizarre turn, as detectives uncover a kidnapping and robbery plot involving a crew of drug dealers. They must find everyone involved - before they all disappear.
---
3x06 Fifty Dollar Murder / Murder in Liberty City (December 15, 2005)
---
In Memphis, TN a store clerk is shot during a robbery at a convenience store. Sgt. Connie Justice and Sgt. Ron Collins find extensive forensic evidence at the scene but none of it points to a suspect. Their only hope is surveillance cameras that captured the violent struggle on tape. They hope this will give them the lead they need to i.d. the killer. In Miami, Sgt. Jose "Pepi" Granado and rookie detective Armando Aguilar are confronted with a dead victim and a wounded man at two crime scenes just blocks apart. With no on talking, they rely on old-fashioned police work to find a man who knows what happened that night.
---
3x05 Foolproof Alibi / Left behind (December 01, 2005)
---
In Miami, when a young father-to-be is gunned down in broad daylight, Sgt. Eunice Cooper and Detective Ervens Ford are sure they know who did it. But when their primary suspect claims he was at home when the shooting occurred, and has the record from his GPS ankle bracelet to prove it, they must work against the odds to catch their killer. In Phoenix, Detectives Steve Orona and Jeremy Rosenthal respond to a call of a foul odor coming from an apartment. When they arrive at the scene their worst fears are realized. The body of a woman, wrapped in a blanket, is decomposing on the floor of the bathroom. The detectives are now in a race against time to try and find the killer. They chase their suspect to Mexico, hoping to find him before he disappears.
---
3x04 Evil Streak / .50 Caliber (November 03, 2005)
---
In Las Vegas, Detectives Mike Wallace and Mark McNett are called out on a nightmare of a case: a beautiful young woman was assaulted and murdered in her own apartment. With nothing but the physical evidence, they've got to find out if the killer is a total stranger or someone she knows. And in Miami, Detectives Rolly Garcia and Orlando Silva must track down an enormous handgun that was used to gun a man down on a residential sidewalk; the .50 caliber Desert Eagle is such a rare weapon that the Miami crime lab has never handled a case with one before.
---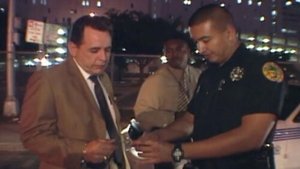 3x03 Fish out of Water / Good Samaritan (October 20, 2005)
---
In Miami, FL, homicide detective Fernando Bosch is faced with what appears to be the murder of an innocent tourist from Ohio. But the discovery of thousands of counterfeit dollars under the victim's bed leads him to believe the phony bills may have cost him his life. And when a homeless man is brutally stabbed defending a local restaurant owner, Sgt. Alttar Williams and Detective Emiliano Tamayo must track the hero's ruthless killer before he disappears into the underbelly of Miami's homeless community.
---
3x02 Duct Tape Murder / Custody of the Devil (October 13, 2005)
---
In Memphis, Sgts. Tony Mullins and Doreen Shelton get caught in the rumor mill and must separate truth from lies as they struggle to identify the two men who robbed and killed a neighborhood drug dealer. And in Miami, when a daughter discovers her mother's body, Detectives Tamayo and Ruggerio search for the elusive killer and learn that sometimes the harshest punishment happens outside the law.
---
3x01 House of Blood / Last Man Standing (October 06, 2005)
---
A brutal stabbing in Little Havana has Detective Carlos Castellanos following a trail of bloody footprints the killer left as he fled the scene. It will take bloodhounds and a frantic pace to track down the killer in this whodunit; Sergeant Confessor Gonzalez has a mystery on his hands.
---