Third Watch
Season 6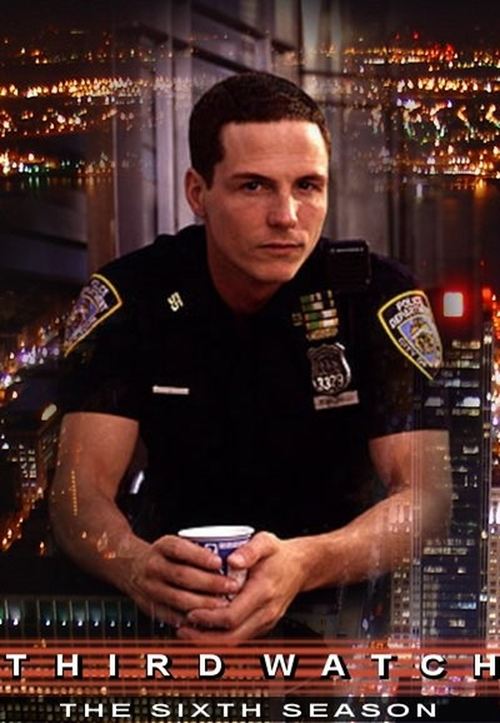 Third Watch
Season 6
First Air Date: September 17, 2004

| | | |
| --- | --- | --- |
| First Aired on | : | 2004 |
| Episodes | : | 22 episodes |
Episodes
6x22 Goodbye to Camelot (May 06, 2005)
---
The series concludes with the gangbangers taking out their assault on the 55th Precinct. After some grenade explosions, the precinct is destroyed. Cruz knows that Marcel Hollis is behind the attack, and she takes his life, as well as her own. Carlos proposes to Holly, and they are married. Everyone receives their reassignments, and Sully retires. In the last few moments, Sully narrates a look into the future.
---
6x21 End of Tour (April 29, 2005)
---
Faith negotiates the end of a live on TV hostage situation. The leader of a vampire cult holds Emily hostage until Bosco saves the day. Cruz attempts to negotiate a deal with a gangbanger to end the war on the 55th Precinct, but instead, he organizes his troops to attack.
---
6x20 How Do You Spell Belief? (April 22, 2005)
---
Finney and Davis are seriously injured in a car accident during a traffic jam, which was caused by a man trying to kill two people, and he succeeds. Emily's life is in danger when she falls in with the wrong crowd. Carlos buys an engagement ring for Holly.
---
6x19 Welcome Home (April 15, 2005)
---
Faith investigates Bosco further, Sasha and Ty make up, Cruz goes for some spiritual healing, Carlos meets Holly's parents.
---
6x18 Too Little, Too Late (April 08, 2005)
---
Monroe and Bosco deal with an angry mother on welfare who shoots up the welfare office, Davis and Finney stake out a man and take down a prostitution ring, Faith deals with Emily, Cruz and Monroe recieve bad news about their health.
---
6x17 Kingpin Rising (February 25, 2005)
---
Cruz connects the dots that link Marcel Hollis to the murder of Darren Maddox, while Marcel begins to organize a street war against the 55th Precinct. Elsewhere, Yokas, Sully, and Bosco track a missing teen to a vampire cult.
---
6x16 In the Family Way (February 18, 2005)
---
After a suspect in a jewelry store robbery starts displaying symptoms of a disease similar to SARS, the NIH is called in to figure out what is causing this, and hopefully stop this epidemic. Meanwhile, Cruz faces off with a gangbanger, who may have hired a 13 year old boy to carry out a murder.
---
6x15 Revelations (February 11, 2005)
---
Cruz and Santiago try to track down a gang member who murders witnesses to his murders. Grace finds her mother, who doesn't seem to welcoming.
---
6x14 The Kitchen Sink (February 04, 2005)
---
Finney gets a frantic phone call from Ben, a child he had helped in a previous case, which said that Ben's father was hurting Ben's mother and coming after Ben. Ben's father takes him to an abandoned warehouse, where the police soon follow.
---
6x13 The Other 'L' Word (January 21, 2005)
---
Cruz teams up with Rice to track down the terrorists associated with the possible dirty bomb.
---
6x12 The 'L' Word (January 14, 2005)
---
Everyone in the 55th Precinct faces their worst fears when terrorists are discovered to possibly be building a dirty bomb. Carlos and Levine face trouble in their relationship. Captain Finney decides to end his life, rather than surrender himself for the murder of Ty Davis Sr. Brendan and Davis try to cover it up.
---
6x11 Forever Blue (January 07, 2005)
---
In order to get enough evidence to convict C.T. Finney for the death of Ty Davis, Sr., Sully must look for the other officers involved with the incident, and also relive the events leading up to the murder.
---
6x10 Rat Bastard (December 03, 2004)
---
Ty rats out Sasha to the squad after Finney refuses to transfer her out; an action star doing research for his next movie goes on a ride along with the firefighters, and Stu quickly discovers that his boyhood hero is a failing alcoholic looking for a chance to revive a dead career; Brendan offers to ride with Sasha when everyone else refuses to do so, which leaves Ty and Sully partnered again; the retired detective who gave Sasha the real I.A.B. file on the death of Ty's father is found murdered by a police-issued bullet; Sully decides to testify against Finney; in pursuit of a drug dealer who shot an eight year old girl, Sasha and Brendan are injured, but the other units in the sector fail to respond to their calls for help until Ty and Sully finally relent and come to their aid.
---
6x09 Sins of the Father (November 19, 2004)
---
Sasha anonymously slips Ty the I.A.B. file on the cover up of his father's death; Faith visits Bosco and lets him know how much she misses having him for a partner; Sully bristles at being partnered with Brendan; Faith learns a hard lesson about good detective work when she lets herself get hoodwinked into acting on prejudice and ill-informed assumptions in arresting an innocent man for the death of a pregnant Muslim teenager; Brendan and Grace decide to start over and take their relationship along slowly; after Ty reaches out to exactly the wrong person in the department's top brass to uncover the truth behind his father's death, Finney sets the stage for letting Ty know about Sasha's I.A.B. assignment and threatens them both if they continue with their investigations; Fred gets custody of Charlie and Emily agrees to live with Faith; Sully pursues his options on coming forward about Ty Sr.'s death; Brendan once again single-handedly rushes to the rescue to prevent a suicide.
---
6x08 Broken (November 12, 2004)
---
Maritza calls on her own experience to persuade a rape victim to identify his attacker and sign a complaint after she collars the perp and gets a confession; Ty's prison visit to his father's killer has devastating consequences for both of them; Faith frantically searches for her son when Fred's girlfriend reports that he's missing; the former partners come to blows after Ty accuses Sully of being part of the cover up in the death of Ty's father; both Ty and Sasha deny telling I.A.B. about the knife when Maritza questions them; Sasha uncovers further details about the conspiracy to murder Ty's father and the ensuing cover up.
---
6x07 Leap of Faith (November 05, 2004)
---
Internal Affairs drops the bomb on the envelope-pushing Detective Cruz as she is taken away and struggles to survive in jail, while Captain Finney drills Detective Yokas for information that will nail Cruz - but the torn cop secretly knows that she pulled the trigger on a career criminal that frames the case against Cruz. Officer Sullivan reveals more about his running feud against Finney and his rookie son. Carlos and Levine keep getting called to help a suicidal woman. Bosco's condition changes.
---
6x06 The Greatest Detectives in the World (October 29, 2004)
---
Miller goes on the hunt for Tara Connelly, and Faith tries a series of approaches to get Barton to reveal the girl's whereabouts, until Miller returns to finish off the con that gets Barton to give it up; although they're both still shaken up by the shooting, neither Brendan nor Grace is willing to discuss it or get some counseling; Finney makes sure that his son's shoot comes up clean in the IAB investigation; at Sasha's house, a picture of the knife that Maritza planted on Mann accidentally falls into Ty's hands, but he doesn't realize the implication of his find; over his protests, Carlos gets admitted into Mercy for overnight observation of his head injury, with Holly vowing to stay by his side; a guilty Faith looks on as Finney arrests Maritza for Mann's murder
---
6x05 The Hunter, Hunted (October 22, 2004)
---
When it becomes apparent that the body in the dumpster is connected to a series of homicides that Miller investigated on his previous tour, he teams up with Faith, vowing to catch the serial killer and expose the commanding officer who transferred him to prevent him from working on the case; Brendan and Grace hook up; Carlos's plan to visit Holly and tell her that they're not dating doesn't exactly go the way he planned, not that he's complaining; after junkies trying to get the morphine on the bus hold them up at gunpoint, Carlos sustains a head injury trying to protect Grace before Ty and Brendan come upon the scene and Brendan guns down the thief holding a gun to Grace's head; Faith discovers that Miller's situation at home parallels her own; the serial killer stalks and captures his next victim, then arrives at the station house to confess his prior crimes and tell Miller that his latest victim only has twelve hours left to live.
---
6x04 Obsession (October 15, 2004)
---
Faith gets an earful from her daughter for not being around, and discovers that Emily's decision not to attend her mother's promotion ceremony was calculated to drive home a point about all the events Faith missed over the years; Finney threatens to blow Sasha's cover if she doesn't get the goods on Maritza; Sully and Sasha get more than they bargained for when they investigate a domestic and discover a decomposing corpse in the apartment directly above the quarreling couple, leading Sully to teach Brendan a lesson about the less glamorous aspects of police work; starting her career as a detective by partnering up with Jelly, Faith pursues her hunch that there's something more to what appears to be a simple suicide, and uncovers the deceased's plan to commit murder with a mail bomb; Grace teases Carlos about dating Holly, while expressing some interest in Brendan; Ty tries and fails to get more information from an uncooperative Sully after Brendan tells Ty that their fathers and Sully
---
6x03 Last Will and Testament (October 01, 2004)
---
Finney continues to press an increasingly reluctant Sasha for information on Faith; Carlos gets nowhere trying to put the moves on Grace; Ty gets promoted to a Field Training Officer and is forced to contend with Brendan, an impulsive and hot headed new police officer who also happens to be Finney's son; after Faith is unsuccessful in getting any of her family members to attend her promotion ceremony, a wired Sasha takes her out for a drink afterward and tries to engage her in conversation about Mann's death; after complaining of boredom, Brendan is forced to watch in horror as a woman is broadsided by two different cars in a terrible car accident; Carlos is spooked after he suffers a series of minor mishaps in the wake of an irate fortune teller's putting a curse on him, and Grace has a little fun with him when she takes full advantage of the situation; Sully tells everyone who'll listen that Finney is a corrupt cop, and that his son doesn't belong in their squad; Holly does a ritual
---
6x02 Alone Again, Naturally (September 24, 2004)
---
After she realizes that telling the truth will mean and prison sentence and never seeing her children again, Faith reluctantly agrees to go along with Maritza's cover story that she shot Mann as he was trying to stab Maritza; Yoshi slips out of the cuffs and into the wind; Sasha and Ty hook up; Maritza gets a tough new boss who's been charged with keeping her on a very short leash to curb her renegade ways; Faith goes ballistic when Fred has her served her with divorce papers at the station house; Swersky shuffles the partnerships, and assigns Faith to ride with Sully and Sasha to ride with Ty; Maritza gets an anonymous call that there's an I.A.B. plant in the house who's after her, and she immediately suspects that it's her new boss; Faith decides to turn down the promotion to detective that she's offered for saving Maritza's life until Sully reminds her that the new assignment will improve her chances of getting custody of her children; Bosco's surgeon gives Faith a devastating progn
---
6x01 More Monsters (September 17, 2004)
---
After a fierce gun battle and some hand-to-hand combat, Mann's gunmen are finally subdued by the members of the 55 in the E.R., but not before Orland is murdered and Bosco is critically injured; after Kim heroically puts herself in the line of fire to save Holly and a little girl, she realizes that her days as a paramedic are over, and that her future lies in being a wife to Jimmy and a mother to their children; Grace and Dr. Fields patch up their differences and come to an understanding about her out-of-protocol field procedures; Maritza uncovers the traitor in their midst, who leads her to Mann; Faith steps over the line to avenge her partner.
---