Third Watch
Season 5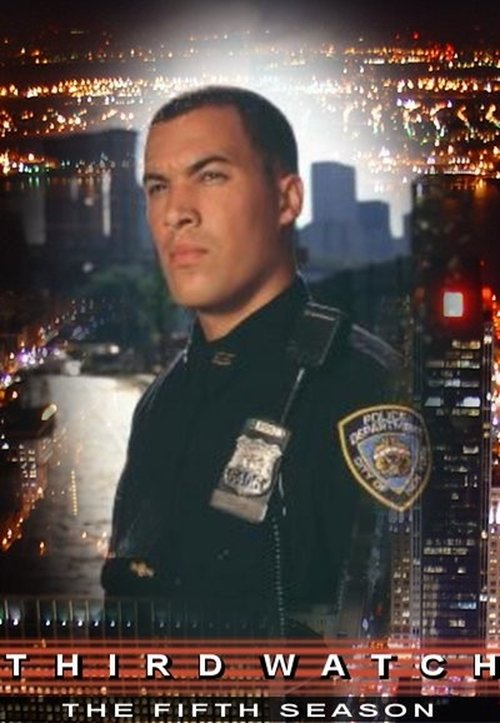 Third Watch
Season 5
First Air Date: September 29, 2003

| | | |
| --- | --- | --- |
| First Aired on | : | 2003 |
| Episodes | : | 22 episodes |
Episodes
5x22 Monsters (May 07, 2004)
---
Faith begs Fred to return home, but he refuses for a reason that infuriates his wife; Bosco turns a cold shoulder to Maritza's attempts to offer her condolences; Carlos is spectacularly unsuccessful in his attempts to hit on Grace; on the day of his son's funeral, Donald Mann exacts his revenge with the help of a dirty cop by planting bombs designed to kill the police officers he holds responsible for the death of his son; after Mann's lieutenants force a man to crash a car carrying a live bomb into the funeral home where Mikey's wake is being held, Grace takes charge and goes out of protocol to save Rose's life, and Dr. Fields later swears to have her job for it; Kim's decision not to enter the funeral home while the bomb is still live stems not from cowardice, but from maternal instincts; when Mann discovers that some of his intended targets survived the bombings, he sends machine-gun wielding minions into the hospital to finish off the job.
---
5x21 Higher Calling (April 30, 2004)
---
The Boscorelli family suffers a tragic loss at the hands of Donald Mann, who blames Bosco, Faith and Maritza for the death of his son in a high-speed chase; the Yokas family heads off in different directions; the Martin family splits apart into separate jail cells for the parents, and a return home for Rebecca to the mother from whom she was stolen as an infant; the paramedic family at the 55 gets a new member, Grace Foster, which makes no one involved very happy.
---
5x20 In Plain View (April 23, 2004)
---
Tensions still run high in the Yokas household; Lester preps Bosco for Mikey's hearing, and then pulls a switch when he cross-examines him on the stand, leading to Mikey's getting RORd; Sully realizes what a toll the job has taken on him by his reaction to the deaths of three people in a robbery at the restaurant where he eats breakfast every day; Faith and Bosco answer a call which leads them to Lester's house, where they find his daughter not breathing; Sully tracks down and arrests the restaurant murderer; after Dr. Hickman tells Faith and Bosco that Lester's wife and daughter have been severely beaten, Lester is arrested; Sully gets his LSAT results; Ty and Sasha get closer.
---
5x19 Spanking the Monkey (April 06, 2004)
---
Wary of Lester Martin, the high-priced lawyer his father has found for Mikey and the deal he's attempting to broker, Bosco warns his brother to stay away from Maritza, but Mikey decides to disregard his brother's advice and makes a deal to become her informant; for good measure, Bosco threatens to kill Maritza if anything happens to Mikey; Sully teases Ty about his budding relationship with Sasha; Faith and Bosco strike a deal with Laura, who also has no love lost for Maritza, to protect Mikey by helping her nab the drug dealers before Maritza gets to them; J.D. offers Kim a ride home, but stops off first at a rave that both Anti-Crime and Narcotics have staked out, thanks to information Mikey gave them; when some bad ecstasy begins to take a rapid toll, the paramedics call for backup, which prompts Maritza and her detail to storm the building; after an arsonist lobs a Molotov cocktail into the crowded building, Faith and Bosco give chase and capture him, while the firefighters rescue
---
5x18 Purgatory (April 09, 2004)
---
Distraught over losing an appeal to her suspension, Sasha gets into a car accident that claims the life of a young child; Sully and Ty take the L.S.A.T.; tensions flare between the cops and the firefighters when Maritza goes after J.D., the newbie firefighter, who turns out to be an ex-cop who ratted out Maritza's former partner for stealing drug money; Faith and Fred are still at odds over her return to work; Walsh is promoted to lieutenant; Ty watches over a devastated Sasha, who's racked with guilt over the car accident, Doc's shooting spree, and the events surrounding the deaths of Tanzi and Nardo; J.D. gives Faith and Bosco important evidence he discovered as he put out the fire resulting from Sasha's car accident, which leads the cops to uncovering the basis for the accident and exonerating Sasha.
---
5x17 Family Ties (2) (March 05, 2004)
---
Maritza goes all out on the hunt for Michael after Dade dies, as does Bosco, who's intent on finding his brother before Maritza does; Faith calls Maritza a liar in front of Swersky when Maritza claims that she saw Michael shoot Dade; Fred is still angry about Faith repartnering with Bosco, and refuses to discuss it; Breene revisits the house and urges the paramedics to talk to professionals or to each other to help deal with the stress of the shootout; looking to collect the reward for information leading to Dade's killer, Anthony tells Maritza where Michael can be found after she lies to him about her relationship with Bosco; Bosco finds Michael moments before Maritza, and his brother claims that he's innocent and that a drug dealer named Spider was Dade's murderer; Spider comes out with machine guns blazing when Maritza, Sully, Ty, Faith and Bosco attempt to arrest him, and a ferocious gun battle ensues; Maritza agrees to work with Michael as an informant after Bosco pleads for his
---
5x16 Family Ties (1) (February 27, 2004)
---
The news that Faith is repartnering with Bosco outrages Fred; Bosco overcomes his initial wariness about his brother's claims of sobriety after the tip Mikey gives him about Ecstasy dealers leads to a solid bust; in the wake of the hostage situation, the department shrink sent to debrief the house elicits a range of emotional reactions from Kim, Carlos and Holly as she reveals that Doc is in the Bellevue psych ward on a suicide watch, and that the toll of 9/11 and its aftermath may be at the root of his collapse; when she investigates the murder of an Ecstasy dealer outside a rave, Maritza discovers that the motive may be a turf war between rival dealers; Bosco is distraught when Maritza informs him that the evidence points to Mikey's being a major Ecstasy dealer who used him to eliminate the competition by providing the tip that lead to the raid; Bosco and Maritza set out separately to find Mikey; tragedy occurs when Maritza and Dade pull over Mikey's car outside a rave.
---
5x15 No More, Forever (February 20, 2004)
---
Steeper continues his by-the-books command style and goes head-to-head with Kim when Doc doesn't report for duty on time; Sasha can't find her off-duty weapon the morning after Doc's party; Faith returns to duty at the front desk despite Fred's wanting her to remain on disability, and discovers that Bosco has lied to her about Swersky's not allowing them to be partners; a panicky Nardo kidnaps Rose and then Bosco in a futile attempt to prove that he wasn't a rat, and makes a shocking choice when he realizes that his days as a mobster have come to an end; to the horror of the squads, Doc takes extreme measures to prevent Steeper from closing the house, and forces Carlos and Kim to risk their lives to do the right thing; Sully returns a favor by reaching out and saving his friend's life in Doc's hour of greatest need.
---
5x14 Blessed and Bewildered (February 13, 2004)
---
Steeper exiles the paramedics to permanent fixed posts on the street, which upsets everyone on the squad except Doc, who refuses to let anything put a damper on his unusually upbeat attitude; Carlos is less than thrilled when Doc invites Christian to accompany them on a ride-along without getting the proper authorization; when Bosco goes after Nardo for his veiled threats against Rose, Nardo tries to set Bosco up to look like a dirty cop; Rose is fired after Bosco destroys poker machines owned by Nardo in the bar where she works; on the eve of her return to duty, Faith tells Bosco that she wants to repartner with him; Sasha's second thoughts about the plan she and Bosco hatched to repay Nardo for threatening Rose and attempting to frame Bosco turn out to be on target when Nardo flees after murdering two men; Doc and Sasha hook up after Doc throws a big party at his house for his co-workers.
---
5x13 Sleeping Dogs Lie (February 06, 2004)
---
Jimmy gets a promotion to a rescue squad in Brooklyn; despite their new captain's assurances, Doc suspects that he intends to close down the house; Sasha insists upon pursuing an investigation into the beating death of a hit-and-run driver after Maritza uses the confession of an innocent man as her stepping stone to an Anti-Crime reassignment; after Jimmy is trapped in a warehouse fire, Kim reassesses their plans for a future together; Rose's serves a customer at the bar who shares a past with Bosco.
---
5x12 Black and Blue (January 16, 2004)
---
When Sasha discusses taking the sergeant's exam with Maritza, Maritza reveals that she received her promotion meritoriously, not from passing the test; the police are on high alert after two women are assaulted and robbed by men posing as police officers; Kim and Jimmy decide to keep their blossoming romance quiet until Kim is pulled over by the impostors and narrowly escapes with her life with the help of Bosco, Maritza, Sully and Sasha.
---
5x11 A Call For Help (December 19, 2003)
---
Bosco and Monroe investigate a suspicious man who they find bleeding in an alleyway as they respond to an anonymous caller's claim that someone is shouting for help in the area. They become more and more skeptical when his story continues to change and they find a blood trail. When it is determined that the amount of blood would have been more than enough blood loss to kill a person, Bosco suspects that the man murdered someone and was bleeding because the victim tried to fight back.
---
5x10 The Spirit (December 12, 2003)
---
Bosco arrests a pedophile posing as a toy store Santa, and the grateful store owner returns the favor by helping Bosco and Sasha come to the aid of a man whose house is robbed of all his children's Christmas presents; after Sully and Ty save a young homeless girl from a fire, she rekindles Sully's Christmas spirit; Carlos receives the ultimate Christmas present when his brother arrives at the firehouse bearing the gift of being a perfect bone marrow match for Kylie, as well as the news of Carlos's real name and family history; Kim and Jimmy spend a romantic Christmas Eve together; Sasha's search for the perfect gift for her nephew gives Swersky the opportunity to play Santa.
---
5x09 A Ticket Grows in Brooklyn (December 05, 2003)
---
As Carlos desperately searches for a bone marrow match for Kylie, he digs deeper into his own past and discovers that he wasn't abandoned by his parents, but was found clinging to his dead father's hand after a car accident; after a local station picks up the story, Carlos gets a call from a woman claiming to be his mother; Bosco and Monroe find themselves going after a small-time mobster putting the squeeze on an honest family-run linen company after the son of the linen company owner dies in a suspicious fire.
---
5x08 Fury (November 21, 2003)
---
Doc is demoted back to the streets and continues his downward spiral, presenting Kim with no end of problems as he lies about his demotion, resists her orders as the supervising paramedic, and deliberately runs down a perp with the bus; Barnes is shanked at Riker's for doing a flip on Buford; Carlos is devastated when Kylie is diagnosed with aplastic anemia and he's not a match for a bone marrow donation; Sully tries to deflect Ty's teasing about his relationship with Barbara by getting him to focus on their LSAT prep; after a horrific gunfight, Maritza finally captures Lettie's killer and decides to spare him so that he can suffer for the rest of his life in prison.
---
5x07 Payback (November 14, 2003)
---
Sully kills one of the perps and shoots the denotator out of the hand of Frank Morgan, the bomber; Doc goes ballistic when he comes upon the scene of an accident involving his old rig and a city bus, and physically assaults Eugene; Public Morals raids Dr. Chow's office, and Maritza is forced to reveal her rape to keep Thomas Warner from being released on a D.A.T.; Ty gets Frank Morgan to flip on Gary Barnes, and Barbara promises Morgan that she will make sure he gets the death penalty for killing her housekeeper and driver; Kim and Carlos refuse to back up Eugene after he files a complaint against Doc, prompting Eugene to quit; a distraught Faith, still plagued by flashbacks of the shooting, asks Fred if they can get out of the city for a family vacation; Warner confesses to raping Maritza while Bosco is transporting him to the Tombs; Carlos is horrified when Doc admits that he accosted Eugene at his house because he ""killed Taylor""; Bosco turns Warner over to Maritza, who gets her pay
---
5x06 Surrender (November 07, 2003)
---
Barbara is heartbroken when she discovers that her housekeeper was killed by the explosion; Sasha convinces Maritza to get a rape exam; Sully takes Barbara to his house to keep her safe; Maritza discovers that her rapist, Thomas Warner, has a history of sexually assaulting the workers at the clinic; undeterred by yet another attack on her life, this time by a sniper, Barbara insists on presiding at the preliminary hearing of Gary Barnes, the drug dealer who the police suspect is behind the attempts on her life; Faith visits a psychiatrist and unloads her anger at Bosco and Maritza; after Maritza testifies at the hearing, Barbara rules that Barnes can be held over for trial for the death of Lettie Cruz; when Sully sees Barnes signal a spectator in the court room, he and Ty follow him to a house where they see him join the man who delivered the bomb to Barbara's house; the perps, armed with a detonator, threaten to blow up the block with the explosives they claim are in the house and for
---
5x05 Goodbye To All That (October 31, 2003)
---
Over her protests, a judge marked for execution is placed under a protective detail and gives Sully and Ty a scare when she slips away to get a cup of coffee; Levine uses an unorthodox way to get a patient's mind off his pain; when no physical reason can be found for Faith's intense pain, her doctor refers her to a psychiatrist; Kim is livid when Doc gives her an official letter of reprimand for disregarding field regulations just the way he did several times; in an effort to get out of the bag and off the street, Maritza convinces Swersky to let her set up a sting operation to catch a chiropractor who's fronting for prostitution, and pays a terrible price for continuing her ""lonesome cowboy"" approach to apprehending criminals.
---
5x04 In Lieu of Johnson (October 20, 2003)
---
Sasha, Bosco, Sully and Ty get on the case of a malicious rapper. Ty considers returning to law school with the help of Sully. Jimmy struggles with his new position and his relationship with his co-workers when he makes a big mistake during a fire drill. Faith gets a physical therapist.
---
5x03 Lockdown (October 13, 2003)
---
Yokas clashes with her mother over her recovery; Maritza is back on the job, but unhappy that she's back in the bag and handing out parking tickets; Ty and Sully discover a truck carrying sick illegal aliens and end up scouring the city to track down one of them who escapes after it's determined that the aliens have a highly contagious and potentially fatal disease.
---
5x02 My Opening Farewell (October 06, 2003)
---
On his last day on the street, Doc's guilt and grief over Alex's death emerges as anger towards everyone he encounters, especially Eugene, the new paramedic trainee whose place Alex took the day she died; Kim becomes frantic as she fears that she have been exposed to HIV after having unprotected sex with a drug addicted Noble, and Jimmy agrees to accompany her when she gets tested; Swersky goes to bat for Faith by creating the opportunity for Bosco to talk to her before she's interrogated by I.A.B.; Carlos is less than thrilled when he discovers that Kim is the new supervising paramedic and Jimmy has been promoted to take over Lt. Johnson's position; Bosco returns to work and faces a hostile reception from the squad for ratting out Maritza; Faith awakes to discover that she's paralyzed; Maritza refuses to let Faith off the hook for shooting her until Bosco tricks her into recanting her story; Faith thanks Bosco for keeping her out of jail and saving her job, and then tells him to get l
---
5x01 The Truth and Other Lies (September 29, 2003)
---
Although Dade encourages him to keep quiet, Bosco tells Swersky everything that transpired with Maritza, Noble, the death of Willie G, and the shootout in Noble's hotel room, and confesses that he killed Noble after Noble pulled out a gun, Faith was shot by Maritza, and that he grazed Maritza's head with a bullet to keep her from killing Faith; wracked with grief that his wife has a bullet next to her spine, Fred attacks Bosco and threatens to kill him when he discovers that Faith became injured while she was helping her partner out of yet another jam; a critically injured Lt. Johnson, in excruciating pain and with only hours to live, begs Jimmy and Doc to ease his suffering; overwhelmed at the sight of Lt. Johnson's wife lashing out in heartbreak and anger, and her husband's horrific suffering and imminent death, Doc sadly helps out his boss one last time; Swersky has Maritza arrested when she refuses to tell him what happened during the shootout; Bosco learns that Noble was working f
---