Third Watch
Season 2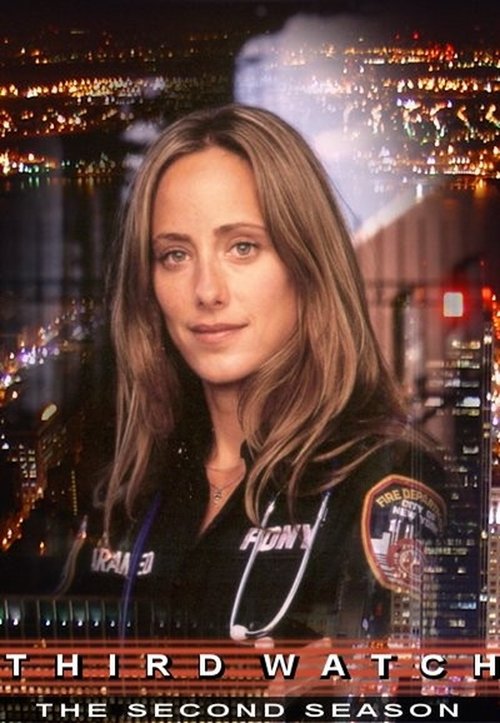 Third Watch
Season 2
First Air Date: October 02, 2000

| | | |
| --- | --- | --- |
| First Aired on | : | 2000 |
| Episodes | : | 22 episodes |
Episodes
2x22 ...And Zeus Wept (May 21, 2001)
---
Ty, Sully, Bosco, and Faith rush to the scene of a school shooting; Sully and Tatiana ponder their future together; Kim continues to struggle with her depression.
---
2x21 Exposing Faith (May 14, 2001)
---
Faith's excitement over having her husband to herself for the weekend is dashed when Fred decides to spend the time trying to win a truck; angry, Faith organizes a drunken girls night out, meets a handsome photographer, and ponders an affair and what might have been; Fred outwits his opponents and wins the truck.
---
2x20 Man Enough (April 30, 2001)
---
Doc is thrilled when Sarah accepts his proposal, but is stunned when she informs him that she's accepting a job offer in Philadelphia and wants him to relocate.
---
2x19 Walking Wounded (April 23, 2001)
---
Faith and Bosco hunt down the dealer who distributed a batch of lethal heroin; depressed over Bobby's death, Kim attempts suicide.
---
2x18 Honor (April 16, 2001)
---
The firefighters take on a rival firehouse for touch football bragging rights; Brooke files for divorce; Jimmy worries that he may be a father again.
---
2x17 The Self-Importance of Being Carlos (March 19, 2001)
---
Doc and Carlos attend a stress debriefing; Carlos meets up with Bosco when he's ordered to attend sensitivity training.
---
2x16 Unfinished Business (February 26, 2001)
---
Bobby's attempt to keep Paulie away from drugs ends tragically.
---
2x15 Requiem for a Bantamweight (February 12, 2001)
---
Bobby comes to the aid of his old friend Paulie after Paulie's sister begs Bobby to help her brother with his drug addiction, but becomes enraged when Paulie breaks into Bobby's mother's house and robs her to support his habit.
---
2x14 A Rock and a Hard Place (February 05, 2001)
---
Faith, Bosco, Carlos and a wounded Doc find themselves trapped in an abandoned tunnel and unable to reach Central on their radios; the firefighters get into mischief during a long lull between calls; when the C.O. can't raise Bosco on the radio, Sully tries to cover for him.
---
2x13 Duty (January 29, 2001)
---
Sully is upset when he is wrongly accused of falsifying evidence; Bobby helps one of his former teachers dying from cancer; Carlos deludes himself into thinking that Kim is falling in love with him; Sully gets closer to his pretty neighbor.
---
2x12 True Love (January 22, 2001)
---
A secret threatens to destroy Jimmy's relationships at work and home; Sully makes a date with his pretty neighbor; Bosco gets violent after his mother is beaten by her boyfriend.
---
2x11 A Hero's Rest (January 15, 2001)
---
Bosco, Yokas, Sully and Davis search for a cop killer on the streets, and cope with an obnoxious new sergeant at the station house.
---
2x10 History (December 18, 2000)
---
A disturbing visit from his former high school girlfriend forces Doc to confront a horrible act he has hidden for years; Carlos struggles to pass a medical school qualification exam.
---
2x09 Run of the Mill (December 04, 2000)
---
The ordeals of an elderly friend prompt Sully to consider his own loneliness; Alex regrets revealing that she discovered Jimmy on the eve of his wedding having sex with an old flame who happens to be Lombardo's current girlfriend after the news spreads like wildfire throughout the squad; Jimmy and Brooke get married.
---
2x08 Know Thyself (November 27, 2000)
---
While coping with work demands, a recovering alcholic husband and a disturbing visit with her parents, Yokas confronts her long held beliefs and emotions. A group of prisoners escape from a delivery truck. Yokas and Fred have another big fight in which she accuses him of drinking again. She tells him that she had an abortion. He wants her to leave the house, this makes her stay over at her parents home. However, by the end of the episode, they are back together, she realises that she can't live without him and that she is sorry for accusing him of still drinking. Meanwhile, Bosco gets a bunch of flowers from a former lover. He smells the flowers which turn out to be poison Ivy. Bosco and Yokas also have a fight when she tells him that she had an abortion. He accuses her of lying to him and he refuses to speak to her, until she forces him to go the hospital to sort out the poison Ivy problem. She regrets lying to him.
---
2x07 After Hours (November 13, 2000)
---
The deaths of four teenagers in a fiery car crash profoundly affects the third watch, who were forced to stand by helplessly, unable to save the victims. They congregate at the end of the shift to dispell their sadness and anger at the horrific images of the crash. Faith, Sully and Doc spend time sitting quietly in a cafe; Ty, Bobby, Carlos and Alex go to a bar; and Kim, Bosco and Jimmy go bowling. As evening turns into day, Faith's group meets up with a young woman, Ty's group meets up with a young man, and Kim's group meets up with a young couple in love. At dawn, everyone ends up at the a beach and they build a bonfire. As the flames flicker, we see a flashback to the moments immediately preceding the car crash and discover that the young people whom they met during the course of the evening are the spirits of the teenagers who died in the crash, who were sent back down to earth to tell them that the crash could not have been prevented, and they are not to blame for being unable to
---
2x06 The Tys That Bind (November 06, 2000)
---
Davis rescues a drowning newscaster from a downed helicopter, and the ensuing rush of media coverage on his heroism brings a strange young woman to meet him. She turns out to be his half-sister, and Davis uncovers secrets about his father's second family. The turmoil from the revelations causes disturbances between Davis and nearly everyone close to him. Meanwhile, someone's throwing bricks at random citizens, putting everyone in the city on edge.
---
2x05 Kim's Hope Chest (October 30, 2000)
---
Joey starts a fire while on a field trip with his class, causing Kim and Jimmy to reevaluate their parenting styles and inspiring Kim to try to rebuild her family, starting with a reconciliation with Jimmy. But Jimmy's relationship with Brooke is not nearly as wobbly as Kim would like to think, and Kim ends up jumping into bed with a stranger and then commiserating with her mother over her problems with men, ending in a confrontation with Brooke that forces Kim to rethink what's best for Joey in the matter.
---
2x04 Jimmy's Mountain (October 23, 2000)
---
Jimmy's recovery complicates his return to the firehouse as he tries to take on too much, causing discord amongst his fellow firefighters over his all-consuming need to prove his abilities have not been lost. Meanwhile, Alex Taylor joins the firehouse and arrives with some baggage of her own.
---
2x03 Four Days (October 16, 2000)
---
On the hunt for a robbery homicide suspect, the police shake down all young black males they encounter, igniting racial tensions throughout the city. The suspect in question turns out to be Puppet, whose younger brother was killed as a result of Puppet's gang activity despite Doc's attempts to turn him away from the streets. After he's shot by the cops and goes into hiding, Puppet solicits Doc's help by proclaiming his innocence. The ensuing lengths to which Doc goes to get Puppet to the hospital and save his life while avoiding the cops wreak havoc with Doc's relationships with both civilians and the squads.
---
2x02 Faith (October 09, 2000)
---
A rapist attacks three victims; Yokas agonizes over her finances, her marriage and her pregnancy; Bosco's jealousy threatens his relationship with Nicole.
---
2x01 The Lost (October 02, 2000)
---
Sully lives his worst nightmare as the police search the city for a man who is buried alive and whose kidnappers are involved in a fatal car crash; Kim and Bobby find an abandoned 4 year old boy wandering the streets; Sully's mother wanders off from her nursing home; Carlos adopts a deceased patient's cockatoo.
---