VeggieTales
Specials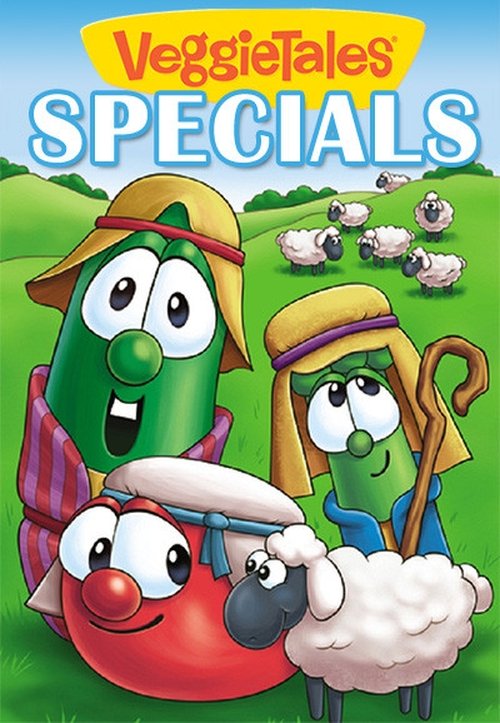 VeggieTales
Specials
First Air Date: March 01, 1997

| | | |
| --- | --- | --- |
| First Aired on | : | 1997 |
| Episodes | : | 11 episodes |
Episodes
0x22 Lettuce Love One Another! (January 15, 2013)
---
---
0x21 Heroes of the Bibble! - A Baby, a Quest & the Wild, Wild West (July 01, 2012)
---
---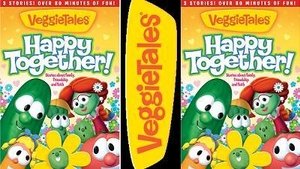 0x17 Happy Together (January 25, 2011)
---
Compilation of Older Episodes * Sheerluck Holes and the Golden Ruler * Esther: The Girl Who Became Queen (short version) * The Grapes of Wrath.
---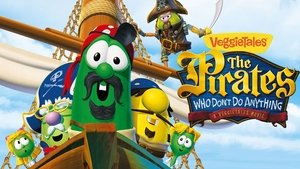 0x15 The Pirates Who Don't Do Anything - A VeggieTales Movie (January 11, 2008)
---
Three lazy misfits - very timid Elliot (Larry the Cucumber), lazy Sedgewick (Mr. Lunt) and no self-confident George (Pa Grape) - dream of the day of putting on a show about pirates. With their own problems of might not having this dream come true, they soon find themselves traveling back in time into the 17th century and begin a quest to rescue a royal family from an evil tyrant, and learn about being pirates.
---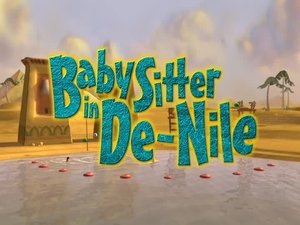 0x11 BabySitter In DeNile (November 10, 2006)
---
Laura Carrot portrays Miriam, who wonders why people in the village refuse to acknowledge that her new baby brother Moses is a boy. She is forced to look after the baby because her parents and elder brother Aaron are working in the brickyards. She finds babysitting tougher than she thought and complains about her plight. But when Aaron is almost run down by a chariot, she learns the value of family. Once she learns that the Egyptians are taking away all the Hebrew baby boys, Miriam decides to hide Baby Moses in the Nile River. After he is plucked out of the river by Pharaoh's daughter (Miss Achmetha), Miriam offers to have her family care for the new prince.
---
0x09 Bully Trouble (October 04, 2006)
---
Junior is a young boy who is discouraged when a big bully named Mount Gordon claims the playground as his own and threatens to pound anyone who trespasses. Back in his tree house, Junior starts daydreaming about being very heroic with Gordon always being the antagonist of his dreams. When he declares that he is not afraid, Dad comes and gives him advice on how to overcome his fears. Later, the kids return to the playground. Gordon appears and threatens to pound Junior every day. But soon, the other kids gain courage to stand up to Gordon as well. Gordon leaves and everyone cheers.
---
0x08 The Asparagus of La Mancha (September 09, 2006)
---
An adaption of Spanish novel Don Quixote, "Asparagus of La Mancha" starts with Knight Don Quixote facing three Peas in a surrealist world made of cooking utensils and foods. Then he wakes up. It was a dream. He and his best friend Poncho work in a Spanish restaurant of Cafe LaMancha. However, Jean Claude comes in to inform the duo of a new restaurant opening across the street called 'The Food Factory', the most successful, and biggest, restaurant in the world. With their customers abandoning them, Don is sure they will go out of businesses. After losing another game of Spanish checkers to Poncho, Don goes back to sleep. He assumes his latest dream has informed him to try different themes to win back their customers. This fails, and shortly after, the Food Factory manager offers Poncho a job at the Food Factory. Poncho refuses. Don's next dream convinces him to attack the Food Factory.
---
0x06 Jonah a VeggieTales Movie (October 04, 2002)
---
When the singing Veggies encounter some car trouble, they're stranded at old, rundown seafood joint where nothing is quite as it seems. As Bob the Tomato and the kids settle in to wait for a tow truck to help get their van back on the road, the "Pirates Who Don't Do Anything" share a little story about a guy named Jonah. Jonah was kind of like a mailman except his messages came straight from God. Jonah loves his job, until the day comes when he has to deliver a message to the people of Nineveh. Instead of carrying out his mission, Jonah turns and sets sail in the opposite direction onboard a pirate ship. Soon Jonah embarks on an adventure that leads him into the belly of a whale, and to the heart of Nineveh for a hilarious showdown.
---
0x04 Heroes of the Bible! - Lions, Shephards and Queens (Oh, My!) (March 05, 2002)
---
This collection includes three short stories, beginning with "Daniel and the Lion's Den," in which Larry the Cucumber portrays Daniel and overcomes adversity and fear thanks to God. Then, in "Dave and the Giant Pickle," an Asparagus goes head-to-head with a giant pickle, and in in "Esther... The Girl Who Became Queen," a small-town girl finds the future of her townspeople is up to her.
---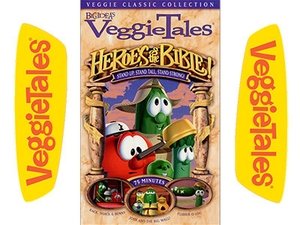 0x02 Heroes of the Bible! - Stand Up! Stand Tall! (February 04, 2003)
---
The Story of Flibber-O-Loo Big Idea's critically acclaimed writing and animation bring the parable of the Good Samaritan to life in this hilarious, storybook adaptation of the biblical tale. Through rhyme and song, kids learn that loving your neighbor means helping those in need - even if they don't live next door! Rack, Shack & Benny When Nebby K. Nezzer builds a 90-foot chocolate bunny, three guys named Rack, Shack and Benny learn just how risky it can be to stand up for your beliefs in this side-splitting retelling of the classic Bible story - Shadrach, Meshach and Abenego and the Fiery Furnace! Josh and the Big Wall Surrounded by huge walls and bristling with really annoying peas, no one gets to the Promised Land with out going through Jericho first! Joshua has God's directions, but they sound kind of ... well, weird. In the end, Joshua (Larry the Cucumber) and the children of Israel have to decide whether it's better to do things their way or God's way! Bonus Feature: Hilarious outtakes of kids saying the funniest things about their favorite heroes!
---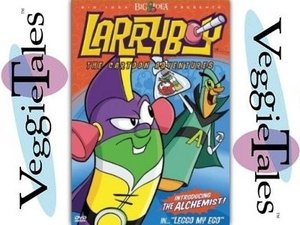 0x00 Larryboy The Cartoon Adventures: The Angry Eyebrows (March 19, 2002)
---
The creators of the sensational 3-D computer-animated series VeggieTales transport their goofiest character--Larryboy--into the traditional world of 2-D line-drawing animation for a new Christian-lite comedy series. In this first episode, Larryboy (the superhero alter ego of Larry the Cucumber) takes on the dastardly Awful Alvin, who has made sure any angry citizen of Bumblyburg stays angry thanks to his legions of batlike eyebrows. The gentle lesson of letting go of anger is massaged with the typical VeggieTales high jinks. Many of the well-known VeggieTales stars make appearances; Bob the Tomato is editor of the newspaper where Larry is not a Clark Kent-like reporter but rather a janitor. Also included is the silent short "Fly by Night," in which Larryboy takes on a pesky fly.
---