Rogue
Season 3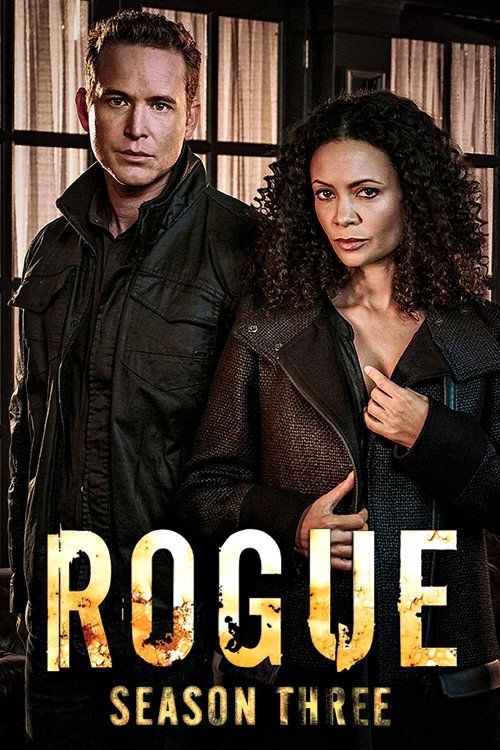 Rogue
Season 3
First Air Date: June 24, 2015

| | | |
| --- | --- | --- |
| First Aired on | : | 2015 |
| Episodes | : | 20 episodes |
Grace is still missing. Ethan heads to Chicago to investigate notorious attorney Marty Stein. DEA Agent Harper Deakins' investigation into one of Chicago's deadliest gangs takes a turn when a routine stakeout goes wrong.
Episodes
3x20 A Piece of Wood (May 25, 2016)
---
Harper finds out Mia's true identity and tries to leverage this to make her turn on Marty. Ethan must decide if he trusts Mia or Marty while the three pull a heist together. Marlon turns back to his old gang lifestyle.
---
3x19 How to Treat Us (May 18, 2016)
---
Ethan, Marty, and Mia scramble to get enough money to keep the Russian mob off their back. Harper and Patrick's investigation leads them to Tilda's dead body and Marty. Marlon fights for his relationship with Zipporah.
---
3x18 Close to Heaven (May 11, 2016)
---
Ethan discovers Tilda's plan to kill him, but gets the upper hand, interrogates her, and learns the truth. Marty forces a captured Mia to use the flash drive. Harper deals with the aftermath of the task force being shot up.
---
3x17 The Wheelbarrow (May 04, 2016)
---
---
3x16 Choking the Root (April 27, 2016)
---
Ethan queries why Marty wants Mia dead, but the investigation is halted when Jen is kidnapped. Harper looks for a missing Patrick. Marlon lies to Zipporah while continuing to help Ethan.
---
3x15 The Dime Tour (April 20, 2016)
---
Ethan discovers that the Russian mob was hired to kill Mia; Patrick agrees to help Harper investigate Greg Barrett's murder; and Marlon tries to get his assets back.
---
3x14 Halfway Burnt (April 13, 2016)
---
Ethan and Mia learn who the assassin is; Marlon contemplates going straight; Marty battles public opinion; and Harper harasses Marty's clients while trying to dig up dirt on him.
---
3x13 Baggage (April 06, 2016)
---
Ethan deals with an unexpected gunman and questions whether Mia can be trusted. In other events, Marty tries to contain the damage after the audio of Talia's death is leaked.
---
3x12 Hardboiled (March 30, 2016)
---
Ethan searches for Mia; Harper contemplates going rogue; Marty tries to have the warrant for his DNA tossed; and Marlon seeks revenge against Marty.
---
3x11 New Shooter (March 23, 2016)
---
Ethan searches for a missing woman; Harper tries to turn Marlon; and Marty plots Marlon's prison release.
---
3x10 Beyond Judgement (August 26, 2015)
---
Harper contains Patrick; Marlon is arrested for Talia's murder; Ethan makes a new deal with Marty, who learns that Marlon betrayed him; and Harper breaks the Hutchings' murder case wide open.
---
3x09 Chicagoland (August 19, 2015)
---
Marty refuses to help Marlon, whose business is in jeopardy; Harper questions Patrick; Ethan decides what's next now that he's free; and Talia sets up Marlon.
---
3x08 Oysters But No Pearls (August 12, 2015)
---
---
3x07 Mea Culpa (August 05, 2015)
---
---
3x06 Lights Out (July 29, 2015)
---
Ethan and George work on their relationship while hiding from Roberts; Marlon strives to regain control following Cups' death; Talia tries a fresh start; and Harper follows the money trail, which leads her to Marlon
---
3x05 The Fountain (July 22, 2015)
---
Talia is arrested, which causes a headache for Marty; Harper uncovers another clue in Hutchings' death; and Ethan searches for Grace and tries to rescue his father before it's too late.
---
3x04 Dirty Laundry (July 15, 2015)
---
Harper is hit hard by Lobo's death; Ethan tells Marty the real reason he's in Chicago; Talia causes problems for Marlon; Grace and Ethan spy on Marty and the General; and Grace follows a dangerous lead.
---
3x03 Justice (July 08, 2015)
---
Grace heads to Chicago to work with Ethan. Marlon appears on Harper's DEA radar. Harper's CI, Lobo, is made. Ethan finds Marty's leak.
---
3x02 The Chandelier Man (July 01, 2015)
---
Grace works to escape. Ethan reconnects with his father. Escalating gang warfare spills into the suburbs. Ethan investigates Marty's leak at a party, where he meets Marlon Dinard, who is not what he seems.
---
3x01 The White Guy (June 24, 2015)
---
Grace is still missing. Ethan heads to Chicago to investigate notorious attorney Marty Stein. DEA Agent Harper Deakins' investigation into one of Chicago's deadliest gangs takes a turn when a routine stakeout goes wrong
---