The Tom and Jerry Show
Season 4
The Tom and Jerry Show
Season 4
First Air Date: April 15, 2019

| | | |
| --- | --- | --- |
| First Aired on | : | 2019 |
| Episodes | : | 78 episodes |
Episodes
4x78 Attachment Disorder (January 07, 2020)
---
Tom and Spike get glued together.
---
4x77 Slam Dunk (January 06, 2020)
---
The Cat and Mouse are hired to find out who absconded with Hoops McJumpalot's lucky high top sneakers.
---
4x76 Farmed and Dangerous (December 31, 2019)
---
Things get crazy down on the farm when a cat and mouse pursuit leads Jerry to hide his turtle egg in a hen's nest.
---
4x75 Bones of Contention (December 30, 2019)
---
Spikes bones are missing and Frankie the Rat is the culprit. Now all they have to do is catch in the dirty rat in the act.
---
4x74 Puppy Guard (December 24, 2019)
---
An over protected Spike goes to extreme lengths to keep his precious pup safe from harm.
---
4x73 Broom for Improvement (December 23, 2019)
---
The gang do battle with a magical broom.
---
4x72 A Kick in the Tail (December 17, 2019)
---
When Tuffy shows an interest in soccer, Jerry decides to be the little guys coach and show him how the game is really played by beating Tom in a one-on-one match.
---
4x71 The French Mistake (December 16, 2019)
---
Tom is placed in charge of caring for the Duchess' French Poodle and needs Tuffy and Jerry's help in keeping the ill-tempered mutt under control.
---
4x70 Junkyard Pup (December 10, 2019)
---
When Tyke is accidentally carried off to the local dump, Spike is forced to enlist the help of Jerry and Tom to get his boy back before Ace and Rocco, the junkyards guard dogs, turn him into a formidable junkyard pup.
---
4x69 All That Glitters (December 09, 2019)
---
The cat and mouse detectives pose as bellhops at a swanky hotel to catch a jewel thief.
---
4x68 See Ya Gator (December 03, 2019)
---
Jerry befriends a lost baby gator, keeping it safe from harm until it's momma arrives to take it back home.
---
4x67 How to Be a Dog (December 02, 2019)
---
Spike demonstrates for Tuffy what it takes to be a dog.
---
4x66 The Ol' Switcheroo (November 26, 2019)
---
Tuffy's wish to be as strong as Spike comes true.
---
4x65 Tap Cat (November 25, 2019)
---
An old pair of Ginger's tap shoes turns Tom into a tap dancing fanatic.
---
4x64 Party Animals (November 19, 2019)
---
It's a battle royale over the last box of donuts.
---
4x63 Tom Save the Queen (November 18, 2019)
---
The detectives across the hall are responsible for a series of high profile thefts and are framing innocent people for the crimes.
---
4x62 Turkey Tom (November 12, 2019)
---
Tom and Jerry work together to save a live turkey from becoming the centerpiece of a holiday feast.
---
4x61 Ten Toms the Trouble (November 11, 2019)
---
Tom is placed in charge of the preparations for the Duchess' surprise birthday party for nephew Rupert and Jerry is determined to make a mess of it all.
---
4x60 Tom's Cruise (November 05, 2019)
---
Tom uses a new fangled scientific machine to make copies off himself creating a living nightmare for Jerry.
---
4x59 Donut Daze (November 04, 2019)
---
Tom and Jerry get locked inside a travel trunk and end up on a vacation cruise to France.
---
4x58 Dog Star Spike (October 29, 2019)
---
The Mice from Mars make a return visit and set about making mischief between Spike and Tom.
---
4x57 Hush Puppy (October 28, 2019)
---
Ginger is asked by her mother to watch her dog, Goliath, while she is away. Goliath is a gentle giant, unless you wake him from his nap!
---
4x56 Something to Crow About (October 22, 2019)
---
A scarecrow terrorizes Catsylvania.
---
4x55 Un-Easy Chair (October 21, 2019)
---
Tom must enlist the neighborhood cats to help him remove the cat hairs from Rick's new massage chair.
---
4x54 Polar Excess (October 15, 2019)
---
Tom and Jerry have to contend with a baby polar bear that has been mistakenly delivered to Rick and Ginger's house.
---
4x53 Flower Power (October 14, 2019)
---
A bouquet of flowers causes Tom no end of trouble.
---
4x52 The Masked Mouse (October 08, 2019)
---
Tuffy surprises Jerry with a visit from the actor who plays his favorite TV show character, "The Masked Mouse". Turns out, the actor is a prima donna who makes everyone's life miserable.
---
4x51 Ball of Fire (October 07, 2019)
---
The hot dog relish that Crooked Eddie brings to the detectives turns out to be an explosive device that Tom and Jerry must now return to the lab before it inadvertently blows up the entire city.
---
4x50 The Wearing of the Green (October 01, 2019)
---
Jerry helps a Leprechaun retrieve the pot of gold that he's lost to Tom.
---
4x49 Curiosity Thrilled The Cat (September 30, 2019)
---
Tom and Jerry become obsessed with the contents of a wrapped package and go to extraordinary measure to find out what's inside without being caught by Rick and Ginger.
---
4x48 The Butterfly Effect (September 24, 2019)
---
Tuffy and Jerry, pretending to be butterflies, prank Tom and cause all sorts of trouble in the house until the Duke catches Tuffy with the intention of adding him to his butterfly collection.
---
4x47 Tick, Tick, Tick (September 23, 2019)
---
Jerry uses a friendly tick to get even with Tom.
---
4x46 Who Sled the Dogs Out? (September 17, 2019)
---
The detectives help a team of Huskies find the villain who is determined to sabotage their dog sled race.
---
4x45 Oh, Brother (September 16, 2019)
---
Spike's big brother, Max, shows up on the run from some bad guys and Spike must enlist the help of Tuffy, Tom and Jerry to get rid of him.
---
4x44 A Rare Breed (September 10, 2019)
---
Jerry is mistaken for a rare breed of Guinea Pig by the Duchess' professor friend and uses his protected, elevated status to create endless problems for Tom.
---
4x43 Mind Your Royal Manners (September 09, 2019)
---
Fearful that he will lose his place in the Manor, Tom adopts the attitude of a member of the Royal Guard in order to keep the mice and their new friend, Boswell, from wreaking havoc in the kitchen.
---
4x42 Play Date with Destiny (September 03, 2019)
---
A wild chase leads Jerry into the arms of a little girl and now Tom has to help Jerry escape her clutches.
---
4x41 Wild Goose Chase (September 02, 2019)
---
The detectives agree to escort a goofy Canadian goose back across the border before duck hunting season begins.
---
4x40 Hot Wings (August 27, 2019)
---
A lemur belonging to the Duchess' adventurous cousin puts Tom's job as Under-Butler in jeopardy.
---
4x39 Mice Fair Ladies (August 26, 2019)
---
Jerry's cousins pay a return visit to the Manor eager to create mayhem for Tom, things get crazier than ever when the cousins wives show up as well.
---
4x38 Into the Woods (August 20, 2019)
---
When an accident leaves Jerry wrapped head to toe in bandages and unable to take his scout troop camping, a guilt-ridden Tom decides to lead the kids into the woods himself.
---
4x37 Always Say Never Again (August 19, 2019)
---
Tom and Jerry are hired by a British super spy to help guard the Queen's precious objects while they are on display in the city.
---
4x36 It's the Little Things (August 13, 2019)
---
When Tom drinks a potion given to him by a Gypsy woman and shrinks to the size of an insect, he must beg Jerry Van Mouseling for help in finding a cure.
---
4x35 Shadow of a Doubt (August 12, 2019)
---
The detectives are desperately trying to help George and Junior find a missing black panther from the city zoo.
---
4x34 Hangin' Tough (August 06, 2019)
---
Tom battles Butch to prove to Toodles that he's the better gentlemen. While they battle it out, Jerry calls in Cousin Muscles who demonstrate how a true gentleman really behaves.
---
4x33 My Buddy Guard (August 05, 2019)
---
A robot turns from friend to foe forcing Tom, Jerry, Spike and Tuffy to team up in order to rid themselves of the invader.
---
4x32 Ball of Fame (July 30, 2019)
---
When Tom and Jerry's antics unearth an autographed baseball, he warns Tom to keep his paws off it! Tom attempts to obey, but Jerry's got other ideas. The guys chase the treasured ball all over the neighborhood.
---
4x31 Balloonatics (July 29, 2019)
---
Tom and Jerry fight each other with the balloons that Rick has placed all over the house to surprise Ginger on their anniversary.
---
4x30 (Not) Your Father's Mouse-Stache (July 23, 2019)
---
It's the battle of the moustaches when Tom accidentally drinks a hair tonic potion left behind by Jerry and Butch realizes he needs to acquire some facial hair of his own if he is to compete for Toodles and Dollface's attentions.
---
4x29 Chutes and Tatters (July 22, 2019)
---
Tom's assigned laundry duty at the estate and Jerry's determined to soil the job.
---
4x28 The Old Gray Hair (July 16, 2019)
---
After discovering a gray hair, Spikes decides he's too old to be the alpha of the house which sends Tom into full bully mode. Jerry will have to act fast to convince Spike he's still the alpha dog.
---
4x27 Counting Sheep (July 15, 2019)
---
Tom and Jerry are hired by Dixie Wolf to find all the sheep that have gone missing.
---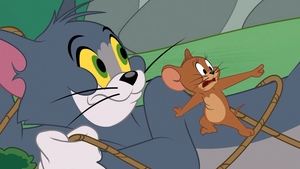 4x26 The Devil You Know (July 09, 2019)
---
A guilty conscience causes Butch to change his ways. But Tom, Jerry, Spike and Tuffy quickly decide they like the old Butch better.
---
4x25 Dam Busters (July 08, 2019)
---
Tom must cut fire word for the Manor fireplaces while Jerry harasses him.
---
4x24 Three Heads Are Better Than One (July 02, 2019)
---
Tom, Jerry Van Mouseling and the village mice must deal with a howling three head dog that Tom has accidentally awakened.
---
4x23 Duck Sitting (July 01, 2019)
---
Tom and Jerry must keep Lil' Quacker safe from Butch and Meathead so that he can testify to a crime in court.
---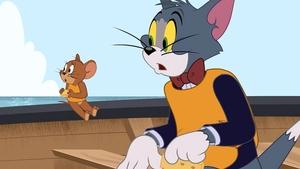 4x22 A Clown Without Pity (June 25, 2019)
---
An evil ringmaster recruits Tom to help him snare the Catsylvania mice.
---
4x21 Jabberwock (June 24, 2019)
---
Tom finds himself trapped inside a Catsylvania bedtime story and fleeing from a furious Jabberwock.
---
4x20 Mega-Tom (June 18, 2019)
---
Frankenstein turns Tom into a colossus and Tom ends up terrorizing the village mice until Jerry Van Mouseling saves the day.
---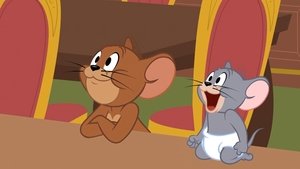 4x19 Downton Crabby (June 17, 2019)
---
Jerry battles Tom to save a crab from becoming the Duke and Duchess' main course.
---
4x18 Un-Welcome Home (June 11, 2019)
---
After taking the heat again from Ginger for Jerry's shenanigans, fed up Tom decides to pack his bags and go home to his birth family. But can you ever really go home again?
---
4x17 Cat-astrophic Failure (June 10, 2019)
---
Spike leaves Tom in charge of his boy Tyke only to discover upon his return that Tyke now behaves more like a cat than a dog.
---
4x16 Cat-A-Combs (June 04, 2019)
---
Tom falls into a manhole and finds a magic cloak that turns him into King of the Catacombs.
---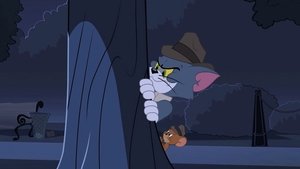 4x15 Hip Replacement (June 03, 2019)
---
The neighbor's cat turns out to be a hipster who's laid back attitudes and behaviors are soon adopted by Tom and the other alley cats. Annoyed, Jerry decides to put an end to all of their silly nonsense.
---
4x14 Tom Prix (May 28, 2019)
---
Tom, forced into driving a race car created by evil Dr. Otto, terrorizes the village mice until Jerry Van Mouseling comes to their rescue.
---
4x13 Maust (May 27, 2019)
---
Tom is tricked into helping an evil magician capture all of the mice in the village, but Jerry Van Mouseling foils the magician's plans.
---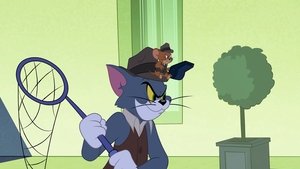 4x12 Mouse Party (May 21, 2019)
---
Rick and Ginger leave town with instructions for Tom to keep the house in order, but Jerry's got other ideas.
---
4x11 What About Blob? (May 20, 2019)
---
Tom turns into a Blob monster and proceeds to eat everything in sight, including the village mice! Jerry Van Mouseling to the rescue!
---
4x10 Ghoul's Gold (May 14, 2019)
---
Tom serves an evil pirate determined to steal treasure belonging to the village mice until Jerry Van Mouseling foils his plans.
---
4x09 Yeti, Set, Go (May 13, 2019)
---
When Tom inadvertently set a Yeti loose on the town, Jerry Van Mouseling must subdue the beast.
---
4x08 A Class Of Their Own (May 07, 2019)
---
Tom and Jerry are forced to go back to Detective School in order to renew their detective licenses.
---
4x07 The Great Catsby (May 06, 2019)
---
Tom must compete with his American cousin for the right to remain a Butler at Postlewaite manor.
---
4x06 Werewolf of Catsylvania (April 30, 2019)
---
A werewolf terrorizes Tom and the inhabitants of the Catsylvania village.
---
4x05 Loch Ness Mess (April 29, 2019)
---
Tom enlists the help of the lake monster to terrorize the mouse village forcing Jerry Van Mouseling to intervene and save the day.
---
4x04 The Maltese Pigeon (April 23, 2019)
---
Tom and Jerry are hired to find a missing priceless Maltese Pigeon.
---
4x03 Mice From Mars (April 22, 2019)
---
Mice visitors from Mars force Tom to change the way he treats Jerry.
---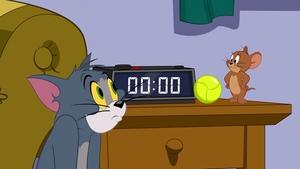 4x02 Scrunch Time (April 16, 2019)
---
Tom's obsession with the sound his new crinkle ball drives the rest of the household crazy, forcing them to take drastic measures to rid the house of the annoying toy.
---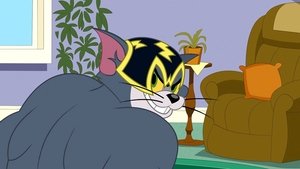 4x01 Gym Rat (April 15, 2019)
---
Overweight Jerry starts working out on a weight machine supplied to him by cousin Muscles. Not to be oudone, Tom starts lifting weights as well, which sets up an epic battle royale between the cat and mouse.
---