Slugterra
Season 1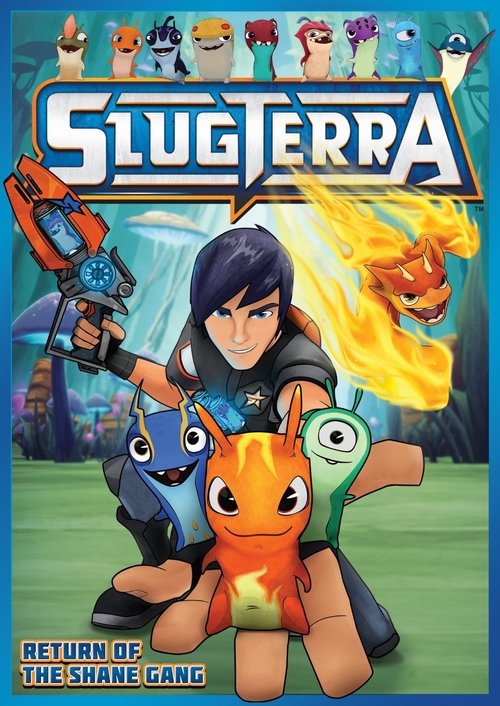 Slugterra
Season 1
First Air Date: October 15, 2012

| | | |
| --- | --- | --- |
| First Aired on | : | 2012 |
| Episodes | : | 39 episodes |
The adventure follows Eli and his team of friends as they explore the caverns, challenge rivals and each other to duels, upgrade their cool gear, and generally have a blast in this never‐before imagined underground world. But there is a very real threat to Slugterra; Dr. Blakk is seeking to "ghoul" the slugs, transforming them into feral mindless weapons! No one has been able to stand up to Blakk's powerful ghouls and army of henchmen…until now!
Episodes
1x39 Light as Day (October 20, 2013)
---
---
1x38 Dark as Night (October 13, 2013)
---
---
1x37 Bandoleer of Brothers (October 06, 2013)
---
---
1x36 Back to Blakk (September 29, 2013)
---
---
1x35 Upgrade (September 22, 2013)
---
---
1x34 It Comes by Night (September 15, 2013)
---
---
1x33 Lightwell (September 08, 2013)
---
---
1x32 The Thrill of the Game (September 01, 2013)
---
---
1x31 Keys to the Kingdom (August 25, 2013)
---
---
1x30 Mission: Improbable (August 18, 2013)
---
---
1x29 King of Sling (July 06, 2013)
---
---
1x28 Slugball (July 04, 2013)
---
---
1x27 The Return (July 03, 2013)
---
---
1x26 What Lies Beneath (July 02, 2013)
---
---
1x25 The Hard Part (March 28, 2013)
---
---
1x24 No Exit (March 27, 2013)
---
Lumino cavern is under attack! A swarm of Neurotox ghoul slugs have created a massive toxic cloud that's attacking the residents. The Shane Gang must brave an inescapable maze called the Cavern of Time to locate Blite, Blite is a deadly maniac, whose reign of terror ended only after Will Shane trapped him in the Cavern of Time. All these years, Blite has been dreaming of getting revenge on the Shane. So Eli better be ready!
---
1x23 The Gentleman and the Thief (March 26, 2013)
---
Using some stolen Shadow Clan tech, Dana Por is able slip in and out of any cavern in Slugterra—and rob them blind! But when she makes the mistake of stealing from Dr. Blakk, Eli is the only one who can protect her from The Gentleman, a suave but deadly mercenary Blakk hires to take back what was stolen from him—and bring back the scalp of the girl who stole it!
---
1x22 Dark Water, Deep Water (February 23, 2013)
---
Blakk has hired Brutale to build a Deep Water Rig to drill for Dark Water at the bottom of the Cavern Sea. Needing some water-breathing labor for the job, Brutale steals Marvolio Drake's reptilian pirate crew. Desperate to get his men back, Drake forms an unlikely alliance with the Shane Gang, who are just as desperate to shut the Dark Water rig down.
---
1x21 The Unbeatable Master (February 22, 2013)
---
A mysterious slugslinging master appears for the first time in 20 years. Though old, this slinger is an amazing battler—incredibly fast and the master of an unstoppable slinging technique. Eli, Kord, Trixie and Pronto all want to study with the master and learn this awesome move.
---
1x20 Roboslugs (February 21, 2013)
---
Driven by his intense slug phobia, scientist Quentin Kozinski has invented mechanical slugs. Armed with this fearsome arsenal, he sets out to prove that science can beat any slug - and any slinger - including the Shane Gang!
---
1x19 The Journey Home (February 20, 2013)
---
Chiller causes trouble on the Slugs journey; such as sneeze-freezing the tunnel home, angering a Slughound, and getting Burpy caught by Locke and Lode.
---
1x18 A Distant Shore (February 16, 2013)
---
Notorious con man Gar Revelle has many convinced he has discovered the way to a secret land... a land that seems to be the surface! Eli uncovers the truth—Gar is getting his information from a coded Shane diary.
---
1x17 Inheritance (February 15, 2013)
---
A thief breaks into the Shane Gang HQ looking for the fabled "Shane Treasure" — a portion of which she believes belongs to her. The thief escapes with nothing, but Eli does manage to find a treasure chest. To unlock it, and when they finally open the box, what's inside is not at all what they were expecting..
---
1x16 Snowdance (February 14, 2013)
---
Avalanched inside a frozen cavern, the Shane Gang can't figure out which is worse: being trapped with a vicious Ice Ogre that only gets bigger the more you shoot it? Or needing to work with The Hooligang to get out?
---
1x15 The New Kid (2) (February 13, 2013)
---
Along with Twist, the Shane Gang plan to rob a train carrying the last of Dr. Blakk's Dark Water. They work out the plan and are trapped by Diablos Nacho. Kord realises that Twist works for Dr. Blakk.
---
1x14 The New Kid (1) (February 12, 2013)
---
The four members of the Shane Gang think they've found the fifth in Twist, a street-smart kid who volunteers his help when the gang needs it most on a mission gone wrong. However, Twist harbors a dark secret that could doom the mission — and the Shane Gang.
---
1x13 Dawn of the Slug (November 01, 2012)
---
A fun trip to the mall cavern turns un-deadly when the place is over run by the zombie-like victims of the Zombus slug. With Pronto zombified (not entirely a bad thing, the others kind of like this new, quieter, more monosyllabic Pronto), the rest of the Shane Gang must find the mysterious Mr. Saturday who controls the Zombus slugs -- and find a way to stop him.
---
1x12 Undertow (October 30, 2012)
---
After a wild ride on the mysterious Flumes, the Underriver that runs beneath all the Slugterra, the Shane gang find themselves dropped into a sea cavern, where they are promptly shanghaied into the crew of the Pirate Captain Malvolio Drake.
---
1x11 Endangered Species (October 29, 2012)
---
Long thought to be merely a legend, an Enigmo Slug has finally been spotted. The bidding is high for this, the rarest of all slugs, and so is the competition to be the first grab it! Eli and the gang actually beat Slugterra's most vicious slug hunter to the prize--only to find that the hunter is now hunting them!
---
1x10 Mario Bravado (October 27, 2012)
---
Pronto is thrown in jail on trumped-up charges by a corrupt judge, and the only chance to break him out is Eli making a one-in-a-million trick shot. Only one slinger in all of Slugterra can help Eli make a shot like that—Mario Bravado. Finding the formerly-great-but-now-washed-up Mario is easy. Getting him to help is something else entirely.
---
1x09 Shadows and Light (October 26, 2012)
---
A short cut takes the Shane Gang through the territory of the Shadow Clan -- and try as they might not to, they are discovered and captured by the mysterious creatures. Just when it looks like our heroes are done for, they are helped out of this jam by a most unlikely savior.
---
1x08 Deadweed (October 25, 2012)
---
Eli doesn't believe in ghosts -- until he enters Deadweed cavern! But it turns out Eli's first instinct was right. What lurks inside Deadweed is far more evil than ghosts, its El Diablus Nacho, after a supply of the dangerous Dark Water that Dr. Blakk uses to turn innocent slugs into Ghouls.
---
1x07 Mecha Mutiny (October 24, 2012)
---
When even Kord can't find a way to fix what's wrong with the new upgrades to the Shane Gang's Mecha Beasts, it's time to go to the source: the wondrous Mecha Forge! Hoping to find the cause of the glitch, the gang instead uncovers a huge conspiracy--hatched by Dr. Blakk!
---
1x06 The Slug Run (October 23, 2012)
---
Eli wants to enter the Slug Run, despite being told he isn't experienced enough. He finds himself up against some tough opponents, including Vance Volt, who works for Blakk.
---
1x05 Club Slug (October 20, 2012)
---
When Eli and the gang enter the Deadweed cavern, they discover a huge amount of El Diablus Nacho, the Dark Water Dr Blakk uses to brainwash innocent slugs.
---
1x04 The Slugout (September 23, 2012)
---
When the hooligang enters the Quiet Lawn Cavern and think no one is tough enough to stand up to them, they get proven wrong by Eli and his gang.
---
1x03 The Trade (September 16, 2012)
---
The gang has to trade one of Eli's prized his slugs for some new gear, but when Eli has second thoughts and goes back to get his slug, they learn its been sold to Dr. Blakk!
---
1x02 The World Beneath Our Feet (2) (October 17, 2012)
---
Eli Shane wins his battles and gets a new slug. It's time for the finals, but Eli is beaten with a dark slug given to his opponent by Dr Thaddius Blakk.
---
1x01 The World Beneath Our Feet (1) (October 15, 2012)
---
15-year-old Eli Shane is just a regular kid from the suburbs, except for one thing: he comes from a long line of Shanes, each of whom has made the journey from the surface to protect Slugterra and the slugs that make the underground world so special. Now its Eli's turn to be Slugterra's next Shane -- whether he's ready or not! Unfortunately, the slugslinging tournament he enters to prove that he's ready, quickly shows that he's not! So when word of this new Shane reaches the ears of the nefarious Dr. Blakk, he's not too worried... yet.
---