Adam-12
Season 2
Adam-12
Season 2
First Air Date: September 20, 1969

| | | |
| --- | --- | --- |
| First Aired on | : | 1969 |
| Episodes | : | 26 episodes |
This is a list of episodes from the second season of Adam-12.
Episodes
2x26 Log 173 -- Shoplift (May 09, 1970)
---
Malloy and Reed track down a kooky female shoplifter involved in a cult-type relationship with a ego-maniacal spiritualist weirdo. Malloy gets help tracking her down from an old girlfriend.
---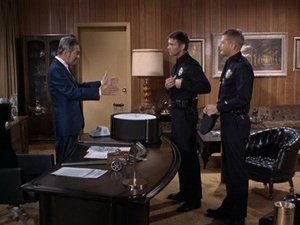 2x25 Log 44 -- Attempted Bribery (April 18, 1970)
---
Malloy and Reed prove they cannot and will not be bribed, no matter how good the offer, resulting in desperation from a young man charged with his third drunk driving offense. An elderly man admits mercy killing his wife.
---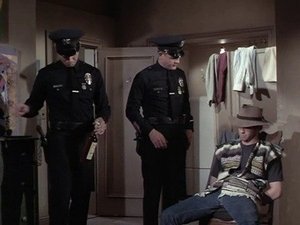 2x24 Log 144 -- Bank Robbery (April 11, 1970)
---
Malloy and Reed respond to a domestic abuse call where they become the abused. Later they become suspicious of a man whose apartment has been burglarized, help a man who found the stolen hood and front fenders of his VW on another car, and complete their day catching bank robbers.
---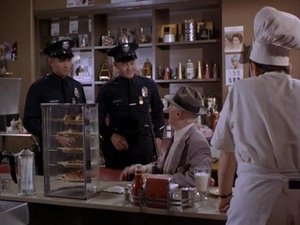 2x23 Log 134 -- Child Stealer (April 04, 1970)
---
Once Malloy and Reed get an aggressive dog out of the squad, they investigate the kidnapping of a child by its father, contend with an elderly miser who attempts to pay a bill with trading stamps, capture an escaped convict on a bus, and rescue a liquor delivery man from two serial van hijackers.
---
2x22 Log 114 -- The Hero (March 28, 1970)
---
Malloy and Reed respond to a fire where a young man, Lauro, saves a man trapped inside. But Lauro seems reluctant to receive any praise or attention much to everyone's surprise. Meanwhile, a concerned landlord reports suspicious in-activity from a tenant with heart trouble where Malloy and Reed arrive in time to give him CPR and save his life. Malloy attempts to keep his new hat clean, but finds it an impossibility.
---
2x21 Log 74 -- Light Duty (March 21, 1970)
---
Malloy and Reed are on front desk duty because Malloy has a busted hand. A rally at a college campus gets rowdy requiring Reed to assist, leaving Malloy at the station desk worrying about Reed. Malloy's shift isn't all quiet as he captures two criminals who come in looking to see if their partner has been captured and other characters from LA-LA land.
---
2x20 Log 104 -- The Bomb (March 14, 1970)
---
Malloy and Reed respond to a theft from a company that cannot disclose what was stolen because it is classified. Another call to the mysterious company reveals a bomb resulting in an appearance of a two man bomb squad.
---
2x19 Log 94 -- Vengeance (March 07, 1970)
---
Malloy and Reed contend with an ambush aimed at them, search for a missing boy, track down a car thief who is being crushed by his loot, and deal with a recent parolee who has sworn revenge on Malloy.
---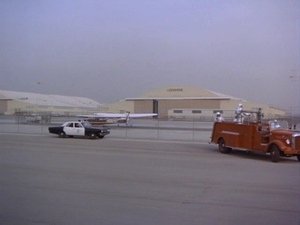 2x18 Log 124 -- Airport (February 28, 1970)
---
Malloy and Reed respond to a drunk who has stolen a plane for a joyride, look for a 17 year old runaway, receive a call for a 2-11 in progress where they encounter two armed robbers, and track down a stolen 3-ton safe containing $10k that was booby-trapped by the owner against safe crackers.
---
2x17 Log 24 -- A Rare Occasion (February 14, 1970)
---
Malloy and Reed deal with a purse snatcher focused on being jailed in time for dinner, a young boy on drugs with his dealer out to kill him, while enduring worry and concern over two policemen friends hospitalized in critical care resulting from a crackup in a high speed pursuit.
---
2x16 Log 54 -- Impersonation (February 07, 1970)
---
An investigator for the Rampart division is suspected of defrauding residents of their money. But is he really the guilty party, or is it a clever criminal who has assumed his identity?
---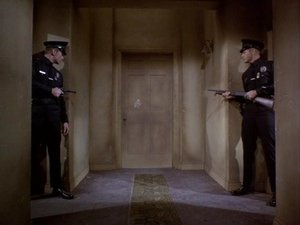 2x15 Log 64 -- Bottom of the Bottle (January 31, 1970)
---
Alcohol related incidents and a suicide attempt keep Malloy and Reed busy on a Sunday afternoon.
---
2x14 Log 14 -- S.W.A.T. (January 24, 1970)
---
A rooftop sniper endangers the lives of people in a neighborhood, resulting in Malloy and Reed calling in the SWAT unit to secure the scene.
---
2x13 Log 34 - Astro (January 10, 1970)
---
LAPD incorporates a helicopter unit into their patrols which helps Malloy and Reed track down armed criminals.
---
2x12 Log 43 -- Hostage (January 03, 1970)
---
Two armed convicts holding up a diner shoot Malloy who entered innocently, and hold him and other civilians hostage.
---
2x11 Log 142 -- As High as You Are (December 20, 1969)
---
Malloy and Reed encounter a lion in an apartment building and investigate a break-in at a medical supply warehouse. Malloy fends off cop haters and maintains the peace.
---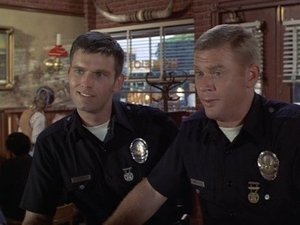 2x10 Log 143 -- Cave (December 13, 1969)
---
Malloy and Reed investigate a series of seemingly random thefts of odd items in a neighborhood.
---
2x09 Log 123 -- Courtroom (November 29, 1969)
---
A look at courtroom procedures, wherein a routine arrest on a traffic warrant uncovers a cache of narcotics. However, the suspect bases his defense that Reed was guilty of improper search and seizure.
---
2x08 Log 93 -- Once a Junkie (November 22, 1969)
---
Malloy and Reed begin to suspect that their street informant has returned to using and is committing crimes to support his habit.
---
2x07 Log 63 -- Baby (November 08, 1969)
---
Reed foolishly comes to work on the same day his wife is admitted to the hospital to give birth to their child. Reed continually attempts to contact his hospitalized wife but is always foiled by crime, timing or incompetence. Malloy just tries to get through the day.
---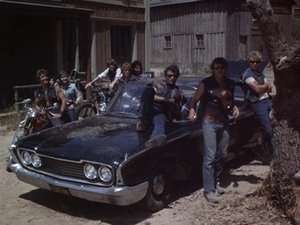 2x06 Log 103 -- A Sound Like Thunder (November 01, 1969)
---
Malloy and Reed double date on their day off to a ghost town only to be confronted by a motor cycle gang. It takes their quick police instincts to save the day as Mrs Reed gets too close to delivering the baby.
---
2x05 Log 83 -- A Different Thing (October 18, 1969)
---
Malloy and Reed are called to investigate a hit-and-run incident that soon begins to look like a homicide.
---
2x04 Log 23 -- Pig Is a Three Letter Word (October 11, 1969)
---
A pair of black hoodlums shoot and kill a respected black couple during a grocery store robbery. Reed and Malloy sent in to ward off a potential riot, knowing that given the heightened racial tensions, the wrong thing said could spark deadly violence.
---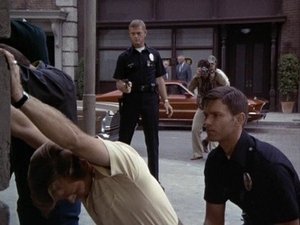 2x03 Log 52 -- Good Cop: Handle with Care (October 04, 1969)
---
A pair of freelance reporters are determined to do a story on police brutality, and harass Reed and Malloy as their marks. The officers warn the reporters to cease their behavior, but they don't and they end up causing a tragedy.
---
2x02 Log 153 -- Find Me a Needle (September 27, 1969)
---
The "Mulholland Mauler" is the object of a department wide search and several cars are assigned to patrol 'lovers lane' but more than one suspect ends up matching the description. How do they smoke out the Mauler?
---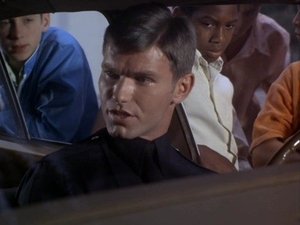 2x01 Log 15 -- Exactly One Hundred Yards (September 20, 1969)
---
Malloy and Reed volunteer for the LAPD Olympics. There, they meet a youth who is in need of a positive role model.
---