ALF
Season 1
ALF
Season 1
First Air Date: September 22, 1986

| | | |
| --- | --- | --- |
| First Aired on | : | 1986 |
| Episodes | : | 26 episodes |
Episodes
1x26 Come Fly with Me (May 11, 1987)
---
When Mr. Ochmonek becomes sick during a flight, ALF flies the plane.
---
1x25 La Cuckaracha (May 04, 1987)
---
A cockroach from outer space invades the Tanner home.
---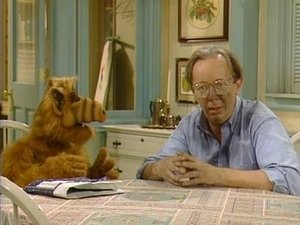 1x24 Weird Science (April 13, 1987)
---
Brian causes trouble at school when he repeats some of ALF's intergalactic knowledge.
---
1x23 The Gambler (April 06, 1987)
---
ALF develops a gambling habit and winds up in trouble with his bookie.
---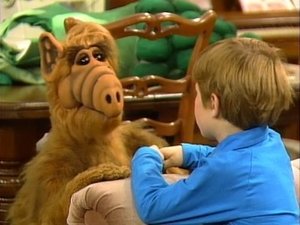 1x22 It Isn't Easy ... Bein' Green (March 30, 1987)
---
ALF comes to Brian's aid when the boy has to play an asparagus in the school play.
---
1x21 Lookin' Through the Windows (March 23, 1987)
---
ALF thinks he witnessed a murder at a neighbor's house.
---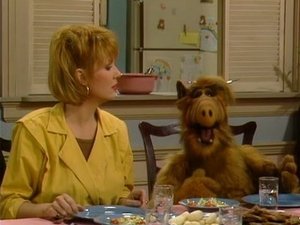 1x20 Going Out of My Head Over You (March 16, 1987)
---
Willie and ALF both talk to a psychologist.
---
1x19 Wild Thing (March 02, 1987)
---
ALF goes through a 24-hour period of bizarre behavior.
---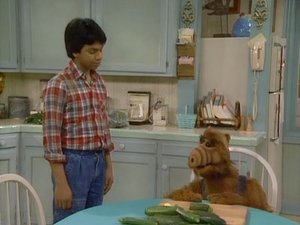 1x18 Border Song (February 16, 1987)
---
ALF befriends a young Mexican immigrant.
---
1x17 Try to Remember (2) (February 09, 1987)
---
The Tanners continue to try and jog ALF's memory, and deal with the police at the same time.
---
1x16 Try to Remember (1) (February 09, 1987)
---
ALF hits his head and is convinced he is an insurance salesman. The Tanners try reviewing past events to try and jog his memory.
---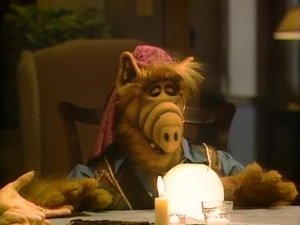 1x15 I've Got a New Attitude (February 02, 1987)
---
ALF plays matchmaker for Kate's mother.
---
1x14 A Little Bit of Soap (January 19, 1987)
---
ALF submits scripts to his favorite soap opera.
---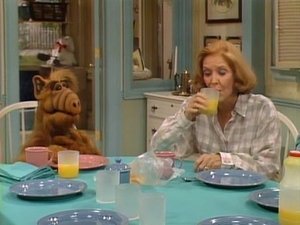 1x13 Mother and Child Reunion (January 12, 1987)
---
ALF heads for the garage when Kate's mother pays a visit.
---
1x12 Oh, Tannerbaum (December 22, 1986)
---
It's Christmastime. Unfortunately ALF chops the Christmas tree into firewood before anyone notices. The Tanners then have two tasks: to teach ALF all about Christmas and find a new Christmas tree.
---
1x11 On the Road Again (December 08, 1986)
---
Willie loses his temper with ALF during a family camping trip.
---
1x10 Baby, You Can Drive My Car (December 01, 1986)
---
ALF sells parts of his spaceship to buy Lynn a Ferrari.
---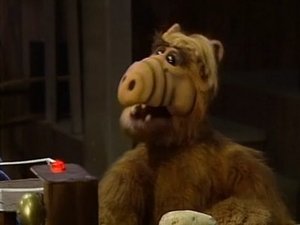 1x09 Jump (November 24, 1986)
---
On his 45th birthday, Willie feels unfulfilled, so ALF suggests he go skydiving.
---
1x08 Don't It Make My Brown Eyes Blue? (November 17, 1986)
---
ALF has a crush on Lynn, so he makes a music video to impress her.
---
1x07 Help Me, Rhonda (November 10, 1986)
---
Willie helps homesick ALF arrange a trip to Melmac.
---
1x06 For Your Eyes Only (November 03, 1986)
---
ALF befriends a lonely blind girl.
---
1x05 Keepin' the Faith (October 20, 1986)
---
ALF takes a job selling cosmetics over the phone.
---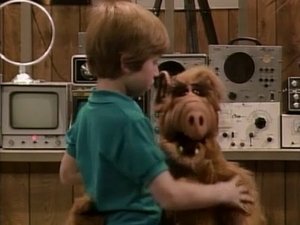 1x04 Pennsylvania 6-5000 (October 13, 1986)
---
ALF calls the president to address his concerns about nuclear weapons.
---
1x03 Looking for Lucky (October 06, 1986)
---
When Lucky the cat disappears, everyone pins the blame on ALF.
---
1x02 Strangers in the Night (September 29, 1986)
---
ALF decides to have some fun while a nervous Mrs. Ochmonek baby-sits Brian.
---
1x01 A.L.F. (September 22, 1986)
---
Gordon Shumway, last known survivor from the planet Melmac, crash-lands his spaceship into the Tanner family's suburban garage. Willie dubs him "ALF", short for Alien Life Form. After convincing a military officer that they are not harboring a space creature, the Tanners decide to take ALF in as a member of the family.
---