Viper
Season 2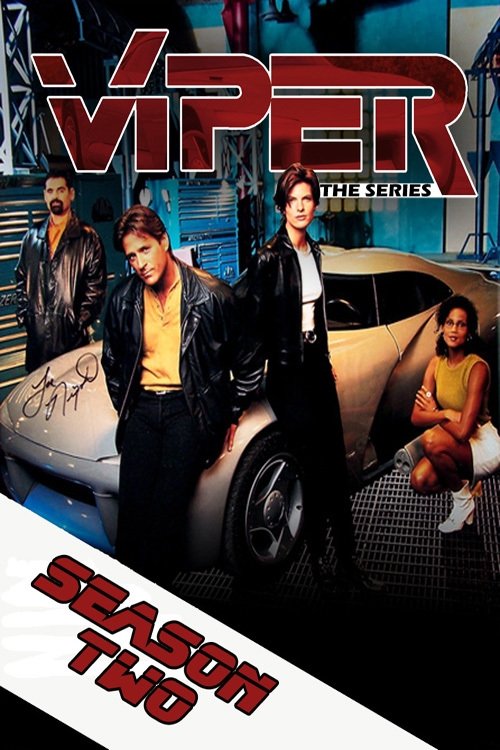 Viper
Season 2
First Air Date: September 27, 1996

| | | |
| --- | --- | --- |
| First Aired on | : | 1996 |
| Episodes | : | 22 episodes |
Episodes
2x22 The List (May 17, 1997)
---
Westlake witnesses Cole's death, only to learn that he's alive and well---and working as an informant for a powerful crime family.
---
2x21 Black Box (May 10, 1997)
---
A murdered software designer leaves artificial intelligence to his girlfriend.
---
2x20 Whistle Blower (May 03, 1997)
---
An autistic man is the only witness to the murder of his brother.
---
2x19 Cold Storage (April 26, 1997)
---
A charismatic mass-murderer in cryogenic suspension manages to escape to rejoin his followers.
---
2x18 Thieves Like Us (March 22, 1997)
---
The Viper team is accused of treason after their new boss tells them to steal a weapon that creates spontaneous human combustion.
---
2x17 Echo of Murder (March 01, 1997)
---
Cole's investigates the death of his friend, an investigative reporter, but his only clue is a holgram of a movie star who committed suicide long ago.
---
2x16 Shutdown (February 22, 1997)
---
The city is terrorized by a criminal who is driving around in a clever imitation of the Viper.
---
2x15 Wheelman (February 15, 1997)
---
An escaped con looking for revenge happens to be Cole's former mentor.
---
2x14 Forget-me-Not (February 08, 1997)
---
A scientist is brainwashed into stealing nerve gas to be used in an attack on the U.S. Secretary of Defense.
---
2x13 Turf Wars (February 01, 1997)
---
The Viper team is assigned to stop a gang war between two rival factions, and a 13-year-old gets caught in the middle of the fighting.
---
2x12 Manhunt (January 18, 1997)
---
A scientist's invention saves his life but turns him into a killer cyborg.
---
2x11 Breakdown on Thunder Road (January 11, 1997)
---
A scientist fears his runaway son may be behind the theft of an extremely combustible rocket fuel, which the boy is using to power racing cars.
---
2x10 Street Pirates (November 30, 1996)
---
A band of weapons thieves plans to take the Defender next.
---
2x09 On a Roll (November 23, 1996)
---
The Viper team and their superior are accused of treason after following a Government command to steal a lethal weapon.
---
2x08 Die Laughing (November 16, 1996)
---
It's no joke when the Viper team's assigned to protect a comedienne and her son, who's witnessed the murder of an undercover FBI agent.
---
2x07 White Fire (November 09, 1996)
---
A string of diamond thefts points to a notorious criminal, but she cooperates with the Viper team to catch whom she claims is the real culprit.
---
2x06 Standoff (November 02, 1996)
---
Thieves after a new weapon have the Viper team trapped in an abandoned refinery.
---
2x05 Diamond in the Rough (October 26, 1996)
---
A disgruntled former security officer decides to become a jewel thief.
---
2x04 Talk is Cheap (October 19, 1996)
---
A talk-show host is targeted by a killer who has a unique way of getting rid of the bodies of his victims.
---
2x03 Condor (October 12, 1996)
---
The massacre of four undercover cops, all of them set to share information regarding the mob, leads the team to seek help from a helicopter squad that's Viper's aerial equivalent.
---
2x02 MIG-89 (October 05, 1996)
---
Cameron uncovers an illegal arms-smuggling ring---but not before Allie and a visiting scientist are kidnapped and forced to develop a highly advanced fighter jet.
---
2x01 Winner Take All (September 27, 1996)
---
The Viper returns to the streets of Metro City. The new prototype is given to Ex-CIA operative Thomas Cole (Jeff Kaake) and his team: Technician Frankie Waters (Joe Nipote) and systems programmer Dr. Allie Farrow (Dawn Stern). After the death of her partner, police officer Cameron Westlake (Heather Medway) joins the Viper team. The team then concentrates on taking Dekker, a rogue trucker who has been terrorizing the city.
---