Auf Wiedersehen, Pet
Series 4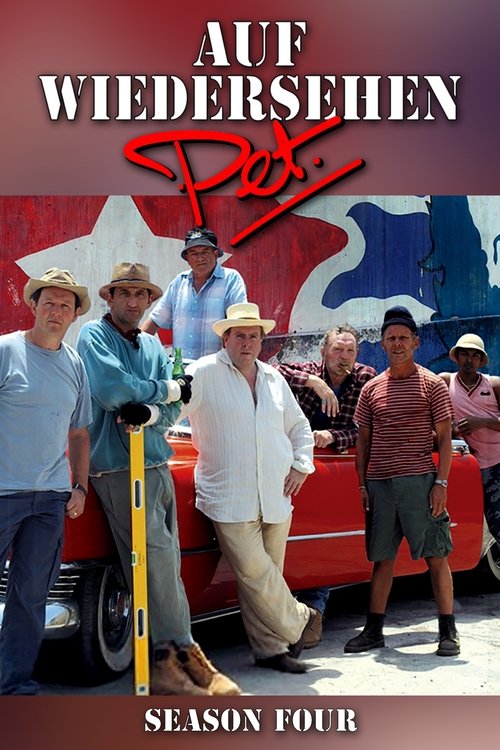 Auf Wiedersehen, Pet
Series 4
First Air Date: January 04, 2004

| | | |
| --- | --- | --- |
| First Aired on | : | 2004 |
| Episodes | : | 6 episodes |
The characters now work as building subcontractors for the British Embassy after a building job in Moscow goes badly wrong and are given a tip off from a friend of Oz who tells them about specialised embassy work. The team are posted to Havana to completely refurbish the British ambassador's new residence. They also carry out some unofficial building work for Oz's Cuban girlfriend's family.
Episodes
4x06 The End of the Affair (February 08, 2004)
---
Pru comes to the aid of Neville after he is kidnapped. Pru explains to Neville that Tarquin has not been entirely honest with him. Oz visits Barry in jail and finds that he's suffering badly. Oz makes a decision that will help Barry, but will damage his relationship with, Ofelia.
---
4x05 Dangerous Liaisons (February 01, 2004)
---
The Cuban's are convinced Barry is a spy after discovering his Russian connections. Oz faces a major blow in his relationship with Ofelia after word comes from the British Embassy that they want his relationship with Ofelia to end.
---
4x04 Moonlighting (January 25, 2004)
---
Neville's first mission is to get to know Michael works for a pharmaceutical company. As if being suspected of spying isn't bad enough, Michael is also a Manchester United fan. Neville is given a Man U shirt in order to pass himself off as a fan to get close to Michael. The things some people will do for their country.
---
4x03 A Gift from Fidel (January 18, 2004)
---
The lads are sent out into the Cuban countryside to collect an antique bath, a present from Castro to the British Ambassador. Sounds like an easy job, until Barry goes missing…
---
4x02 Our Boys in Havana (January 11, 2004)
---
Perhaps it's the heat, or the Cuban rum, or maybe it's just creeping middle-age but strange things are happening to TV's best-known gang of Geordie brickies. Neville, for instance, has turned into Newcastle's version of ""Our Man in Havana"", furtively sneaking around the place muttering the name of Heather to everyone in the hope of finding his ""contact"" in the British Embassy. Meanwhile Oz is giving flowers to a beautiful Cuban prima ballerina, and dear Barry is still having therapy by mobile phone.
---
4x01 Britannia Waives the Rules (January 04, 2004)
---
Russia. A marble staircase. Oz descends in his dirty, worn white underpants to join the others over a morning cuppa. The house is magnificent - another job well done. It is payday, and after a celebratory vodka, the boys head outside for a final photo, where the house explodes behind them, leaving them penniless and with no way home. The lads head to the British Embassy, where Oz knows an old Geordie contact who tells the team about the existence of the Overseas Estates Development department which arranges for British workmen to travel round the world fixing up British Government property. The gang plan their letter of application on the way home: ""We are independent building contractors with a vast amount of experience. We recently reassembled the Middlesbrough Transporter Bridge in Arizona, which must count as one of the most famous erections in recent years."" Neville turns down the opportunity this time, but he is approached by a member of MI6, and is asked to work undercover.
---