Auf Wiedersehen, Pet
Series 1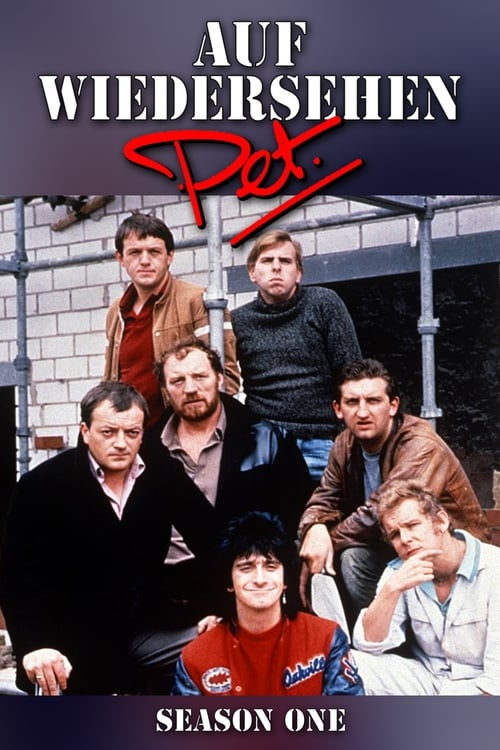 Auf Wiedersehen, Pet
Series 1
First Air Date: November 11, 1983

| | | |
| --- | --- | --- |
| First Aired on | : | 1983 |
| Episodes | : | 13 episodes |
Seven out-of-work construction workers from various parts of England who are forced to look for work in West Germany. They find work on a German building site in Dusseldorf but despite promises of hostel accommodation, are forced to live in a small hut that reminds them of a World War II POW camp.
Episodes
1x13 When the Boat Goes Out (February 10, 1984)
---
It's just about time to pack up and go home now that the German government has decided that all foreign workers will have to register and pay income tax. Dennis has decided to go back to Vera, so he plans to spend one last night with Dagmar. The rest of the lads go out on the town. When they get back to the building site, a fire starts and the hut is burnt to the ground. They all go round to stay the night at Dagmar's place. Next day, the lads go their separate ways and Dennis, Neville and Oz catch the ferry back to England.
---
1x12 Love and Other Four Letter Words (February 03, 1984)
---
Dennis' wife, Vera, visits him in Dusseldorf and tells him that she wants to try to rescue their marriage. With Vera and the kids back home to consider, will he sty in Germany or Returnt the Sunny shores of England? Meanwhile, Wayne has fallen in love with Christa, a secretary in the site office.
---
1x11 The Lovers (January 27, 1984)
---
Barry talks the lads into redecorating the hut, using paint 'redistributed' from the site stores. Oz pretends to be a rich man's son to impress a German girl. He falls in love with her, only to discover that she has a Turkish boyfriend who owns a local 'sauna parlour'. Oz almost ends up being knifed by the Turk, but is rescued when the Turks on the building site convince the wouldbe attacker that Oz is 'otherwise inclined'.
---
1x10 Last Rites (January 20, 1984)
---
While visiting a local hospital, Dennis and Neville become friendly with a Geordie expatriot named Hedley. He stayed in Germany after 'leaving' the Army and now has a terminal illness. Meanwhile, Oz has come up with a scheme to make money by exporting hardcore pornaographic videos from Germany to England. He talks Barry and Moxie into investing in the scheme and looks for a way to smuggle the videos to England. When Hedley dies suddenly, Oz talks the rest of the lads into paying for the body to be taken back to England for burial. He plans to hide the porno videos in the coffin. Wayne is going home for a family wedding, so he's talked into visiting Hedley's sister and arranging for the body to be handed over. He discovers that she doesn't want anything to do with her brother, who was apparently thrown out of the Army for racketeering. Hedley is cremated in Germany and Oz learns that his investment has gone up in smoke.
---
1x09 The Alien (January 13, 1984)
---
MacGowan is a violent Irish nutcase. Nobody on the building site likes him and he's always getting into fights and causing trouble. And with Bomber away he ends up as an unwelcome guest in the hut. However the lads find an ingenius way of getting rid of him.
---
1x08 The Fugitive (January 06, 1984)
---
The lads go off for a weekend's fishing in the country, where they meet up with an English hitchhiker who is very mysterious, they lads suspicions grow when he later runs away from the police. However after a large confruntation the lads find out the truth, the boys turns out to be AWOL from the Army. The lads persuade him to do the right thins and return to his unit.
---
1x07 Private Lives (December 30, 1983)
---
Dennis is getting it together with Dagmar from the site office. He takes her off to a hotel for a romantic interlude. Meanwhile, Wayne and Barry are 'on the pull' and have met up with a couple of Swedish air hostesses staying at the same hotel. Oz decides to play a practical joke on them, so he rings the hotel and leaves a message telling Barry and Wayne to go up to a particular room. The room is occupied by a German couple who think they're being mugged. Wayne and Barry have to 'do a runner' from the hotel. Their escapades ruin Dennis and Dagmar's chances of a romantic evening.
---
1x06 The Accused (December 16, 1983)
---
Neville meets a German girl in a bar and they share a taxi home. The girl is later assaulted and Neville is arrested by the police for the assault and protests his innocence. but none of his English friends are of any use to him it takes a group of German workers from the building site track down the real culprit and force him to give himself up to the police, and therefore freeing Neville.
---
1x05 Home Thoughts from Abroad (December 09, 1983)
---
Bomber's sixteen-year-old daughter runs away from her home in Bristol, so Bomber returns home to be with his wife while the search for their child continues. The missing daughter finds her way to Germany and turns up on the site looking for her father. The lads decide to hide her in the hut until Bomber returns. But can they keep her a secret from the Germans until Bomber returns?
---
1x04 Suspicion (December 02, 1983)
---
Something very expensive goes missing from the hut and they all begin to suspect each other. So in a bid to catch out the culprit various plans are hatched but as usual all of them end in failure. But in the ed it turns out that the thief isn't one of them at all but someone from outside the hut.
---
1x03 The Girls They Left Behind (November 25, 1983)
---
Oz's wife, Marjorie, hasn't heard from him for quite a while and she's getting desperate for money. She goes to see Dennis' wife, Vera, and asks her where the lads are in Germany. Oz gets a letter from Marjorie, but marks it 'not known at this address' and sends it back. He takes a trip to watch a football match, gets drunk and wakes up on a plane bound for Newcastle. He makes his way home and gives Marjorie a sob story about not having any money. When Oz is still missing after several days, the lads back in Dusseldorf auction off his belongings and send the proceeds to his Newcatle address. He reappears to find that Marjorie has, apparetly, got the money she wanted from him after all.
---
1x02 Who Won the War Anyway? (November 18, 1983)
---
Neville is suspended from work when his boss finds out that he's a bricklayer rather than a carpenter. Watching a group of men playing football, Neville spots an unexploded bomb which has been unearthed by a mechanical digger. He raises the alarm and is hailed as a hero. The boss finds a bricklaying job for him. There's a sudden vacancy because Oz has been in a fight with a group of Germans and has been sacked. The German workers go on strike until Oz is reinstated.
---
1x01 If I Were a Carpenter (November 11, 1983)
---
Dennis, Neville and Oz head for Germany, looking for work as bricklayers. They get work in Dusseldorf, but only two bricklayers are needed. Dennis makes out that Neville is a carpenter so that the trio can stay together. Neville isn't too happy with his work, since his carpentry skills are very limited. He decides to call it a day and head back home. That night, he goes out on the town and has too much to drink. He wakes up next morning with a tattoo on his arm, dedicated to someone named Lotte. He decides that he'll have to stay in Dusseldorf for the time being.
---