Eureka
Season 3
Eureka
Season 3
First Air Date: July 29, 2008

| | | |
| --- | --- | --- |
| First Aired on | : | 2008 |
| Episodes | : | 18 episodes |
The third season of the fantasy series set in the quirky and seemingly perfect small town of Eureka, where the hidden work of America's brightest scientists can lead to innovation or utter chaos.
Episodes
3x18 What Goes Around Comes Around (September 18, 2009)
---
Tess has a job offer from Australia, Zoe is prepared to leave for Harvard and Carter has a magnetic disturbance above Eureka to contend with, in the third season finale.
---
3x17 Have an Ice Day (September 11, 2009)
---
The first day on the job as temporary head of Global Dynamics proves daunting for Tess when a new Ice Age comes to Eureka; and a familiar face returns in the process.
---
3x16 You Don't Know Jack (August 28, 2009)
---
Global Dynamics sonic cleaning coincides with a phenomenon in which the citizens of Eureka develop a communal form of Alzheimer's disease. Meanwhile, Allison goes into labor.
---
3x15 Shower the People (August 21, 2009)
---
Allison's baby shower fetches her a load of eco-friendly gifts and the discovery of a drowned scientist in a location where drowning is impossible.
---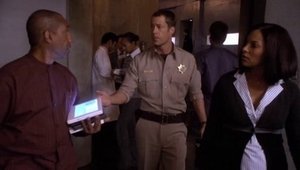 3x14 Ship Happens (August 14, 2009)
---
Henry's ship returns causing Carter to fear it maybe linked to the town's deadly electrical anomalies.
---
3x13 If You Build It... (August 07, 2009)
---
Eureka's teenagers who appear to have been manipulated while asleep, gathered in a field where they assembled a strange structure comprised of scrap metal and electronics.
---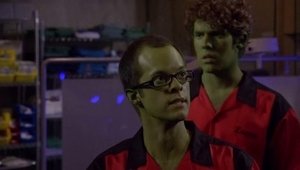 3x12 It's Not Easy Being Green (July 31, 2009)
---
Carter finds himself chasing down creation of blob-ical like proportions when a series of escalating pranks turn deadly. Elsewhere, long-term rivals from Area 51 come to Eureka for a bowling tournament.
---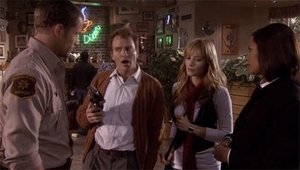 3x11 Insane In The P-Brane (July 24, 2009)
---
Dr. Tess Fontana reopens Section 5, causing objects to become ambulatory , possibly due to poltergeists.
---
3x10 Your Face Or Mine (July 17, 2009)
---
Jo displays atypical behavior after a DNA scan malfunctions, unfortunately it's while she's interim sheriff because Carter is undergoing a 48-hour DOD recertification test.
---
3x09 Welcome Back Carter (July 10, 2009)
---
Carter interviews for a job with the Department of Homeland Security, after being terminated as the sheriff. Deputy Lupo decides to resign after discovering that a very personable robot is the new sheriff.
---
3x08 From Fear to Eternity (September 23, 2008)
---
Trust issues are produced by a scientific find, along with sinister results. Zoe's life is in jeopardy, and Eva Thorne knows what has caused the predicament.
---
3x07 Here Come the Suns (September 16, 2008)
---
The Eureka mayoral race is overshadowed by the sudden arrival of a second sun, forcing Carter, Allison and Zane to investigate it more closely.
---
3x06 Phased and Confused (September 09, 2008)
---
Carter's job is made more difficult when a super hero emerges. Meanwhile, Zoe and her friends are imperiled when Thorne makes a subterranean search beneath Eureka.
---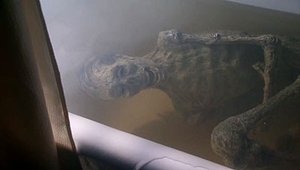 3x05 Show Me the Mummy (August 26, 2008)
---
A search for a mummy ensues after a famed archaeologist opens the tomb of an Egyptian queen at Global Dynamics.
---
3x04 I Do Over (August 19, 2008)
---
It's Allison and Stark's wedding day and Carter finds himself reliving it over and over. Meanwhile, Carter's sister, Lexi, visits the town.
---
3x03 Best in Faux (August 12, 2008)
---
Eureka's annual dog show is underway and is like none other. Meanwhile, Sheriff Carter experiences an earthquake; Zoe debates quitting the accelerated physics program; and Allison starts the process of fitting her wedding dress.
---
3x02 What About Bob? (August 05, 2008)
---
Carter and Allison investigate when a scientist mysteriously disappears from a sealed biosphere. Meanwhile, the "Fixer" tries to make Eureka's efforts more profitable.
---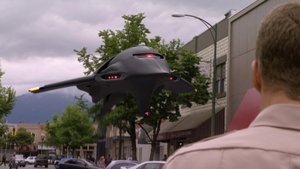 3x01 Bad to the Drone (July 29, 2008)
---
The search is one for an escaped drone as Eva Thorne arrives to assist the clean up of damages which Global Dynamics has caused.
---