Faerie Tale Theatre
Season 4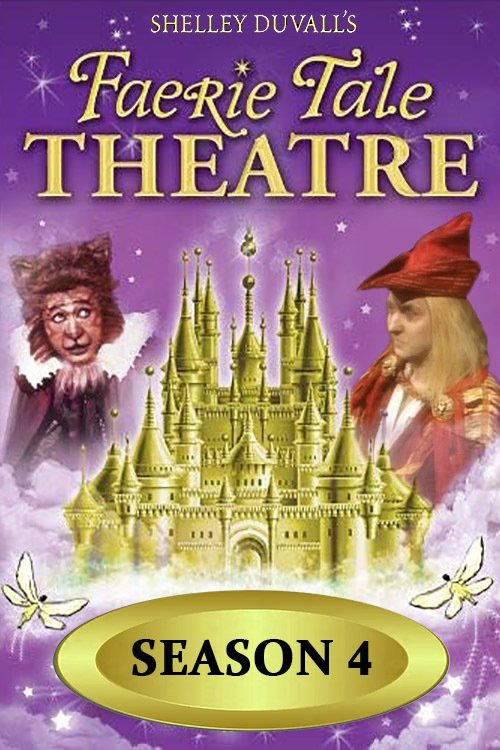 Faerie Tale Theatre
Season 4
First Air Date: February 12, 1985

| | | |
| --- | --- | --- |
| First Aired on | : | 1985 |
| Episodes | : | 7 episodes |
Episodes
4x07 The Emperor's New Clothes (October 05, 1985)
---
Theres a sucker born every minute -- and 2 con men (Art Carney and Alan Arkin) find as they ride into a seaside town that it is run by the most vain King alive. The 2 set up a scheme to rob the king of his jewels and Robes! -- as they come peddling a magical cloth that any person who is truly stupid cannot see! A humorous comedy with a great moral for the entire family.
---
4x06 Puss in Boots (September 09, 1985)
---
The amusing story about a millers son who inherits a cat-- not just any cat -- a cat who insists on wearing people's clothing. But all the money is not wasted -- Puss has a plan to get his master (Ben Vereen) married to the lovely Princess Lovinia-- the only thing standing in the way is the evil ogre. Puss proves that cats are clever in this funny adaption of the Perrault story!
---
4x05 Cinderella (August 12, 1985)
---
Cinderella is once again helped to the ball by her fairy godmother (this time played by the hilarious Jean Stapleton) as the story of Cinderella unfolds and how she loses her glass slipper-- this one has an amusing twist at the end -- that shows even fairy godmothers are vindictive.
---
4x04 Grimm Party (July 17, 1985)
---
Although not an actual Faerie Tale, this was very fun. It was a party with all the actors and actresses that made a contribution of their talents to lovely Shelley Duvall's Faerie Tale Theatre. They talk about their experiences as some of the most beloved Faerie Tale characters. Jean Stapleton also talks about how she was in more episodes of Faerie Tale Theatre more than anybody else besides Shelley Duvall herself. Stapleton appeared as the fairy godmother in Cinderella and the Giant's Wife in Jack and the Beanstalk. Unfortunately, this exclusive party was never released on video, but only time can tell...
---
4x03 The Pied Piper of Hamelin (April 05, 1985)
---
Eric Idle plays a wandering piper who is hired by a selfish mayor to rid his town of rats. The piper is good to his word and leads the rats to a watery grave.However when he asks for payment the mayor reneges, thus causing the piper tp play his pipe for an alternate result -- this time leading all the children out of Hamelin never to be seen again.
---
4x02 The Snow Queen (March 11, 1985)
---
Kay and Gerda are best friends. A wicked goblin who likes to cause trouble casts a spell on Kay to separate the friends. The Snow Queen snatches Kay away to her castle. Gerda must go find him. Will she ever find Kay? Is the Snow Queen helping Kay or is she freezing his heart forever?
---
4x01 The Three Little Pigs (February 12, 1985)
---
If you work hard you can overcome the most formidable obstacles. Thats the morale of this most popular of fairy tales. Billy Crystal and Valerie Perrine are in trouble when they come up against Big Bad Wolf Jeff Goldblum. Billys older brothers just miss ending up on the wolfs plate by the hair of their chin-ee chin chins when he blows there houses of straw and sticks away. Billy the more practical pig, takes his time and constructs his house out of sturdy brick. when the cigar-chomping wolf arrives- he huffs and puffs but can't blow Billy's house down.
---