Kuroko's Basketball
Season 1
Kuroko's Basketball
Season 1
First Air Date: April 08, 2012

| | | |
| --- | --- | --- |
| First Aired on | : | 2012 |
| Episodes | : | 25 episodes |
Episodes
1x25 Our Basketball (September 23, 2012)
---
The game has reached a fever pitch and some of the players are about to break. Can Kise keep up copy of Aomine or will Aomine finally be able to go all out.
---
1x24 Don't Get the Wrong Idea (September 16, 2012)
---
Touou Academy has not stolen the game like expected. If they can't break away, Kise will finally reach full potential.
---
1x23 I'm Not Mature! (September 09, 2012)
---
Kise copy technique has lead Kaijo to take the early lead. With Touou keeping pace, Aomine is enjoying the pressure and is getting better each minute.
---
1x22 I'll Win Even If It Kills Me (September 02, 2012)
---
The training camp is over and everyone has learned something about themselves. But the team is not ready to leave yet, as there is a game happening: Kaijo vs Touou, Kise Ryota vs Aomine Daiki.
---
1x21 Let's Get Started (August 26, 2012)
---
The training camp from hell has begun.
---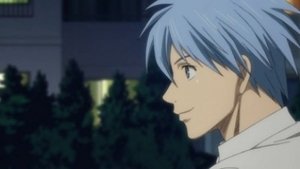 1x20 I Don't Want to Be (August 19, 2012)
---
Kiyoshi has a plan for Kuroko and Kagami to get them over their slump. Kuroko, on the other hand, think he needs to be pulled.
---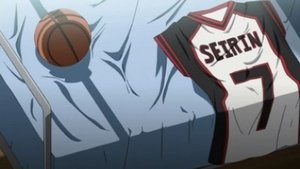 1x19 On to a New Challenge (August 19, 2012)
---
The only thing you can do is pick yourself up and move on. Some can move on faster, while others wallow in their own darkness. A new beginning and an old friend is what needed to pick the team back up.
---
1x18 No!! (August 05, 2012)
---
Aomie is unstoppable, but Serin hasn't given up yet. But with Kagami pulled in the last few minutes, can the team play without him?
---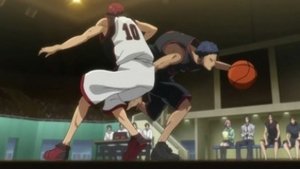 1x17 You're All Ridiculous (July 29, 2012)
---
In a few minutes of play, Aomie has demonstrated why he is a force to be reckoned with, with Kuroko benched in the 2nd half, will the team be able to hold Aomie off?
---
1x16 Let's Go (July 22, 2012)
---
Even without Aomine, Touou Academy is dominating against Seirin. It is an uphill battle against Touou Academy individual style of play and the genius of Satsuki.
---
1x15 Don't Make Me Laugh (July 15, 2012)
---
Kuroko explains part of the history of the "Generation of Miracle" to Kagami.
---
1x14 You Look Just Like Him (July 08, 2012)
---
After an awkward dinner involving rival basketball teams, Kuroko happens upon a dog that looks just like him. The dog quickly gathered favor with everybody except for one.
---
1x13 I Believed in You (July 01, 2012)
---
With only 10 minutes left, Seirin is in trouble. Kagami has run out of gas and Midorima shows no sign of stopping. Kuroko is back in the game with a new, but dangerous pass.
---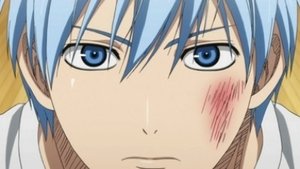 1x12 What Is "Victory" (June 24, 2012)
---
The pressure of the game is causing Kagami skills to rapidly increase; he continues to score keeping Seirin in the game. But his thoughts are turning darker and self-serving
---
1x11 That's Not It (June 17, 2012)
---
Seirin is holding their own against Shutoku, but in the 2nd half Midorima and Takao's abilities are unleashed, shutting down Seirin's game completely
---
1x10 I Can't Have That (June 10, 2012)
---
Kuroko has rejoined the game in the final moments, but it seems that one of the players has him figured out. Seirin is playing hard, but if they win, will they have the strength to play a 2nd game
---
1x09 To Win (June 02, 2012)
---
Seirin's game continues against Seiho with neither team giving up points. Kuroko and Kagami are pulled after the first quarter, to preserve their strength. Can their team mates bring home the victory?
---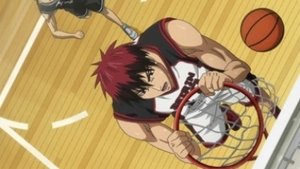 1x08 Now That I Think About It (May 27, 2012)
---
Seirin takes on Seiho, a squad built around an invincible defense. The unorthodox manner in the way Seiko moves is finally understood, but it may be too late. Will Seirin's streak finally be shutdown?
---
1x07 You'll See Something Amazing (May 20, 2012)
---
After their win over Shinkyo, Seirin goes on to crush their next few opponents. Realizing too much confidence is brewing, the team is taken to watch a Shutoku match. After seeing how Shutoku, one of the three Emperor teams of basketball, dominates their opposition, the team realizes they have a long way to go if they are to improve and contend for the title.
---
1x06 Let Me Tell You Two Things (May 13, 2012)
---
Serins first opponent in the inter-high tournament is Shinkyo high, a middle tier school until last year. With the addition of a two meter tall, 87 kilogram player from Senegal, Shinkyo is a new threat to Serins championship hopes.
---
1x05 Your Basketball (May 06, 2012)
---
Serin is victorious against Kaijo, barely. It is a shock to Kise, who has never lost in his life. After the game, another former Teiko Middle school player, Midorima, has a few words for Kise.
---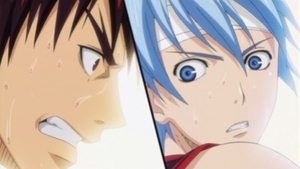 1x04 Take Care of the Counter Attack! (April 29, 2012)
---
The only way to stop Kise is to challenge him with a style he can't copy, Kurokos! The new offensive from Seirin is closing the point gap, until an injury might derail Serin's chance at victory.
---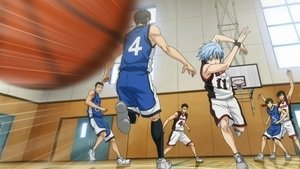 1x03 It's Better If I Can't Win (April 22, 2012)
---
Seirin basketball club is playing a practice game at Kaijo High School, the school where Kise attends. After a display of power from Kagami, it forces the Kaijo coach to take Seirin serious.
---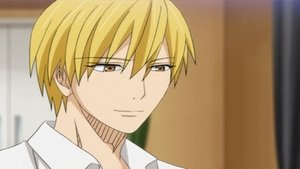 1x02 I'm Serious (April 15, 2012)
---
Before anyone can become an official member of the Basketball Club, they first must do display courage. Afterwards, a surprising guest appears on the school grounds with a shocking offer.
---
1x01 I Am Kuroko (April 08, 2012)
---
While recruiting for the basketball club, the Seirin Private High school has managed to pick up some impressive players; a power house, former American player, and a member of the "Generation of Miracles.
---