American Chopper
Season 5
American Chopper
Season 5
First Air Date: January 17, 2008

| | | |
| --- | --- | --- |
| First Aired on | : | 2008 |
| Episodes | : | 26 episodes |
Episodes
5x26 Schussler Bike (October 30, 2008)
---
Pohl is chosen to scout out OCC's most magical client to date, Schussler Creative. But when the outrageous ideas for the Schussler's bike pushes OCC to the brink, causing the guys to dig in and set the goal of creating the wildest 57 Chevy bike ever.
---
5x25 Dodge Ram Bike (October 23, 2008)
---
OCC goes heavy duty with a bike for Dodge Ram. Needing help with the design, the guys take a trip to a farm for inspiration from the real thing. Back at the shop, Sr. leads the charge on the build but when Jr. gets involved the two Teutuls butt heads.
---
5x24 Aaron Equipment Company Bike (October 16, 2008)
---
OCC takes on an industrial themed bike when the tackle the heavy machinery maker, Aaron Equipment Company. When one Teutul doesn't show up at the Aaron, Sr. is left upset. The air is tense as the guys get the gears turning when the design ideas begin for fabrication.
---
5x23 Steve Wyrick & ICEE Bikes (October 09, 2008)
---
OCC takes on the challenge of building two bikes at the same time. First is a custom bike for illusionist Steve Wyrick and the second is for ICEE. Their first trick is to invent an invisible gas tank for Steve's bike. And, the gang go to work for the sweet treat as a means of cooling off.
---
5x22 Web Bike Special Edition (September 18, 2008)
---
Paul Teutul and his sons capture the drama and go head to head in the creation of outrageous custom motorcycles.
---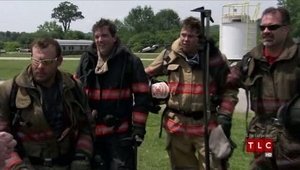 5x21 RJR Memorial Car Show (September 11, 2008)
---
OCC hosts the RJR Memorial Car show. With Sr. leading the way, everyone at the shop contributes: Jr. reaches out to the local fire department for help with a pancake breakfast and Mikey travels to the city to solicit help for an idea uniquely his own.
---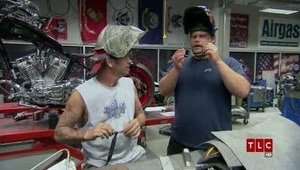 5x20 McCuff Industries (August 21, 2008)
---
A custom bike build begins for McCuff Industries, but a miscalculation on the frame and problems during assembly threaten the process.
---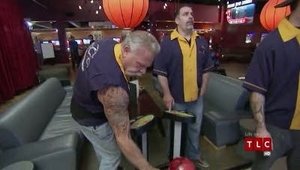 5x19 Strike Ten Entertainment (August 07, 2008)
---
The guys head to the lanes for inspiration when OCC decides to create a bowling themed bike for Strike Ten Entertainment. Rick designs a tank in the form of a bowling ball, and Sr. brings Mikey to the farm where he pretends to be a matador.
---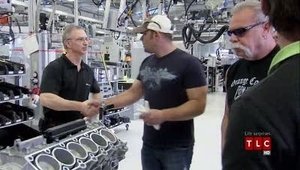 5x18 Mercedes-AMG Bike (July 24, 2008)
---
The Teutuls get inspired by some high-end automotive engineering and build a luxury-performance bike for Mercedes Benz-AMG. Senior taps a local artist to immortalize his kids in ink, and then takes some time to get away, with his best friend Gus.
---
5x17 Sikorsky Bike (July 10, 2008)
---
Senior recruits J.Q. and Jason Pohl to build a tribute bike for the Sikorsky Aircraft Corp. But fabrication hits some turbulence as issues with the backbone and tank have the guys spinning out of control.
---
5x16 Darien Lake Bike (June 26, 2008)
---
OCC twists and turns into their next project: the OCC Motocoaster bike for the Darien Lake Theme Park Resort.
---
5x15 NY Giants Bike (June 19, 2008)
---
Paul Sr. gets the green light for Paul Jr. to design and build a custom chopper honoring the World Champion NY Giants. As Junior's freeform style inspires the build, OCC prepares for the grand opening of their new World HQ.
---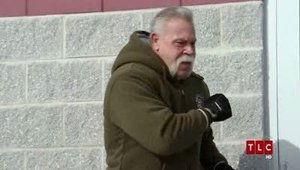 5x14 Dryvit Bike (June 12, 2008)
---
OCC moves into their new World Headquarters and takes on their first build in the new shop; a penguin-themed chopper for exterior insulation manufacturer, Drvyit Systems.
---
5x13 Production Bike Showcase (May 08, 2008)
---
The motorcycle industry picks OCC for an award, but there are no production bikes available to display in the awards showcase, so the crew scrambles to build some in time for the event.
---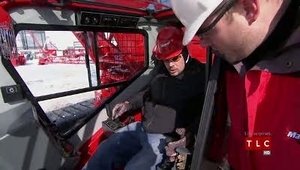 5x12 Manitowoc Crane Company Bike (May 01, 2008)
---
OCC builds an industrial-themed bike for the Manitowoc crane group. Also, Mikey gives a lecture to a group of second graders.
---
5x11 BSN Bike (April 24, 2008)
---
The Girls of BSN, a spokesmodel team of the nutritional supplement manufacturer BSN, give the guys a hand as they begin design on a bike for the company.
---
5x10 Viega (March 20, 2008)
---
OCC pulls out all the stops and takes on a project for the plumbing and heating technology company, Viega Corporation. Manpower issues continue to plague the shop, and company demands push JQ to the limit.
---
5x09 Klipsch (March 13, 2008)
---
OCC tunes in and cranks it up, as they build a custom bike for Klipsch Audio Technologies. But staffing shortages around the shop have the crew scrambling, forcing Sr. to amp everyone up on a quest to hire new people.
---
5x08 Craftsman/DieHard 2 (March 06, 2008)
---
OCC continues on their latest double build -- custom bikes for Craftsman Tools and DieHard Batteries. After a jam session with rock 'n' roll legend Chubby Checker gets OCC doing the twist, both teams race into assembly and the Sr.-Jr. rivalry heats up. But as Team Craftsman is delayed, Team DieHard pulls ahead and Mikey moves forward with his latest project, recruiting Sr. to lend a hand. Once Mikey's unusual creation passes its test, Sr. and his team must rally to get their Craftsman project done.
---
5x07 Craftsman/DieHard 1 (February 28, 2008)
---
OCC charges up their latest double build: Sr.'s custom creation for Craftsman Tools, and Jr.'s two-wheeled showpiece for DieHard Batteries. The guys travel to South Africa, where they immerse themselves in the local bike culture ... and head to the bush, to make some new friends. But back at the shop, Craftsman drops the hammer and sends Sr. and Pohl back to the drawing board.
---
5x06 Gander Mountain 2 (February 21, 2008)
---
OCC continues on their latest custom creation -- a street bike/motocross hybrid for the outdoor lifestyle company Gander Mountain. The Teutuls travel to Brazil to unveil a special bike... and find themselves invited to the presidential palace. Back at the shop, doubts about Pohl's abilities quickly resurface, and his inexperience tests Sr.'s patience. Mikey steps in and challenges the old man to a competition that fosters some father-son bonding.
---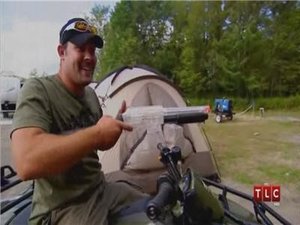 5x05 Gander Mountain 1 (February 14, 2008)
---
OCC packs their gear and hikes into their next project -- a custom chopper for Gander Mountain, an outdoor lifestyle company. As design gets under way, Jr. decides to go with an off-road theme. But a disagreement over fabrication ignites into a full-scale blowout that brings the project to a screeching halt. OCC ventures into the great outdoors, and tests their survival skills.
---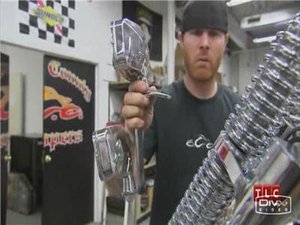 5x04 Michigan Bike/My Name is Earl 2 (February 07, 2008)
---
Mikey reveals the University of Michican bike at Michigan-OSU football game Then the guys are off to Hollywood for a reveal party with the cast of NBC's show "My Name is Earl".
---
5x03 Michigan Bike/My Name is Earl 1 (January 30, 2008)
---
Mikey gets in the game and heads up OCC's latest custom creation - a Wolverine bike for the University of Michigan's Mott Children's Hospital.The cast from NBC's "My Name is Earl" bursts onto the scene and gets the OCC team to build a My Name is Earl bike.
---
5x02 Army National Guard 2 (January 24, 2008)
---
The Army National Guard Patriot Bike is completed by the guys at OCC. Jason Pohl is eager for the opportunity to advance in his training. But tension arises with the crew because of Jason's ignorance of the shop protocol. Paul, Sr. pays tribute to the sacrifice given by some injured vets.
---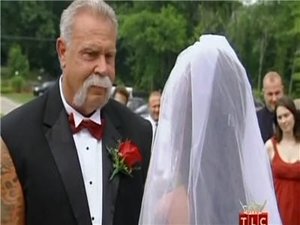 5x01 Army National Guard 1 (January 17, 2008)
---
OCC locks and loads as they pay tribute to the troops with a custom bike for the Army National Guard. Paul Sr. takes a walk down the aisle with Beth. Using concepts sent in by the troops, Paul Jr. and Jason Pohl get started on the design. Then, after fabrication begins, Cody steps up to fill a void, and Sr. takes him under his wing.
---