American Chopper
Season 2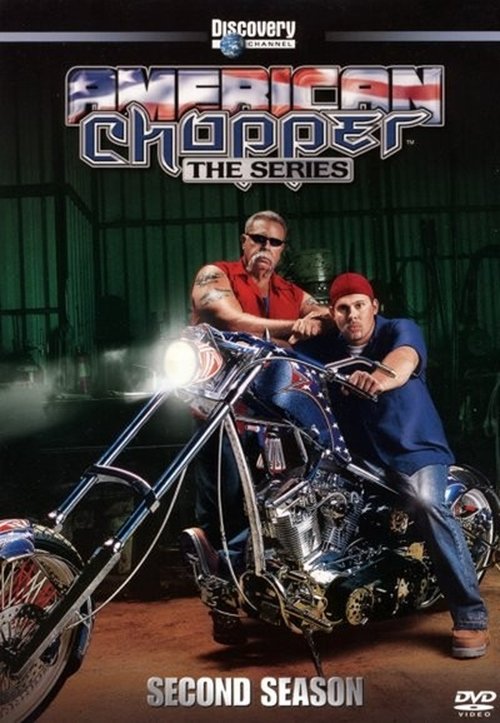 American Chopper
Season 2
First Air Date: January 11, 2004

| | | |
| --- | --- | --- |
| First Aired on | : | 2004 |
| Episodes | : | 28 episodes |
Episodes
2x31 Lincoln Mark LT Bike 2 (February 21, 2005)
---
As work continues on the Lincoln Bike, Mikey pitches in to complete some extra features and to keep the guys on schedule. Then, after the bike goes out for its paint job, Junior and crew travel to Washington, D.C., to visit injured troops at Walter Reed Memorial Hospital. Back in New York, the rivalry between Orange County Choppers and Orange County Iron Works is played out in a hardcore game of dodge ball. But too much play and little work means a final scramble to finish the build when the crew encounters huge problems during the bike's final assembly.
---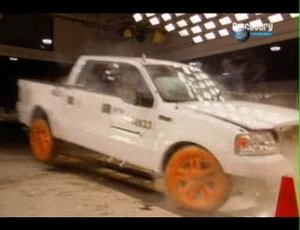 2x30 Lincoln Mark LT Bike 1 (February 14, 2005)
---
The Lincoln motor company. A name that means elegance and superior handling. So how does a subsidiary car company of Ford celebrate the release of their first pick-up truck? Get OCC to build a custom chopper, of course! In a day full of test rides and crashing trucks, Paulie, Vin, and Rick nail out some of the details on this bike and test out their new FloJet machine.
---
2x29 Carroll Shelby Bike 2 (February 07, 2005)
---
It's moving day for OCC when the guys move out to a bigger facility closer to Montgomery, New York. The final stages of fabrication on the Carroll Shelby Bike become complicated when Keith has the equipment moved right out under Vinnie and Rick's noses. After moving into the bigger facility, the bike snaps together but when engine problems similar to those that plagued the Comanche threaten to pull the plug on this Mustang-inspired masterpiece for its unveiling at a Las Vegas auto show.
---
2x28 Carroll Shelby Bike 1 (January 31, 2005)
---
It's off to visit car-racing legend Carroll Shelby, during which OCC discusses design ideas for their tribute to Shelby's long career. But after deciding on their ultimate inspiration — a classic Shelby Mustang — the boys return to their usual antics: Senior takes a Shelby car for a high-speed spin and fights with Junior over the bike's frame, a golf cart is taken for a destructive joyride, and Gus gets locked in Senior's Hummer. Will they get things together and finish the bike before their fast-approaching deadline?
---
2x27 Christmas Sleigh (December 20, 2004)
---
OCC rings in the holiday season with their annual Christmas bike, fabricating a custom sleigh worthy of old Saint Nick that will be pulled by the previous year's Christmas Bike. And so, with Junior and Vinnie tied up in the shop with customer bikes, Senior, Mikey, Rick and Campo head down to the iron shop to build their creation in time to use the bike and sleigh to deliver gifts to needy families.
---
2x26 David Mann Bike 2 (December 06, 2004)
---
The David Mann tribute takes on new meaning for Paul Sr. upon learning that David Mann passed away. More problems emerge when Paul Sr. gets fed up with JB Graphix taking too long with the paint job and not getting it right the first time. Things look up when Paul gets the idea to have an artist make a painting of the completed bike in David Mann's style, and run off three-thousand prints to be auctioned off to help pay for David Mann's hospital bills. Dedicated to the memories of David Mann (9/10/42-9/11/04) and Indian Larry (3/28/49-8/30/04).
---
2x25 David Mann Bike 1 (November 29, 2004)
---
A trip down memory lane while at Sturgis inspires Senior to build a tribute to biker legend and artist (and one of Senior's personal heroes) David Mann. But throughout the build Senior struggles with problems, from Paulie showing up late to work to never-ending fights with Mike. Then, after a trip to the dentist leaves Mike in an anesthetized stupor, Senior and Rick are left to work on the handlebars without his input. Will his empty spot slow down the build, or will Senior and Rick survive on their own?
---
2x24 Police Bike 2 (October 18, 2004)
---
It's crunch time for OCC as they rush to complete their tribute to the boys in blue. Tensions in the shop rise to complete this one of a kind bike in time. Episode highlights: Mikey drowns a pick-up truck in a pond, and Rick and Vinnie try out the effectiveness of the Police Bike's sirens.
---
2x23 Police Bike 1 (October 11, 2004)
---
After dedicating a bike to the firefighters of America, OCC decides it's time to do one for the boys in blue. After visiting a police training facility in upstate New York, and pepper spraying Keith, Paul Jr. and Vinnie nail out the details of this one of a kind bike, such as a sidecar and the intricate lighting system.
---
2x22 Lance Armstrong Bike 2 (October 04, 2004)
---
The Tour de France is in its final stages as work continues on Lance Armstrong's Livestrong bike. With their deadline looming, the team struggles to put the finishing touches on the exhaust system in time to get the chopper to Justin and Nub Grafix for paint. But when the bike returns, engine problems linger, putting the pressure on Junior to fix the mystery problem before OCC presents the gift to Lance on The Tonight Show.
---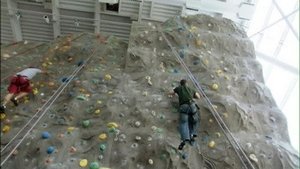 2x21 Lance Armstrong Bike 1 (September 27, 2004)
---
The guys visit Nike headquarters in search of inspiration for their next project, a chopper tribute to six-time Tour de France champion and cancer survivor Lance Armstrong and his Livestrong Foundation. But when fabrication begins, the shop and Junior's ambitious designs suffer a setback when Rick get his hand caught in a drill press, sustaining a serious injury.
---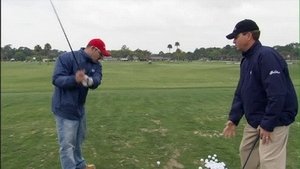 2x20 Davis Love III Bike (August 02, 2004)
---
Pro golfer Davis Love III gets a one-of-a-kind birthday present when his wife Robin gets the Teutuls to build him a custom old-school chopper to contradict the easy-going personality he has on the green.
---
2x19 I, Robot Bike 2 (July 19, 2004)
---
It's California dreaming as the boys of OCC get their latest creation ready for its red-carpet debut out West. While they're waiting for paint and chrome work to be completed, Paulie and Vinnie get to work souping up Mikey's ""chick magnet"" — his 50-cc scooter. But comedy turns to drama when a few missing parts prevent final assembly of the Robo-Bike.
---
2x18 I, Robot Bike 1 (July 12, 2004)
---
To commemorate the release of Will Smith's new 20th Century Fox movie, I, Robot, the OCC crew is kicked into high-gear to come up with a unique design to display at the movie's Hollywood premeire. Arguments over design and time strike a familiar cord that may threaten this bike reaching its star-struck debut.
---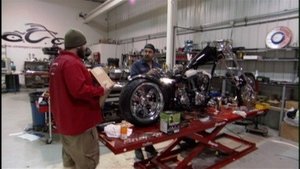 2x17 Mikey/ Vinnie Bike 2 (June 14, 2004)
---
The Mikey/Vinnie Bike steadily reaches completion, despite Keith acting like Paul Sr. and sending Mikey home for being late for work. The hard work pays off when the bike is ready for its debut, with one small problem: It won't start.
---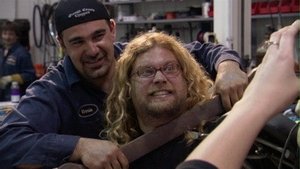 2x16 Mikey/ Vinnie Bike 1 (June 07, 2004)
---
With Junior and Senior heading out of town to be on The Tonight Show, Mikey and Vinnie get the opportunity to create their own one-of-a-kind chopper and the good times come to a halt when OCC's new Director of Operations, Keith Quill, expects the bike to be finished in time for a New Orleans bike show around the corner.
---
2x12 Dixie Chopper 2 (May 10, 2004)
---
With business booming at OCC, Senior splurges for an expansion to the cramped garage ... and a custom Harley for son Paulie. Back in the shop, the crew hustles to get the Dixie Bike ready for its Daytona debut. But with the clock ticking and the realization that the rear fender is hopelessly bent, the guys are going to have to come up with a creative solution to get this grass-kicking hog to the show on time.
---
2x11 Dixie Chopper 1 (May 03, 2004)
---
After 25 years, the Dixie Chopper lawn mower company decides to celebrate their anniversary the only way they know how: get a one of a kind theme bike from Orange County Choppers. The guys come down to their plant, and the ideas start flowing, namely using a lawn mower engine to power the Teutel's latest bike.
---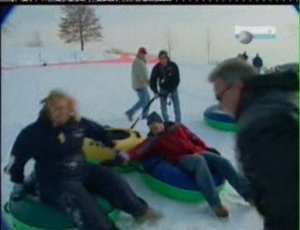 2x10 Liberty Bike 2 (April 19, 2004)
---
The Liberty Bike quickly goes down as the hardest bike ever to assemble and finish when parts go missing, and Paul Jr. having to reject Mike Campo's Statue of Liberty face fender. To add to the fire, Paul Jr. has to fabricate a third exhaust system for the custom carburetor and contend with his father's impatient attitude in finishing this bike.
---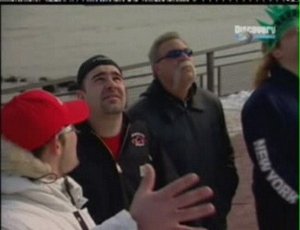 2x09 Liberty Bike 1 (April 12, 2004)
---
How do you honor the greatest monument in American history? You build her a custom chopper, of course! And that's exactly what happens for OCC when they get the task of creating a bike that symbolizes American freedom and the Statue of Liberty, with one of Paul Jr.'s daring ideas to date: coat the entire bike in Statue of Liberty copper.
---
2x08 Leno Bike 2 (March 01, 2004)
---
It's crunch time for OCC as they press to complete fabrication and assembly on the Leno Bike project, but when thicker-than-usual powdercoat slows down Paul Jr. and Vinnie's progress, can they get the bike finished in time for its Tonight Show debut?
---
2x07 Leno Bike 1 (February 23, 2004)
---
The Teutuls go Hollywood when Tonight Show host Jay Leno commissions a modern version of his favorite classic bike: the 1939 Brough Superior. But back at OCC, the excitement fades when Paulie discovers that the bike's frame is too small to accommodate the oil tank. And when the motor and wheels arrive late, it creates a host of technical difficulties that threaten to put the Leno Bike on hiatus.
---
2x06 Miller Electric 2 (February 16, 2004)
---
Paulie and the boys hit the hardwood for a game of hoops against the guys from OCC Ironworks in what can only be described as a comedy of errors. But back in the shop, it's all business: Big Paul blows up at Vinnie for leaving the shop in disarray and nearly sends him home for the day. However, once Senior gets a look at the Miller Bike's patriotic paint job and the outrageous tow-behind welder, all is forgiven.
---
2x05 Miller Electric 1 (February 09, 2004)
---
To celebrate the Miller Electric Company's 75th anniversary, the Teutels are given the oppurtunity to put together a custom chopper. Problems reign high as Paul Jr. takes pieces off his dad's Lucy Bike and Vinnie deals with being a father for the first time.
---
2x04 NY Jets Bike (February 02, 2004)
---
To commemorate the start of the New York Jets new season, OCC is given the task of fabricating a custom chopper to be unveiled at the Jets' stadium.
---
2x03 POW/MIA Bike 3 (January 26, 2004)
---
With the deadline closing in on Paul Sr.'s POW/MIA bike, the OCC crew joins forces to complete the heartfelt tribute before its public debut. But more last-minute delays and unexpected setbacks leave its fate hanging in the balance.
---
2x02 POW/MIA Bike 2 (January 19, 2004)
---
It's into the homestretch of final fabrication and assembly on the POW/MIA Bike. With the paint ideas done, the OCC crew decide to celebrate a special occaison: Paul Jr's, and his mom's, birthday.
---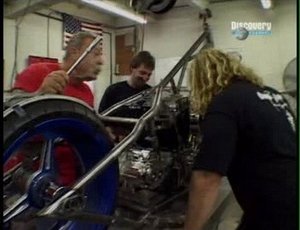 2x01 POW/MIA Bike 1 (January 12, 2004)
---
To honor those who have fallen in the armed forces, Paul Sr. enlists Rick, Mike, and even Mikey, to begin construction of a one of a kind tribute on wheels.
---