Dragnet
Dragnet 1970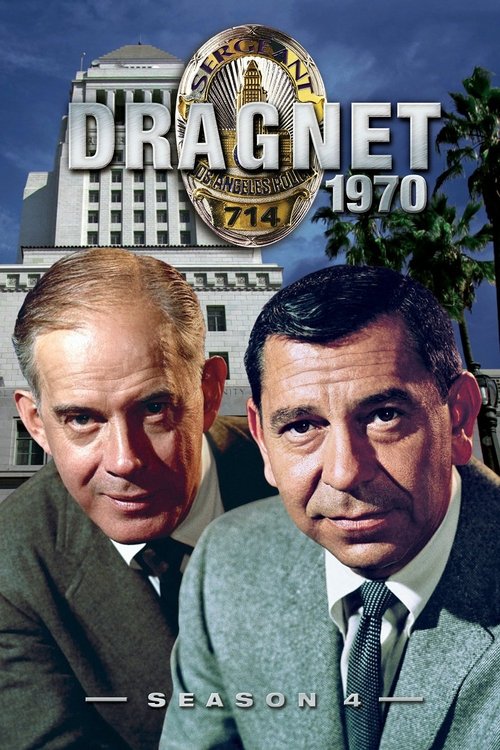 Dragnet
Dragnet 1970
First Air Date: September 18, 1969

| | | |
| --- | --- | --- |
| First Aired on | : | 1969 |
| Episodes | : | 26 episodes |
This is a list of episodes from the fourth and final season of the 1967 Dragnet series. The season was directed by Jack Webb.
Episodes
4x26 D.H.Q. - The Victims (April 16, 1970)
---
Joe and Bill investigate a series of victims. An elderly man has been stabbed to death in his hotel room. An elderly is assaulted and her purse stolen. A store is robbed and the owner is stabbed. Rights are given to the criminals, but there are no rights for the victims.
---
4x25 Burglary - Baseball (April 09, 1970)
---
A furniture store has been burglarized overnight and the thief took $1900 from a locked safe. The store's secretary find a lead and Joe uses it to track down a "baseball fan".
---
4x24 Robbery - The Harassing Wife (April 02, 1970)
---
Joe and Bill investigate a holdup at a small neighborhood grocery store. Joe gets a tip from a woman that the robber was her husband. The husband is cleared. Another supermarket robbery occurs and the wife again accuses her husband. He is cleared again. The wife continues to insist after every robbery that her husband did it.
---
4x23 I.A.D. - The Receipt (March 26, 1970)
---
Two of the department's veteran homicide detectives are accused of stealing $800 from a dead man. Joe and Bill investigate and try to find a missing receipt that would clear the detectives.
---
4x22 D.H.Q. - Night School (March 19, 1970)
---
Joe is enrolled in night school and busts a classmate for possession of marijuana. The professor threatens to give Joe an F for the bust. He puts removing Joe up for a vote by the class. An unexpected classmate comes to Joe's aid.
---
4x21 Forgery - The Ranger (March 12, 1970)
---
Friday and Gannon interrogate a Park Ranger who is alleged to have forged checks and committed credit card fraud.
---
4x20 Missing Persons - The Body (March 05, 1970)
---
Joe and Bill investigate the identity of a dead 23 year old woman found under the Venice Pier. They check missing person reports to try to identify the woman, and they use a ring she was wearing and a piece of paper found on the body to track down the identity.
---
4x19 Burglary - The Dognappers (February 26, 1970)
---
Dogs are disappearing from cars parked at the El Centro shopping center. Joe and Bill suspect that the dogs are being stolen to get a reward for the dogs' return.
---
4x18 Narco - Pill Maker (February 19, 1970)
---
A narcotic called "uppers" is being sold to juveniles. Joe and Bill must find who is making the pills and shut the operation down.
---
4x17 A.I.D. - The Weekend (February 12, 1970)
---
Bill's wife is out-of-town, and Bill invites Joe home for the weekend. They have dinner, Bill concocts a hideous sandwich, and they try to play poker with some of Bill's friends. A woman selling magazines shows up, and Joe and Bill suspect a scam.
---
4x16 Burglary - The Son (February 05, 1970)
---
A victim of a burglary calls and tells Joe she forgot to report one of the items that was stolen. A pawn shop reports receiving one of the stolen items and it leads to a drug dealer. He's not the thief, but Joe has him tailed and the dealer leads them to an unexpected person.
---
4x15 Homicide - Who Killed Who? (January 29, 1970)
---
There is a multiple homicide at a rooming house. When Joe and Bill arrive, they find two dead in the lobby near a broken TV set and the manager has been shot and is near death. The manager mumbles the words "oft one" to Joe as he is taken away to the hospital. Bill and Joe start searching for clues and what the manager's words mean.
---
4x14 Burglary - Helpful Woman (January 22, 1970)
---
A woman befriends elderly people and then steals from them. Joe and Bill contact a radio personality and ask to have him talk about the scam. The radio broadcast turns up a lead, and a stakeout is set up where Bill poses as an invalid.
---
4x13 Narco - Missing Hype (January 08, 1970)
---
A teenage Hype from a nice home has missed his parole officer meeting. Joe and Bill are asked to locate the teenager before he starts up his habit.
---
4x12 Bunco - $9,000 (December 11, 1969)
---
Charlie Feeney, a wino police informant, calls Joe and claims he was swindled out of $9,000. The problem is the money wasn't his. Feeney turns the money over to someone claiming to be a private detective whose client is a big Las Vegas gambler. Joe and Bill track down the phony detective and start looking for the rightful owner of the money.
---
4x11 Burglary Auto - Juvenile Genius (December 04, 1969)
---
Burglaries are happening and the thieves are leaving a red cloth at each crime scene. Joe and Bill respond to another break in at a chemical company and a safe company. Joe and Bill stake out the chemical company and catch an unexpected pair of thieves.
---
4x10 Internal Affairs - Parolee (November 27, 1969)
---
The warden of a Colorado prison has notified the department that an inmate is about to be paroled, but there is a hold from LA because of an outstanding warrant. Joe and Bill investigate whether there is still a case after 15 years.
---
4x09 Burglary Auto - Courtroom (November 20, 1969)
---
Joe and Bill are in court as arresting officers of three burglars. One of the prosecution witnesses is out of town and has developed car trouble and can't return in time. Can a case still be made against the three burglars without the witness' testimony?
---
4x08 D.H.Q. - Missing Person (November 13, 1969)
---
Joe and Bill investigate a missing high school student. They find that both the student and her older sister are missing. However, the apartment manager and neighbor say that there is no younger sister. Joe and Bill must find the truth.
---
4x07 Homicide - Cigarette Butt (October 30, 1969)
---
Joe and Bill investigate a dead body found in a rundown apartment building. A half eaten peanut butter sandwich and a knife are found at the scene of the crime. A neighbor says that he saw a man and woman running out of the apartment. The man and woman come back and tell Joe and Bill that it was self defense. Joe looks for evidence that will prove or disproves the alibi.
---
4x06 Juvenile - The Little Pusher (October 23, 1969)
---
Joe and Bill are working Juvenile Narcotics Division and find a 12 year old under the influence of narcotics. They go to the boy's school and conduct a class for teachers on how to identify narcotics. They discover that a ninth grader is selling the narcotics in school and find that his father is the source of the drugs.
---
4x05 Burglary - Mister (October 16, 1969)
---
An old woman has all her possessions including her cane stolen by her grandson, "Mister Daniel Lumis". Joe and Bill try to locate Lumis and find a trail of bigamy and thievery.
---
4x04 D.H.Q. - Medical (October 09, 1969)
---
Joe and Bill are working a medical detail at a hospital. They handle an old man whose hobby is sitting in hotel lobbies, question a man who brings in a dead woman, investigate a man who had writing a letter threatening to blow up a radio station, and try to get a dying declaration from a shooting victim.
---
4x03 S.I.U. - The Ring (October 02, 1969)
---
Joe and Bill are working the Special Investigation Unit. Informant "Black 10" asks for a meeting with Joe and Bill and gives them a tip about a bartender who is fencing stolen jade ring. Joe and Bill set up a sting to recover the ring and other stolen jewelry.
---
4x02 Homicide - The Student (September 25, 1969)
---
A sniper shoots a man and a woman as they are leaving a printing plant. Joe and Bill narrow down the suspects to a college student who is part time employee of the printing plant and a fan of the writings of the French writer Baudelaire.
---
4x01 Personnel - The Shooting (September 18, 1969)
---
Joe and Bill are assigned to the Medical Services Division. Two policemen have been shot. Joe and Bill must notify the wives.
---