Dragnet
Dragnet 1967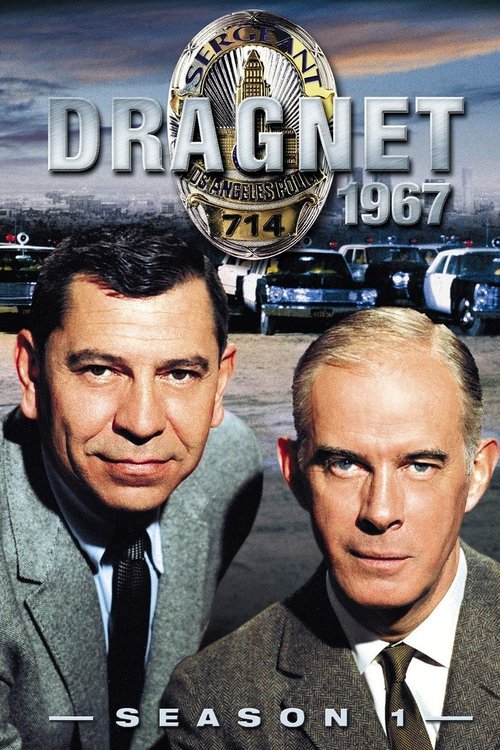 Dragnet
Dragnet 1967
First Air Date: January 12, 1967

| | | |
| --- | --- | --- |
| First Aired on | : | 1967 |
| Episodes | : | 17 episodes |
This is a list of episodes from the first season of the 1967 Dragnet series. The season was directed by Jack Webb.
Episodes
1x17 The Bullet (May 11, 1967)
---
A dead man has been found in a locked room, along with a gun that could not have been the murder weapon.
---
1x16 The Big Kids (May 04, 1967)
---
A gang of juvenile thieves have been stealing petty items in order to gain membership into an exclusive club.
---
1x15 The Gun (April 27, 1967)
---
A Japanese widow is senselessly murdered, leaving her small daughter an orphan. Friday has a hard time controlling his emotions while seeking the killer.
---
1x14 The Subscription Racket (April 20, 1967)
---
Friday learns about a scam artist with a novel twist: he uses an authentic Congressional Medal of Honor to solicit magazine subscriptions.
---
1x13 The Bookie (April 13, 1967)
---
Friday goes undercover with the Department's chaplain in order to break up a gambling ring.
---
1x12 The Hit and Run Driver (April 06, 1967)
---
Friday and Gannon use newspapers, radio and TV to publicize their clues to the identity of the hit and run driver.
---
1x11 The Shooting (March 30, 1967)
---
A police officer is shot while making a routine check on a pair of paroled convicts that are parked near a liquor store.
---
1x10 The Jade Story (March 23, 1967)
---
Over $200,000 worth of Imperial Jade is reported stolen. Friday and Gannon determine the burglary was an inside job.
---
1x09 The Fur Job (March 16, 1967)
---
Gannon goes undercover as a buyer in order to trap fur theives.
---
1x08 The Candy Store Robberies (March 09, 1967)
---
Friday and Gannon try to figure out a pattern to a series of candy store hold-ups. The solution comes when they discover that there are two suspects.
---
1x07 The Hammer (March 02, 1967)
---
An elderly apartment manager is found to have been beaten to death with a hammer.
---
1x06 The Bank Examiner Swindle (February 23, 1967)
---
Two con men, posing as bank examiners, are bilking the elderly out of their life savings.
---
1x05 The Masked Bandits (February 16, 1967)
---
Four bandits wearing red masks commit a series of robberies.
---
1x04 The Interrogation (February 09, 1967)
---
A new officer has been arrested for robbing a liquor store while on an undercover assignment.
---
1x03 The Kidnapping (January 26, 1967)
---
Friday and Gannon help an employee rescue her kidnapped boss.
---
1x02 The Big Explosion (January 19, 1967)
---
A neo-Nazi psycho has planted a bomb somewhere in L.A. Friday and Gannon have to find it.
---
1x01 The LSD Story (January 12, 1967)
---
Sergeant Joe Friday and his partner Bill Gannon encounter a freaked-out young LSD user. This is the famous "Blue Boy" episode.
---