Highlander: The Series
Season 5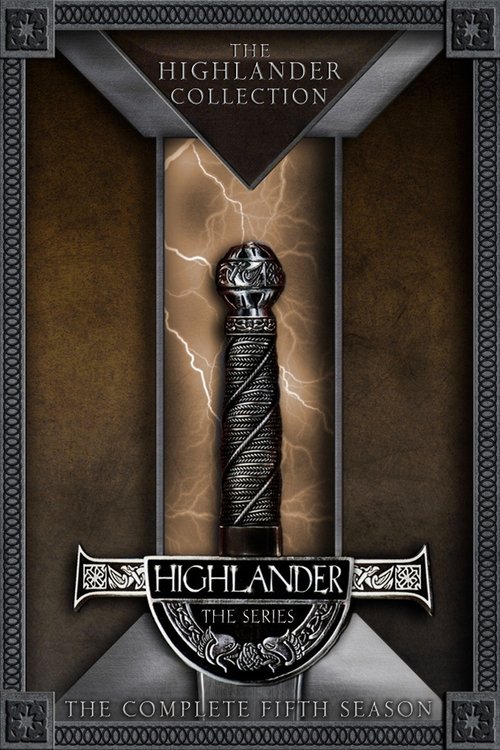 Highlander: The Series
Season 5
First Air Date: September 23, 1996

| | | |
| --- | --- | --- |
| First Aired on | : | 1996 |
| Episodes | : | 20 episodes |
Episodes
5x20 Archangel (1) (May 24, 1997)
---
The dead are walking the streets of Paris. The forces of evil are coming. Is MacLeod being readied for some higher calling -- or is he simply losing his mind?
---
5x19 The Modern Prometheus (May 17, 1997)
---
Lord Byron, the brilliant Romantic poet, is alive and well and living the decadent life of a rock star. He lives life way over the edge and has taken some promising young musicians over the edge with him. When following in Byron's footsteps tragically ends the life of Dawson's protege, MacLeod is faced with a decision -- is the beauty and genius that is Byron worth the cost?
---
5x18 Forgive Us Our Trespasses (May 10, 1997)
---
After the Scottish massacre at the Battle of Culloden in 1746, Duncan MacLeod was a man possessed, obsessed, with killing the English bastards who had destroyed his people. Now Immortal Steven Keane has come to make MacLeod pay for his murderous crimes. Amanda urges MacLeod to take Keane's head and be done with it, but in his heart MacLeod knows that Keane is right -- he is a murderer -- and that Keane is judging him just like MacLeod has judged so many others.
---
5x17 Double Jeopardy (May 03, 1997)
---
Are MacLeod and the police seeing a ghost when the evidence in a diamond theft and poison gas murder points to the very evil, but very dead, Xavier St. Cloud? CID Agent Renee Delaney returns to ask for MacLeod's help in finding the killer. Could it be Xavier or simply a memorial to a fallen teacher by Xavier's former student, Morgan D'Estaing?
---
5x16 The Stone of Scone (April 26, 1997)
---
According to official statements by the British government, the theft of the Stone of Scone, the legendary royal throne of Scotland, from Westminster Abbey in 1950 was simply a rowdy schoolboy prank. But was it? Or was it actually the bungled work of three rather hapless Immortals, attempting to fulfill a promise made centuries before?
---
5x15 Duende (March 01, 1997)
---
Spanish swordplay, like Spanish dancing, is equal parts passion, skill, and strict discipline. The Immortal Otavio Consone is a master of both. An arrogant Spaniard who 150 years ago tried to teach MacLeod the sword art called ""The Mysterious Circle,"" Consone vied with MacLeod for the hand of a beautiful senorita, with tragic results. Now MacLeod must protect a Flamenco artist and her daughter from Consone's revenge.
---
5x14 The Ransom of Richard Redstone (February 22, 1997)
---
The Chateau LeMartin has been in Marina's family for generations, but now the slimy Carlo Capodimonte threatens to foreclose on an old loan and take the chateau for himself. Desperate to save the family heritage, Marina kidnaps an American millionaire in order to pay off the loan. Unfortunately for Marina, the rich and charming ""Richard Redstone"" she has tied up in the cellar is none other than Richie Ryan.
---
5x13 Revelation 6:8 (2) (February 15, 1997)
---
One by one, Kronos is putting the Four Horsemen back together. Once they struck fear in the hearts of men with sword and axe. Today, their weapons of destruction are different, but their goal is the same: to bring mankind what it fears most, the Apocalypse. Only Duncan MacLeod stands between them and the end of the world.
---
5x12 Comes a Horseman (1) (February 08, 1997)
---
MacLeod knew him as Melvin Koren, a desperado who left a trail of death and fire across the Old West, but Cassandra remembers him as an evil far older. He is Kronos, leader of the Four Horsemen, mounted Bronze Age raiders who murdered, raped, and pillaged their way across two continents. Never was a band of Immortals more cruel or more feared. He destroyed Cassandra's people and she's been hunting him across the millenia. But Kronos has a different target now -- Methos.
---
5x11 The Valkyrie (February 01, 1997)
---
In 1944, Ingrid Henning had the chance to kill Adolf Hitler and failed. She's been atoning for that failure ever since by killing dictators, tyrants, racists, and fascists who might have the potential to become as dangerous. MacLeod has a chance to stop her before she kills more mortals, but by stopping her, does MacLeod commit the same evil for which he's judged her guilty?
---
5x10 The Messenger (November 30, 1996)
---
Richie's found a new teacher: an Immortal who preaches a message of peace. An Immortal who believes that all Immortals can lay down their swords and live together as brothers. An Immortal who claims to be the oldest of their kind still alive -- Methos. Will laying down his sword in the name of peace mean Richie will lose his head? And what does this mean for the friend MacLeod already calls Methos?
---
5x09 Little Tin God (November 23, 1996)
---
Derek's faith in God helped save him from a violent life on the urban streets. When the young gospel singer is killed in a drive-by shooting, he awakens in the arms of God and is given the gift of eternal life. But what's he to do when that God recruits him as a warrior in the Holy War against Satan -- and Satan turns up to be Duncan MacLeod?
---
5x08 Haunted (November 16, 1996)
---
Jennifer Hill believes the spirit of her dead husband Alec, an Immortal, is still with her. She comes to Alec's old friend MacLeod and begs him to appease Alec's spirit by whacking the son-of-a-bitch who took Alec Hill's head. Richie finds himself strangely attracted to the grieving young widow -- until he realizes he's the son-of-a-bitch who took Alec Hill's head.
---
5x07 Money No Object (November 09, 1996)
---
MacLeod and Amanda are reunited with Cory Raines, the charming, smooth-talking ""Clyde"" to Amanda's ""Bonnie"" during their five state crime spree in the 1920s. Amanda, always ready for a little larceny, is tempted by the carefree and adventurous lifestyle Cory offers her and takes him up on the offer when she realizes MacLeod won't beg her to stay with him. But MacLeod rides to rides to the rescue when one of Cory's schemes goes astray.
---
5x06 Dramatic License (November 02, 1996)
---
Carolyn Marsh's latest best-seller is a hot and sexy romance novel featuring a smoky-eyed swashbuckling Highland hero named Duncan MacLeod. Both MacLeod and Terence Coventry, the Immortal depicted as the borish villain of the novel, are out tofind the author -- MacLeod to find out how much she really knows about him, and Coventry to kill her.
---
5x05 Glory Days (October 26, 1996)
---
Of all the gin joints in all the towns in all the world, Dawson's high school sweetheart BETSY walks into his. Meanwhile, MacLeod's got his hands full with Johnny K, a teenaged mobster wannabe when MacLeod knew him during Phrohibition who's now a cold-blooded assassin. The only rules Johnny K knows are the rules of the street, and MacLeod's going to have to play by them if he wants to keep his head.
---
5x04 Manhunt (October 19, 1996)
---
Carl Robinson, the former slave turned baseball player, has finally found the good life as a Major Leagues star -- but when Carl is challenged by another Immortal and witnesses find him standing over the decapitated body, Carl is forced to go on the run from the cops. He turns to MacLeod for help when he is pursued by lawman Matthew McCormick, who has more than just a professional interest in taking Carl into custody.
---
5x03 The End of Innocence (October 12, 1996)
---
The last time Richie Ryan saw Duncan MacLeod, MacLeod was about to take his head. He was stopped by Dawson's bullet, but Richie's world was shattered. Now Richie's back -- kicking butt and taking heads. One of those heads belonged to Carter Wellan, and now Wellan's good friend Haresh Clay is out to avange his comrade. MacLeod has his own long-time grudge against Clay, who humiliated and destroyed one of MacLeod's finest teachers. MacLeod must try to rebuild Richie's trust while they vie to be the one to face Clay in combat.
---
5x02 Prophecy (October 05, 1996)
---
When MacLeod was but a wee lad in the village of Glenfinnan, he thought Cassandra, the Witch of Donan Woods, was only a myth, a fairy tale concocted by crafty old men to frighten unwary children-- until the night she found him alone in Donan Woods. Now, four hundred years later, Cassandra comes to MacLeod again, this time to tell him of his role in an ancient prophecy -- that only Duncan MacLeod can challenge and defeat the voice of darkness.
---
5x01 One Minute to Midnight (September 23, 1996)
---
Immortals and Watchers are poised at the brink of war. On the orders of the Watcher Tribunal, every Watcher in Europe is hunting for MacLeod, to bring him in dead or alive. MacLeod discovers that the real killer is Jacob Galati, a Gypsy MacLeod once traveled with, who has vowed to destroy all the mortals who wear the Watcher tattoo, convinced they are all out to destroy Immortals.
---