Highlander: The Series
Season 4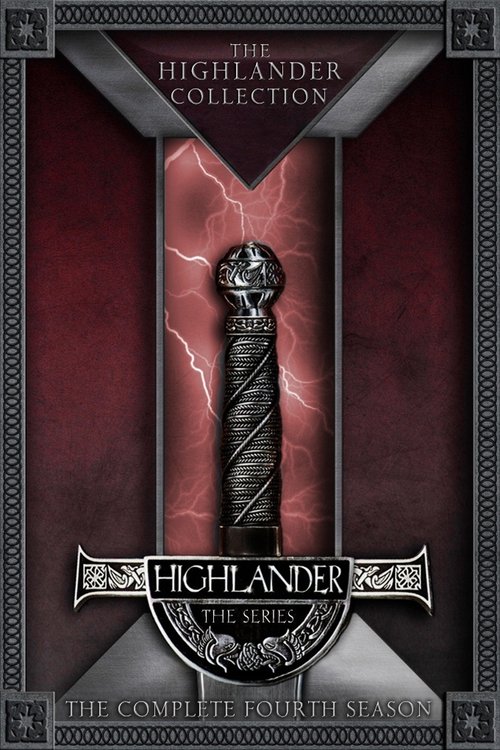 Highlander: The Series
Season 4
First Air Date: October 01, 1995

| | | |
| --- | --- | --- |
| First Aired on | : | 1995 |
| Episodes | : | 20 episodes |
Episodes
4x20 Judgment Day (May 26, 1996)
---
Dawson's life is on the line when the Watchers try him on the charge of treason for his friendship with MacLeod. Watcher deaths have risen dramatically since Dawson first told MacLeod about the Watchers and the Tribunal is determined to punish Joe and stop the killing. MacLeod and Dawson argue his case, but even as the trial goes on, the Watcher killings continue.
---
4x19 Till Death (May 19, 1996)
---
When Gina and Robert de Valicourt met 300 years ago, even Gina's suitors MacLeod and Fitzcairn had to admit they were destined for each other. Each century, as Robert and Gina renewed their wedding vows before their friends and fellow Immortals, their love grew stronger. But now their marriage is on the rocks. MacLeod decides it's up to him to reunite the once happy couple, and he enlists a very unwilling accomplice in his cunning plan.
---
4x18 Through a Glass, Darkly (May 12, 1996)
---
MacLeod's old friend Warren Cochrane is hiding a horrible secret he can't bear to remember. Realizing that an Immortal who won't remember what he is is soon a dead Immortal, MacLeod tries to help Warren by reminding him of the history they shared together, of their battles for Scotland's freedom, and of their mission to return Bonnie Prince Charlie to the throne. But MacLeod might have helped his friend more by letting the past stay buried.
---
4x17 The Immortal Cimoli (May 05, 1996)
---
Two-bit magician Danny Cimoli gets a whole new act when he's hit by a truck and becomes The Immortal Cimoli. Amanda and MecLeod find him in a circus, taking bullets in the heart to the delight of the audience and blissfully unaware he's now part of The Game. MacLeod tries to get Danny into shape when Crusader Damon Case comes to claim his head, but Danny's more interested in achieving ""real"" immortality -- going down in history as a magician even greater than Houdini.
---
4x16 Methuselah's Gift (April 28, 1996)
---
When masked thugs try to take Amanda's head in her sleep and steal the crystal given to her long ago by Rebecca, Amanda and MacLeod investigate. They discover the the crystal may be part of the Methuselah Stone, a mystic talisman said to impart eternal life and invulnerability to the wearer and that the person willing to kill Amanda to get it may be -- Methos?
---
4x15 Promises (March 02, 1996)
---
In 1755, MacLeod made a promise in order to save the life of a young friend. It comes back to haunt him when Kassim, the Immortal to whom he made the promise, demands that MacLeod assassinate the tyrannical dictator of a small Middle Eastern country. When his refusal gets a good man killed and puts Rachel's life in jeopardy, MacLeod is torn between doing what he believes is right and keeping his promise.
---
4x14 Deliverance (2) (February 25, 1996)
---
MacLeod arrives in France, leaving a trail of hate and destruction in his wake. Methos finds him and discovers just how evil MacLeod has become when he tries to take Methos' head on holy ground. After MacLeod kills another good friend, Methos realizes that the only way to save MacLeod may be to kill him.
---
4x13 Something Wicked (1) (February 18, 1996)
---
The Immortal Coltec is a Native American Hayoka -- a shaman whose responsibility is to take evil into himself to protect his people. After the massacre of MacLeod's Indian family in 1872, Coltec saved MacLeod by taking in the evil and rage he felt. Since the death of his tribe, Coltec has become Hayoka to the world, protecting it from evil Immortals. But Coltec's capacity for evil isn't endless and when evil finally overtakes hin, MacLeod must find a way to save Coltec without being drawn into the evil himself.
---
4x12 The Blitz (February 11, 1996)
---
ER trauma surgeon Anne Lindsey responds to the call for help after an explosion devastates a subway station, but when a subsequent explosion rocks the station, Anne is trapped. MacLeod remembers WWII London where he and the woman he loved, reporter Diane Terrin, were trapped in a bombed air-raid shelter during the Blitz, running out of time and air. MacLeod is desperate to rescue Anne before he loses her like he lost Diane.
---
4x11 Timeless (February 04, 1996)
---
World famous pianist Claudia Jarsine has a secret that even she doesn't know -- she's destined to become Immortal. Immortal impresario Walter Graham, who has guided the careers of mortal greats like Shakespeare, sees his chance to shepherd Claudia's genius forever and kills her, triggering her latent Immortality -- against MacLeod's better judgment. Meanwhile, Methos has fallen for Alexa, a waitress at Joe's who has a secret of her own.
---
4x10 Chivalry (December 03, 1995)
---
Nearly 350 years ago, MacLeod was the devoted lover of Kristin Gilles, a beautiful Immortal who taught him to be a gentleman. When he found another love, Kristin refused to let him go, killing his new lover. Now Kristin is sharing her bed with another new Immortal full of potential -- Richie. Methos, who knows MacLeod has never been able to kill Kristin because of his strict code of honor, has arrived in town to watch the fireworks as MacLeod tries to convince Richie that his new-found love is dangerous.
---
4x09 The Wrath of Kali (November 26, 1995)
---
An ancient statue of the Hindu goddess Kali is purchased by the university where MacLeod teaches and is put on display. Its creator, Immortal Kamir, who has been searching for it for centuries, arrives determined to take it back to its' home in India. Deva Ennis, the half-Indian department chairman who found the piece for the university, is equally determined to keep it. MacLeod, who has known Kamir since the Raj period, when India was controlled by the British Empire, knows Kamir is the last of the Thugee, a cult who worshipped Kali by ritually strangling her enemies.
---
4x08 Reluctant Heroes (November 19, 1995)
---
Coming home from the movies, MacLeod and Richie witness a murder attempt on grocer David Markum. MacLeod saves Markum, but Markum's wife Alice is hit and killed. MacLeod and Richie go after the murderer and discover he's Immortal Paul Kinman just as the police arrive and arrest him. MacLeod wants Kinman's head. Kinman killed MacLeod's good friend Dennis Keating when they were in the court of Queen Anne. FBI agent Kaayla Brooks asks MacLeod and Richie if they can testify against Kinman, but MacLeod refuses because he can't kill Kinman if Kinman's in jail.
---
4x07 The Colonel (November 12, 1995)
---
World War I was officially over when Colonel Simon Killian ordered his troops into one last bloody attack on the Germans. MacLeod witnessed the massacre and made sure his testimony at Killian's court martial got Killian locked up forever. Seventy years later, Killian is back to return the favor. Meanwhile, Amanda has found a new friend, Melissa, a young thief out for thrills. Melissa wants to be just like Amanda so she changes her hair and her clothes to look just like her -- so much so that Killian kidnaps her, thinking she's MacLeod's girlfriend.
---
4x06 Reunion (November 05, 1995)
---
Running for his life from Immortal Terence Kincaid, Kenny runs straight into Anne Lindsey's emergency room. Stashing Kenny in the hospital chapel, Anne calls MacLeod for help. MacLeod agrees to harbor him for one night only, but when MacLeod gets him home, Kenny discovers his long-lost teacher there -- Amanda!
---
4x05 Double Eagle (October 29, 1995)
---
MacLeod's old friend, Kit O'Brady, comes into town in search of a good race horse and a change of luck. MacLeod knew Kit back in Gold Rush San Francisco, when Kit ran the Double Eagle Saloon. Kit lost the Double Eagle to Amanda in a poker game and has blamed her ever since for his string of bad luck -- and he's vowed to kill her. When Amanda chooses to breeze back into MacLeod's life while Kit is there, MacLeod is hard pressed to keep them apart and to keep them from killing each other.
---
4x04 Leader of the Pack (October 22, 1995)
---
The past comes back to haunt Richie when he spies Mark Roszca, the street punk who killed Tessa. Richie is determined to go after Roszca and revenge Tessa's death. Meanwhile, MacLeod is distracted by the return of an old Immortal enemy, Kanis -- a master of hounds who uses his pack of dogs to track and exhaust his prey. This time his prey is Duncan MacLeod.
---
4x03 The Innocent (October 15, 1995)
---
In an episode filled with danger and compassion, Richie encounters Mikey, a huge Immortal of limited mental development and a fascination with trains. Richie takes Mikey home to MacLeod, who advises him that taking care of Mikey could be trouble. MacLeod remembers coming to the aid of a young Indian in trouble, when his help got the man killed. While MacLeod faces Tyler King, and Immortal who's coming after Mikey, Richie must find the maturity to take responsibility for Mikey's situation.
---
4x02 Brothers in Arms (October 08, 1995)
---
Friends become enemies and the past is revealed when Immortal Andrew Cord in gunned down and MacLeod discovers the sniper is Charlie DeSalvo, his good friend who used to run the dojo. Charlie, who left MacLeod to fight the good fight in the Balkans with his love, Maria, is after Cord, who murdered her. Dawson knows Cord as the man who saved his life in Vietnam after a mine explosion took his legs and he begs MacLeod not to fight him. MacLeod agrees -- until Cord turns the tables and sets his sights on Charlie.
---
4x01 Homeland (October 01, 1995)
---
McLoud bought a Celtic bracelet once given to the love of his mortal life and after her tragic death he buried it with her. He returns to Glen Finnin to return the bracelet to her grave and learns of several gruesome ritualistic killings based around the one immortal who killed Mac's father. Naturally Mac must get to the bottom of the killings and keep his head in the process.
---