Arne Dahl
Season 1
Arne Dahl
Season 1
First Air Date: December 27, 2011

| | | |
| --- | --- | --- |
| First Aired on | : | 2011 |
| Episodes | : | 10 episodes |
CID inspector Jenny Hultin puts together the A-group, a group of six carefully selected police officers with varied backgrounds from all over the country. The cases that the A-group handles are high-priority threats involving particularly complex and dangerous violent crimes with a direct or indirect international connection. The hunt for murderers and psychopaths puts a heavy strain on relationships within the group, as well as on the members' private lives, which prove to harbour unexpected secrets – sometimes with a disturbing connection to their work.
Want to see ?
Trailer: Arne Dahl Official UK Series Trailer
Episodes
1x10 Europa Blues - Part 2 (December 09, 2012)
---
When Söderstedt is sent to Italy in pursuit of leads linked to the wolverine killing, he crosses paths with a treacherous Mafia boss. Soon he finds himself in Germany following up leads from the murdered Leonard Sheinkman's war diaries, while also trying to unravel the mystery of the inheritance he has received from his uncle.
---
1x09 Europa Blues - Part 1 (December 02, 2012)
---
The A-Unit has its hands full when celebrated Jewish neuroscientist Leonard Sheinkman is found murdered, strung up from a tree in a Jewish cemetery; a group of women escape from an immigration board hostel, where they are being exploited as prostitutes, and flee the country; and a body is found half eaten in the wolverine enclosure of a Stockholm zoo.
---
1x08 Many Waters - Part 2 (November 25, 2012)
---
A Unit discovers a link between the shooting of an illegal African immigrant, bodies found in a marsh in Varmland and an apparent suicide. Kerstin Holm tries to track down missing police officer Dag Lundmark single-handedly. Suddenly she realises that he has come across a terrible secret and is just waiting for her to find him.
---
1x07 Many Waters - Part 1 (November 18, 2012)
---
When an illegal African immigrant is shot and killed by police, Kerstin Holm is assigned the task of interviewing the police officer. He happens to be her ex-boyfriend Dag Lundmark, who then disappears without a trace during the investigation.
---
1x06 To the Top of the Mountain - Part 2 (November 11, 2012)
---
Continuing their probe into the car bombing leads the A-Unit to a shady celebrity restaurateur and a Dutch drug-smuggling ring.
---
1x05 To the Top of the Mountain - Part 1 (November 04, 2012)
---
While vacationing in the Netherlands, a Swedish family is killed by a car bomb and it's up to the A-Unit to solve the case.
---
1x04 Bad Blood - Part 2 (October 28, 2012)
---
A Unit continues to hunt for the Kentucky Killer, the infamous American serial killer who is now on the loose in Sweden. The FBI are called in to help with the investigation.
---
1x03 Bad Blood - Part 1 (October 21, 2012)
---
Without knowing the identity of an American serial killer who's on a plane flying from New York City to Stockholm, the A-Unit tries to find him.
---
1x02 The Blinded Man - Part 2 (December 28, 2011)
---
Three businessmen are murdered on consecutive nights, sending the financial world into a panic and putting the A-Unit under immense pressure.
---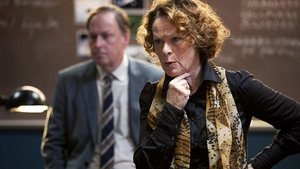 1x01 The Blinded Man - Part 1 (December 27, 2011)
---
High-flying financiers are being murdered and it is beginning to appear like the work of a serial killer, prompting the formation of a special police unit.
---