Terminator: The Sarah Connor Chronicles
Season 1
Terminator: The Sarah Connor Chronicles
Season 1
First Air Date: January 13, 2008

| | | |
| --- | --- | --- |
| First Aired on | : | 2008 |
| Episodes | : | 9 episodes |
Episodes
1x09 What He Beheld (2) (March 03, 2008)
---
Sarah finds herself in a business transaction with a mysterious business man named Sarkissian, who claims to be in possession of the stolen Turk computer system and wants an exorbitant amount of money for it. Derek recalls his childhood before the so-called Judgement Day in 2011, when a nuclear war triggered by Skynet will destroy the world. Agent Ellison finally discovers that the terminator Cromartie is impersonating an FBI agent, and makes arrangements to apprehend him.
---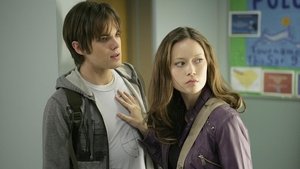 1x08 Vick's Chip (1) (March 03, 2008)
---
Derek finds the brain chip from Vick that Cameron had kept. John builds an interface for it and they discover a computerized traffic system is important to Skynet. Sarah decides it must be sabotaged. Meanwhile, Cromartie is checking through school records in search of John.
---
1x07 The Demon Hand (February 25, 2008)
---
Sarah breaks into Agent Ellison's apartment and discovers a file on her from her time at the mental hospital, leading her to Dr. Silberman, now a doomsday convert. Meanwhile Cameron signs up for a ballet class and John finds out how his mom escaped the mental hospital.
---
1x06 Dungeons & Dragons (February 18, 2008)
---
Flashing in and out of consciousness, fighting for his life Derek Reese recalls his future life battling the machines in 2027. Meanwhile, Sarah tries to explain the past to Charley.
---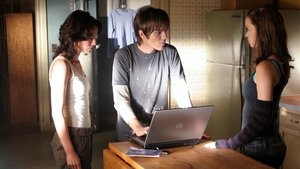 1x05 Queen's Gambit (February 11, 2008)
---
Sarah reevaluates the capabilities of her friend Andy's computer after he enters it in a chess competition. During the competition Sarah meets a stranger with a history similar to hers. Meanwhile, Agent Ellison finds remnants from a past terminator battle.
---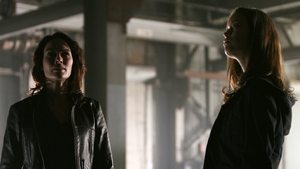 1x04 Heavy Metal (February 04, 2008)
---
While searching for some stolen cargo, John becomes separated from Sarah and Cameron. Meanwhile, Agent Ellison's murder investigation leads him to a surprising suspect.
---
1x03 The Turk (January 21, 2008)
---
Sarah visits Miles Dyson's widow to find the creator of Skynet. She leads her to a man named Andy Goode who used to work with Dyson and is building a chess-playing computer named "The Turk." John and Cameron try their best to fit in on their first day at a new high school.
---
1x02 Gnothi Seauton (January 14, 2008)
---
Sarah makes contact with an old friend to ask a favor, while John decides to pay a visit to Sarah's ex and Cameron makes a new friend. Together they infiltrate a resistance safe house and discover they are not alone. Meanwhile, Agent Ellison realizes that Sarah is still alive and a dangerous person from Sarah's past is reawakened.
---
1x01 Pilot (January 13, 2008)
---
After two years in one spot Sarah Connor feels the need to move on before they get too comfortable. They move to a new city where John starts school and meets a mysterious girl. However, danger strikes, and Sarah and John are caught in another struggle for their survival.
---