Danger 5
Series 1
Danger 5
Series 1
First Air Date: February 27, 2012

| | | |
| --- | --- | --- |
| First Aired on | : | 2012 |
| Episodes | : | 6 episodes |
Episodes
1x06 Final Victory (April 02, 2012)
---
As World War Two reaches boiling point, giant Nazi monsters are rampaging across the world leaving a wake of destruction. Captain Gibraltar, a sailor who claims to be from the lost civilisation of Atlantis, contacts Allied Command and offers salvation in the form of an invincible super weapon. Danger 5 travels to Atlantis, but they discover that Gibraltar is not as friendly as he appears.
---
1x05 Fresh Meat for Hitler's Sex Kitchen (March 26, 2012)
---
Allied troops all over Europe are spontaneously transforming into blonde haired, blue eyed, blood-thirsty Nazis. Danger 5 is sent to Switzerland to connect with Field Marshall Jenkins, whose entire platoon has recently turned Nazi. Allied Command want Jenkins home safe before he can be turned too. But things turn pear-shaped on the way when Ilsa and Jackson's drinks are spiked, buying them a one way ticket to Hitler's dungeon of occult perversions.
---
1x04 Hitler's Golden Murder Palace (March 19, 2012)
---
An Allied agent has uncovered strange happenings at a Nazi-owned casino in Morocco where Hitler is rumoured to be located. After the agent goes missing under mysterious circumstances, Danger 5 is sent in to smoke Hitler out of his African cash-hole. Things get complicated when Tucker is captured by Italian submariners and Ilsa bumps into her ex-husband, Erwin Rommel, the Desert Fox.
---
1x03 Kill-Men of the Rising Sun (March 12, 2012)
---
Allied Air Support surrounding China is being thrashed by Japanese Zero fighters piloted by robotic super-soldiers and, to make matters worse, Japan itself has completely vanished off the map. Danger 5 sets off in their Danger Fighters to give the Japanese some healthy competition. But even our heroes are no match for the deadly robo-pilots.
---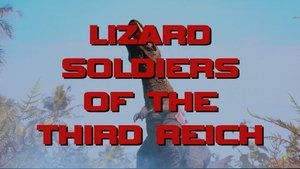 1x02 Lizard Soldiers of the Third Reich (March 05, 2012)
---
Nazi dinosaurs are turning up all over the European front, devouring their way through the Allied war effort. Danger 5 heads to Belgium to investigate and has a series of close shaves with a trigger-happy Triceratops and a perverted Nazi Pterodactyl. When Claire traces the dinosaurs to Antarctica, Danger 5 embarks on a journey to the South Pole where they encounter the sinister Dr Mengele.
---
1x01 I Danced for Hitler (February 27, 2012)
---
In the first episode, Danger 5 must find out why Hitler has been abducting the world's national monuments with a squad of zeppelins. Claire poses as a dancer at Hitler's birthday party while Pierre is reunited with a lover from his past.
---