Combat!
Season 3
Combat!
Season 3
First Air Date: September 15, 1964

| | | |
| --- | --- | --- |
| First Aired on | : | 1964 |
| Episodes | : | 32 episodes |
Episodes
3x32 Beneath the Ashes (April 27, 1965)
---
Hanley does not recall a private from patrol until the news that his wife is dying is confirmed. (At which time he will get an emergency leave.) But by then patrol is trapped and hiding in a basement.
---
3x31 Odyssey (April 20, 1965)
---
Saunders trapped behind enemy lines passes himself off as a shell shocked German corporal.
---
3x30 Heritage (April 13, 1965)
---
Corporal Velásquez is assigned to Hanleys outfit with orders to destroy a German observation post.
---
3x29 Billy the Kid (April 06, 1965)
---
Lieutenant William Benton, the son of celebrated General Bull Benton, leads a mission to locate a big artillery piece that is cutting up the American lines.
---
3x28 The Hell Machine (March 30, 1965)
---
When their jeep hits a land mine, Saunders, a tank captain, and private Gavin attempt to maneuver an abandoned German tank through enemy territory.
---
3x27 Cry in the Ruins (March 23, 1965)
---
A desperate woman searches for her missing baby as American and German soldiers watch helplessly from opposite ends of the street.
---
3x26 The Tree of Moray (March 16, 1965)
---
Hanley's efforts to bring to London a Frenchman with information valuable to the Allies is hampered by a lynching party that wants him for themselves.
---
3x25 The Long Wait (March 09, 1965)
---
A German machine gun pins down Saunders and company, along with four seriously wounded GIs, a truck full of munitions, and a truck driver.
---
3x24 A Walk With an Eagle (March 02, 1965)
---
Hanley takes three men into enemy territory to rescue a U>S> flying ace who has parachuted to safety.
---
3x23 Dateline (February 23, 1965)
---
After losing a superior office in the field, Saunders and squad allow themselves to be captured by the enemy to liberate a famous American correspondent being held by the Germans.
---
3x22 The Convict (February 16, 1965)
---
A German Bombardment strikes a prison releasing convicted criminals into the countryside. One unscrupulous convict assumes the identity of a French resistance fighter.
---
3x21 The Steeple (February 09, 1965)
---
Saunders, Caje, and Kirby try to rescue a paratrooper captain before he is spotted by the Germans.
---
3x20 Brother, Brother (February 02, 1965)
---
Eddie Cane, a cocky replacement, is anxious to join platoon with his old friend "Wild Man" Kirby. Cane's older brother was Kirby's best pal back home.
---
3x19 More Than a Soldier (January 26, 1965)
---
Saunders and a young soldier, Private Carey, are in a fight for their lives against the Germans. But Carey has never killed anyone or any thing, and will not defend himself.
---
3x18 Losers Cry Deal (January 19, 1965)
---
Saunders assigns Caje as acting squad leader for 3rd squad till the replacement Sergeant arrives.
---
3x17 The Cassock (January 12, 1965)
---
A German captain is ordered to blow up a bridge that the Americans will use to enter a French town, but Saunders' squad moves in before he can complete his mission
---
3x16 The Enemy (January 05, 1965)
---
Hanley reluctantly accepts a captured German lieutenant's offer to disarm the mines his men have hidden. (60 mins)
---
3x15 Birthday Cake (December 29, 1964)
---
Littlejohn receives a birthday cake from his mother, with the explicit instructions not to open it until the 21st. He carries it on a dangerous patro; into enemy territory.
---
3x14 The Town That Went Away (December 22, 1964)
---
Hanley and men are sent to evacuate the town of Bonnaire which is targeted for German attack. But the mayor, his three beautiful daughters, and the township people thwart Hanley's every effort.
---
3x13 The Long Walk (December 15, 1964)
---
The squad picks up a wounded GI, who is really the leader of a specially trained group of German infiltrators.
---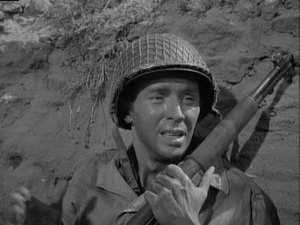 3x12 A Rare Vintage (December 08, 1964)
---
Caje needs the help of a French civilian to try and rescue an injured and captured Hanley. Other regulars: Saunders & Doc (2).
---
3x11 A Gift of Hope (December 01, 1964)
---
Saunders learns that his hero and role-model has feet of clay.Sergeant Avery, thought killed in action shows up alive and well. and must clear himself of suspicion of desertion.
---
3x10 The Impostor (November 24, 1964)
---
Hanley must take the place of a G-2 officer on a mission to spy on a German HQ. One of the three men he must meet has killed an American that Kirby recognized and took his unifom.
---
3x09 Fly Away Home (November 17, 1964)
---
Sgt. Keeley has lost faith in humanity and invests all his devotion to his carrier pigeons, which he has trained for military use.
---
3x08 The Little Carousel (November 10, 1964)
---
In a newly liberated French town Saunders is reluctant to accept the ministrations of a courageous thirteen year old girl whose one ambition is to serve the troops as a nurse.
---
3x07 Operation Fly Trap (October 27, 1964)
---
Bringing a wounded doe to safety, Saunders, Caje, and communication Sergent Meider stumble upon a Germen patrol setting up a radio center.
---
3x06 The Hard Way Back (October 20, 1964)
---
During a barrage, Saunders is trapped under a beam and the only man who can rescue him is Pvt. Kogan. The scared Kogan abandons Saunders as the enemy moves into town.
---
3x05 Silver Service (October 13, 1964)
---
Sent to the rear to recover from injuries, Kirby and Caje encounter Harry White, a dice cheating schemer who has been fighting the war from a bar stool.
---
3x04 The Duel (October 06, 1964)
---
The Germans, caught in an allied pincer movement, launch an all out assault on the American lines.
---
3x03 Point of View (September 29, 1964)
---
Saunders faces a possible court-martial after a machine gun sergeant accuses him of bad judgment under fire when two of his men are killed.
---
3x02 Vendetta (September 22, 1964)
---
Hanley and the men are rescued by a Greek colonel and his men.
---
3x01 Mountain Man (September 15, 1964)
---
An embittered deserter is bribed into Saundes' squad across the mountains. They are captured by Germans and left to freeze, but manage a daring escape.
---