Corner Gas
Season 5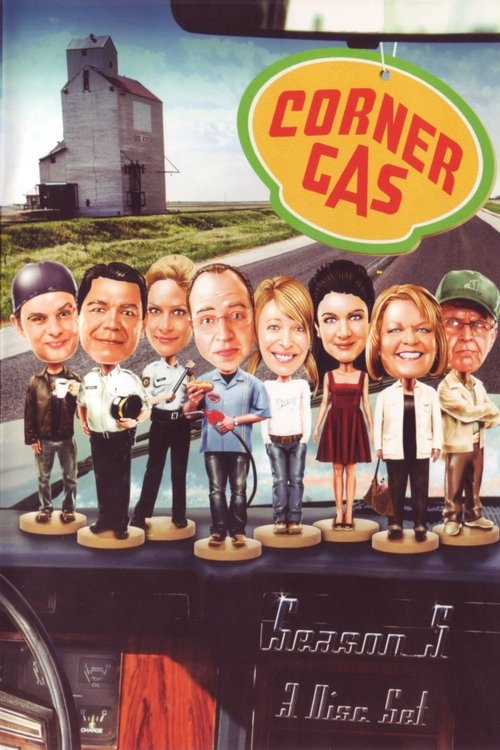 Corner Gas
Season 5
First Air Date: September 24, 2007

| | | |
| --- | --- | --- |
| First Aired on | : | 2007 |
| Episodes | : | 19 episodes |
Episodes
5x19 Final Countdown (April 21, 2008)
---
In the final 30 minutes before Brent turns 40, Wanda tries to pull off a fireworks display for the occasion that goes terribly wrong. Lacey and Emma disagree over just who should be baking Brent's birthday cake, and Brent is dismayed to discover that his special bottle of scotch has gone missing.
---
5x18 Bed and Brake Fast (April 14, 2008)
---
Oscar has a new get-rich-quick plan that might actually work... until Emma finds out about it. Davis borrows Brent's car, but won't say why he needs it. Lacey bids in a silent auction and wins Hank's services as a prize that turns out to be more work than she bargained for.
---
5x17 The Accidental Cleanist (April 07, 2008)
---
Karen and Davis discover the secret of Emma's cleaning habits, and use it to their advantage. Hank discovers the underside of life. Brent donates some money to Dog River to create a legacy, which causes Oscar to start a legacy of his own.
---
5x16 Coming Distractions (March 31, 2008)
---
Hank has to resort to bribery to get Brent and Davis to see the latest hit movie with him. Oscar puts in a sidewalk in front of his house, and then forces Karen to guard it. Lacey joins the local women's club against her better judgment.
---
5x15 No Time Like The Presents (March 17, 2008)
---
Karen and Davis resort to bribery to find out what they're getting for Christmas. Lacey begins to doubt Wanda's friendship. Hank decides to practice Daylight Savings Time in Saskatchewan, even though the rest of the province doesn't.
---
5x14 Contagious Fortune (March 10, 2008)
---
Everything is in the pink for Hank, but Brent and Wanda see things a different way than Hank does. Lacey creates Dog River Dollars, and then becomes suspicious that they are being counterfeited. Karen tries to get Davis to think for himself.
---
5x13 Outside The Box (February 18, 2008)
---
Hank and Davis run afoul of Emma in her new job promoting a call center. Wanda finds a morbid new hobby, and when Oscar finds out about it, he joins her. Karen and Brent become suspicious of a mysterious box in Lacey's house.
---
5x12 The J-Word (February 11, 2008)
---
Brent gets tired of hearing Oscar using the same name for everyone, and decides to use what he thinks is a fool-proof way to put a stop to it. Lacey finds out some not-so-nice things about her future when she visits a psychic. Davis finds that it is possible to scare yourself silly, while Wanda and Emma have some difficulties organizing a party.
---
5x11 Top Gum (February 04, 2008)
---
Hank starts up a new business, and gets some unwanted help from Oscar, but it's Karen's help that really make things take off. Brent tries something new, but finds only embarrassment. Lacey and Davis play the real estate market, until Davis decides that play time is over.
---
5x10 Knit Wit of the Month (January 28, 2008)
---
When Lacey starts up an 'Employee of the Month' program at The Ruby, Wanda tries to get Brent to do the same, but finds that she has some hurdles to jump before she gets the appreciation she feels she deserves. Hank's new hobby is knitting, much to Emma's dismay. Oscar also has a new hobby: writing for The Howler, and Karen and Davis have to keep him out of trouble.
---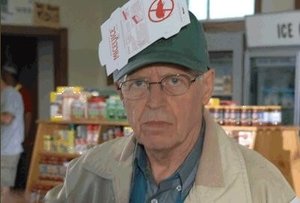 5x09 Game, Set and Mouse (January 21, 2008)
---
Oscar is on a mission to get rid of an errant mouse that has found its way into Corner Gas, but Davis has a soft spot for the little rodent. Wanda hurts her back, and both Emma and Karen try to help her, but aren't very successful. Lacey spoils things for Brent and Hank when they come up with a new game.
---
5x08 Classical Gas (January 14, 2008)
---
Brent is surprised to meet a member of the Leroy clan that he didn't even know existed. Wanda finds that she needs some help from an unexpected source in order to prove her abilities in math. Lacey makes some additions to the menu at The Ruby, much to Davis's delight.
---
5x07 Buzz Driver (November 19, 2007)
---
Oscar becomes a school bus driver, and sets so many rules that the kids aren't the only ones having trouble keeping them straight. Hank talks Lacey into letting him advertise The Ruby; Wanda gets hooked on a new energy drink.
---
5x06 The Eight Samurai (November 12, 2007)
---
Dog River has a sister-town in Japan, and Emma and Karen have to find an appropriate present to send after receiving and losing a gift from them. Lacey wants to make Corner Gas and The Ruby 'green' and drags a reluctant Brent into her plans. Wanda fills in as bartender at the Hotel, and starts doling out advice that no one wants.
---
5x05 Wash Me (October 29, 2007)
---
Wanda's happy when her latest crush gives her his number. But her love life soon hinges on whether Hank washes his truck or not. Meanwhile, Brent starts to question his sense of smell in the presence of Oscar and Emma, and Lacey gives the Ruby an artistic touch-up courtesy of Karen, whose drawings seem to appeal to everyone but Davis.
---
5x04 Dark Circles (October 22, 2007)
---
Hank tries to freak out the people of Dog River but the result of his prank is a crop circle he didn't create. Davis is intrigued by this possible visit by aliens but only Karen knows the whole story. The Leroy home gets a paint job driving Oscar out of the house and causing Emma to question her sanity. An accidental wardrobe change by Brent piques Lacey's interest. And Wanda takes it upon herself to play matchmaker for Lacey.
---
5x03 Whiner Takes All (October 15, 2007)
---
Lacey thinks golfing with Brent and Hank will be all fun and games until a warning by Brent creates a competitive triangle. Oscar and Emma's new bed causes Emma to question her dreams. Meanwhile Oscar is just happy with position nine. Karen is appalled when Davis accepts a free meal from Wanda in exchange for services un-rendered.
---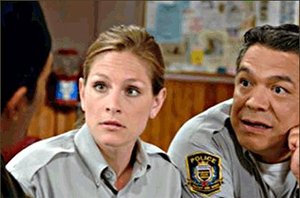 5x02 Spin Cycle (October 08, 2007)
---
Hank's comments on Karen's eating habits prompt her to join a spin class at the local gym, and she's shocked to find out who the teacher is. Lacey gets involved in a "Ladies of Dog River" charity calendar, but is shocked to find out just what she has to do to be "Miss April". Wanda buys a new phone for Corner Gas, but won't let anyone use it until it's fully charged, but then it goes missing.
---
5x01 Cable Excess (September 24, 2007)
---
Oscar's complaints about the lack of Dog River-oriented cable programming bring results, and Brent is chosen to select one show created and filmed in town. Brent takes advantage of the bribes he's getting while thinking about the shows. Wanda, Lacey and Emma can't agree on what type of show they want, while Hank finds himself the unsuspecting suspect in Davis and Karen's police show.
---