Ai Yori Aoshi
Ai Yori Aoshi
Ai Yori Aoshi
Ai Yori Aoshi
First Air Date: April 11, 2002

| | | |
| --- | --- | --- |
| First Aired on | : | 2002 |
| Episodes | : | 24 episodes |
Episodes
1x24 Aoi (September 25, 2002)
---
Miyabi and Kaoru drive back to the Sakuraba to meet with Aoi again so that they can take her back. But Kaoru will have to go through Aoi's father first.
---
1x23 Decision (September 25, 2002)
---
Kaoru and Aoi encounter a severe frost Aoi's father forces Aoi to return home in an attempt to separate her from Kaoru forever!
---
1x22 Returning Home (September 18, 2002)
---
Kaoru invites Aoi to visit someone special, she finds herself being introduced to Kaoru's mother's grave as someone important in his life.
---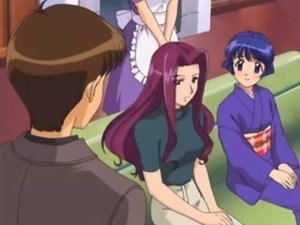 1x21 Familiar Scent (September 18, 2002)
---
When Aoi falls ill, everyone at the Sakuraba mansion falls apart trying to fill her shoes with the necessary household chores.
---
1x20 Cure (September 04, 2002)
---
Aoi has some hidden talents, some that she saves just for Kaoru and others that she uses to save the college festival!
---
1x19 Lap Pillow (September 04, 2002)
---
a trip to the zoo becomes a day with Tina followed by a drunken night in a love hotel! Will Aoi really believe they simply fell asleep? part 2
---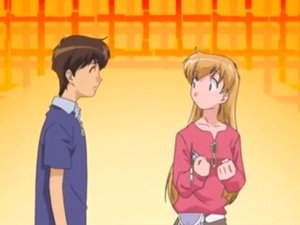 1x18 Bedsharing (August 21, 2002)
---
a trip to the zoo becomes a day with Tina followed by a drunken night in a love hotel! Will Aoi really believe they simply fell asleep? part 1
---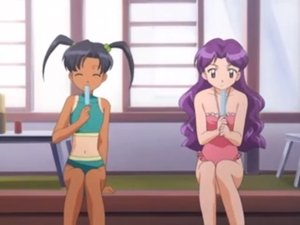 1x17 Waves (August 21, 2002)
---
Chika, tricks Kaoru into taking a bath with Taeko!
---
1x16 Shores (August 14, 2002)
---
everyone goes to the beach where Kaoru discovers that everyone but Aoi has worn a sexy swimsuit to attract his attention.
---
1x15 Feelings of the Heart (August 07, 2002)
---
When Aoi was a child her grandmother wore a kimono that Aoi loved and told her that she would have someday. Aoi would walk through the cherry blossoms hand in hand with her grandmother. Aoi's grandmother also tells her that her husband loved the kimono and one day her husband would love it to if his love was true.Kaoru asked Aoi to go shopping with him. Aoi decided to wear the inherited kimono since she knows they will be alone together. Kaoru tells her that he loves the kimono which brings tears to her eyes and her love for him grows.
---
1x14 Servant (July 31, 2002)
---
Mayu tries to learn cooking from Aoi in a attempt to win the love of Kaoru.
---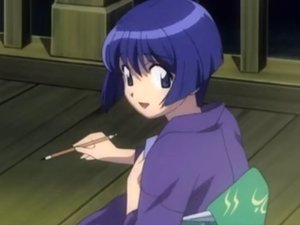 1x13 Star Festival (July 10, 2002)
---
---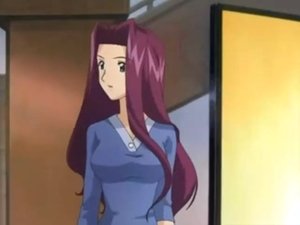 1x12 Kiss (July 03, 2002)
---
Mayu, who comes from a wealthy family, convinces Kaoru to come to her house for dinner. Kaoru informs Aoi of this though he neglects to tell Aoi that his friend is a female. Then Mayu convinces Kaoru to spend the night at her house since she's there alone. Again, Kaoru calls but doesn't let Aoi know that his friend is female. However, when Taeko lets it slip that she was surprised Kaoru's friend would kiss him like that and that the friend was female, Aoi is suddenly worried.
---
1x11 Debutante (June 26, 2002)
---
The photo club puts on a show with Tina and Taeko wearing outfits to draw attention. To this event comes Mayu -- a girl who's been living in England and has returned to go to this college at 16. Seeing Kaoru, her mood improves and she flings herself at him and kisses him on the lips. Tina and Taeko are stunned by this.
---
1x10 Place of Learning (June 19, 2002)
---
Tina and Kaoru show the group pictures they had taken a year prior before Tina's trip. Aoi sees a picture of Kaoru standing next to the statue of his college's founder. Since the only picture she has of him is from their childhood, she asks if she can have that photo. The next day when Aoi is out buying food, she finds herself thinking of Kaoru and his life at school. Meanwhile at school, it is lunchtime and Tina, Taeko, and Kaoru are eating the lunch Aoi made for them and remarking how good it is. Aoi returns home and sees something on the TV about a certain food item that Tina had been raving on. Since the vendor will be shutting down in an hour, Aoi decides to go over, buy some of this, and take it to the university for Kaoru. She wanders around the campus lost and gets seen by Tina. Tina is unable to get Aoi's attention nor get to her, so she heads off to find Kaoru. He has Tina and Taeko go to class while he continues to search for Aoi. Eventually he runs into her at the statue where he had his picture taken and together, they eat the meal she purchased. Kaoru tells Aoi that he now has the afternoon free and they can do anything she wants. She wants to tour the campus with him which he gladly does. Then Tina and Taeko find them and the group goes out to eat.
---
1x09 One Night (June 12, 2002)
---
Miyabi and Aoi have to leave for a day to take care of family business leaving Kaoru in charge of the house. The other two male members of the photo club come by and nab Taeko for some cos-play photos. This leaves Tina and Kaoru alone for the night. A storm comes along and knocks out the power causing Tina to insist on being alowed to spend the night with Kaoru. Surviving the night, the next evening, Tina and Kaoru start drinking and Tina trashes the place. Miyabi and Aoi return and Miyabi is ticked about the mess and forces Kaoru to clean it up while the culprit Tina gets taken to bed.
---
1x08 Cherished Treasure (June 05, 2002)
---
Tina decides to buy a ferret much to the chagrin of Miyabi. Since pets make messes, Miyabi says she doesn't want to make more work for Taeko. However, Taeko sees the animal and goes, "KAWAII" which ends Miyabi's argument. The ferret escapes confinement and heads straight for Miyabi, stealing her favorite pen. This causes her to chase the animal all through the house. Finally, Miyabi locks herself into her study and refuses to answer anyone. The ferret encamps outside of her door and then tries to get in by climbing up a grandfather clock to go into a small open window above the door. Unfortunately, the animal falls and gets stuck behind the clock. Miyabi aides the others in rescuing the poor animal and the ferret gets a name.
---
1x07 Spiritual Illusion (May 29, 2002)
---
Aoi sees a brochure about a hot spring and she imagines taking a trip there with Kaoru. Meanwhile the photo club decides to take a trip to that very same hot spring and they insist that Aoi come along. Miyabi can't make it, but she ensures to impress upon Kaoru how is life will be if something happens to Aoi! Taeko has made reservations for a hotel but gets the group lost trying to find it. When they finally do arrive, she's made reservations not for that day but a year from that day! The hotel is packed and there is no room. However, Aoi whips out a company card and suddenly the hotel scrambles to get them a room at any cost! The photo club initiates new members by forcing them to take a picture of a ghost. Taeko being the new member is happy to oblige much to the shock of everyone else. However, when she doesn't return for a while, Kaoru and Aoi get concerned and set out to find her through the scary woods and to the haunted shrine. They find her well, but since a dense fog has settled, they end up spending the night in the shrine.
---
1x06 Family Tradition (May 22, 2002)
---
Taeko shows up at the cottage with her bags packed desperately in need of a job and place to live. She just was fired from her last job as housekeeper so Miyabi decides to give her a chance. Sadly, Taeko is very clumsy and despite her efforts to do a good job, she constantly is breaking something. Miyabi has seen enough and decides to fire her. However, Aoi steps in and encourages her to make one final effort—to make a dinner. She does and Miyabi relents and lets her stay on.
---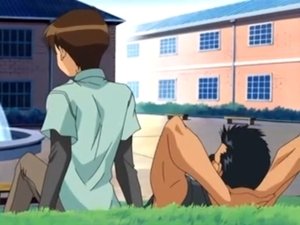 1x05 Old Friend (May 08, 2002)
---
It has been a while since Kaoru showed up in the photo club. What's waiting for him is the new member of the club, Taeko Minazuki, wearing costumes for a photo shoot. With the mistakes that Taeko makes combined with the vice-president of the photo club, Sato's cos-play (costume playing) antics, the photo club had turned into complete chaos. Kaoru thinks about Tina, one of the members of the club who left to travel the world. All of a sudden he gets tackled. "I came straight here from Narita 'cause I wanted to see my darling Kaoru!" It is Tina Foster, an American who grew up in Hakata. She came back after one year abroad. Taeko greets Tina shyly, and Tina responds in her own unique way! "All right then, it's time to celebrate my return and welcome our new member with an old-fashioned party!" While they party, Kaoru loses consciousness when he drinks some weird beverage which Tina brought from her travels. Back at home, poor Aoi worries about Kaoru when he doesn't return even late at night. The next morning, Aoi visits Kaoru's room and she finds him in the futon. Aoi hugs Kaoru, feeling relieved. But the futon that Kaoru is sleeping in suddenly starts moving. And who should appear from under the covers? Tina!
---
1x04 Living Together (May 01, 2002)
---
After being taken back home by Miyabi, Aoi comes back to Kaoru wishing to be together with him even if it means losing everything. "Please accept me, vows and all, and make me your wife, Kaoru-sama!" Suddenly Kaoru falls forward. Kaoru got soaked when he went to pick Aoi up in the pouring rain, and has come down with a fever. While taking care of Kaoru, Aoi rolls his shirt up to wipe the sweat, and is stunned by the numerous scars on his back. The scars bring back the horrible memory of life in the Hanabishi clan and the beatings his grandfather delivered with a stick while trying to force Kaoru to give up an omamori (charm). His grandfather hated the charm for the same reason Kaoru treasured it—it was a reminder of Kaoru's mother who had left the Hanabishi family. "S-Sorry, I know it's not a pretty sight to look at," says Kaoru, and tries to pull his shirt down. Aoi touches his scars tenderly and says, "I will take extra care in healing these wounds of yours over time." Aoi's tears drop onto Kaoru's back. They hold each other...
---
1x03 Separation (April 24, 2002)
---
"Excuse me... I would like to scrub your back so would you mind if I came in?" Kaoru is flustered by Aoi's sudden idea. He tries to push her away when she enters (wearing her clothes), but Kaoru steps on the soap, and both of them fall on the floor. Something soft touches Kaoru's hand and cheek. Kaoru is on top of Aoi, hands, unwittingly, on her breasts. When Aoi's scream shakes the whole apartment, the door opens and Aoi's caretaker, Miyabi Kagurazaki jumps in, looking furious. When she sees him naked and on top of Aoi on the floor, she throws Kaoru against the wall. "Lady Aoi, are you aware of the position that you've put yourself in?" Actually, Aoi came to Kaoru without telling anyone about it. Miyabi says that Kaoru, who left the Hanabishi, is no longer Aoi's fiancée, and tries to take Aoi back home. Aoi frees herself from Miyabi's grasp, and says to Kaoru, "I cannot imagine being with anyone other than Kaoru-sama...Won't you please reconsider returning to the Hanabishi? So that we can be together..." With Aoi's words, Kaoru is...
---
1x02 Supper (April 17, 2002)
---
It's decided that Aoi should stay at Kaoru's for the night, but he can't relax because it is the first time Kaoru had a girl at his place. He tells Aoi that there is only one futon, but she can use it and he will sleep on the floor. Then Aoi says, "I propose a compromise, Kaoru-sama. Instead, we can share it if you are willing. I don't mind at all..." To cool his head down, Kaoru goes outside. "She said she was my fiancée? I only knew her when she was a little child. But she is not a bad girl, and she is really cute..." But to accept Aoi, it means that Kaoru has to go back to the Hanabishi family, which he left behind. The bitter memories come back to Kaoru's mind...
---
1x01 Fate (April 10, 2002)
---
Kaoru Hanabishi is a university student and lives by himself. One day, on the way to his apartment, he meets a kimono-clad girl named Aoi Sakuraba, who appears to be lost in the train station. Pushed by the crowd, Aoi's sandal straps break, but Kaoru repairs it for her, surprising Aoi with his skill at such an old-fashioned technique. Afterwards, Kaoru takes her to the correct platform; it is the same way he is going. Aoi tells Kaoru that she came to see her fiancé, to whom she has been engaged for 18 years. Kaoru is impressed by Aoi's devotion to her fiancé. However, when they reach the address on Aoi's note, they find that it's just a vacant lot. Seeing Aoi so depressed, Kaoru asks her if she might have anything else that might lead to the guy. The only thing Aoi has is the old picture. "But it's just a childhood picture... Hm? Isn't this me and Aoi?" The fiancé that Aoi has been looking for is Kaoru, himself!
---