Largo Winch
Season 2
Largo Winch
Season 2
First Air Date: September 01, 2002

| | | |
| --- | --- | --- |
| First Aired on | : | 2002 |
| Episodes | : | 13 episodes |
Episodes
2x13 Time in a Bottle (April 03, 2003)
---
---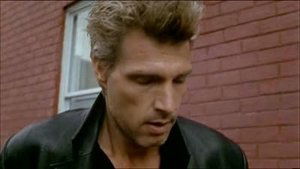 2x12 Errors of Commission (November 17, 2002)
---
---
2x11 Down on the Pharm (November 10, 2002)
---
Simon and Largo go camping but they get lost. They come across a beautiful house for sale in the town of Old River, CT. Largo falls in love with the house. The woman, who wanted to sell the house, was waiting for a customer. Largo and Simon asked to see this house, and immediately, Largo buys the house on a whim for $12 million. Unbeknownst to him, the neighbourhood has a high residency of Commission members, including his next door neighbour. When they go shopping, they help a young woman, Jacqueline Lindley, when she is attacked by thugs, who's also his next door neighbour's daughter. Buzzeti wants to conclude a partnership with Lucas Ramer, who doesn't co-operate. But when Largo invites him to a party for his new house, Ramer's mood begins to change for the better. Joy doesn't appreciate Largo's blow of heart. She speaks about it Simon and Kerensky, but when she sees that Largo will not change his mind, she gives up, and builds a new security system. Marissa goes to the Bunker to vi
---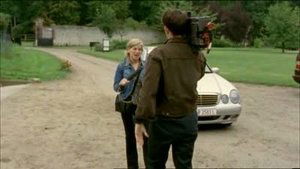 2x10 Rest and Relaxation (November 03, 2002)
---
---
2x09 Hot Property (October 27, 2002)
---
---
2x08 Killer Cardignac (October 20, 2002)
---
---
2x07 Scent of Suspicion (October 13, 2002)
---
---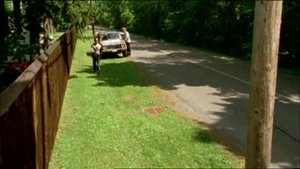 2x06 Psycho Killer (October 06, 2002)
---
Elektra Dane, a board member of Group W and the new director of entertainment department, is pushing for the company to buy a computer games firm. The company has created a violent virtual-reality game called 'Psycho Killer'. Largo likes the technology but he proposes to wait before they sign a contract with Magna Games. That evening, a man assaults Elektra, with a knife. Joy calls Largo, who comes to the 'crime scene' and proposes to take her back. Elektra then manages to convince Largo to visit Magna Games headquarters. Joy and Kerensky go to the crime scene to find clues. Kerensky was complains throughout the entire scene because he was forced to go out of the bunker, but he found the assailant's knife. Simon and Largo visits Magna Games with Elektra, and meets Magna Games' director, who promises Largo that he will tone down the violent scenes and says that he will create another version in 3 days. Largo and Elektra have lunch together, but Eugene, Magna Games' boss, is assassinated
---
2x05 Skin Deep (September 29, 2002)
---
Group W is sponsoring a beauty contest, to find the new face of the Ultimate Woman cosmetics. However, someone is threatening to harm the contestants, and Largo, if things do not go their way. A Columbian drug lord has links to one of the contestants. Joy gets to fill in when the Manhattan contestant drops out.
---
2x04 Cold Hearted (September 22, 2002)
---
One of Largo's business associates, Ethan Forest, has gone missing, during a trip to Russia. Largo and Kerensky fly to St. Petersburg to investigate. In the meantime, Joy and Simon discover that Sullivan has begun to use cocaine, provided from his younger girlfriend, Celeste. Largo gives money to a waiter, then Kerensky gives him oranges in a black briefcase. The man takes them immeadiately Ethan's room. Largo and Kerensky begin to uncover a scheme by a Russian mafioso/businessman to murder Western businessmen for their money - after they've married Russian girls they meet through an introduction agency. Largo and Kerensky meet a hostess, Cadmilla, at a ice rink. After a fight , Largo and Kerensky end up in prison. During their stay, Kerensky runs into a number of old acquaintences. Kerensky finds an old 'friend' that he put in jail when he was with the KGB. It's Largo's current girlfriend, CJ Flynn, a famous author in Russia, who bails them going out of prison. Simon meets Sullivan in
---
2x03 Love Hurts (September 15, 2002)
---
Largo, Simon and Joy are in Paris, investigating the theft of laser-guided components from one of Group W's labs. A local security firm, Securitek, was in charge of security, and works with them to figure it out. In the meantime, Joy meets a man at the shooting range, and goes on a date. However, Largo is still jealous, and can't help but show it. While in Paris, Joy and her father reunite, but not without difficulty and some anger on Joy's part. Charles Arden assists them in finding the culprits who stole the laser-guided components, and Joy has to let go of some of her anger.
---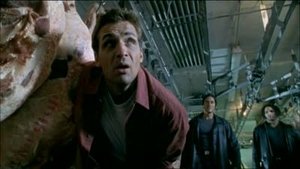 2x02 A Breed Apart (September 08, 2002)
---
Joy rushes to North Carolina to help her former husband, David Crossley, who, it seems, has stolen from Group W to repay a gambling debt. Crossley is the veterinarian at Group W's stallion farm in Versailles, North Dakota and is managing a program to breed champion horses through artificial insemination. Days before, Crossley had walked off with a vial of semen from a champion horse and a neighbouring rancher, who uses threats, blackmail and violence, is after it.
---
2x01 Bloodlines (September 01, 2002)
---
Nerio reappears in Largo's life, the apparent victim of a kidnapping. In the meantime, Joy and Largo are seeing each other a bit outside of Group W, and Largo is trying to convince Joy to come back to work for him. Simon meets up with Kerensky, and they end up having a shootout at an Asian restaurant. Kerensky comes back to work for Largo, and Simon apologizes for having suspected him of being the mole. Largo begins to realize that Nerio isn't really Nerio... and the trouble ensues. Jaeger comes to Joy's apartment (on the fake Nerio's orders) and takes her prisoner. She manages to alert Kerensky, and he comes to her rescue. Largo manages to foil Nerio's plans, and Nerio jumps down a ventilation shaft 64 floors up. Simon is made VP of International Relations (much to the shock of Cardignac!). Largo and Joy kiss in the penthouse, and are interrupted by Kerensky, who tells them that there was blood in the shaft, but no body... so Nerio's double could still be alive.
---