Hogan's Heroes
Season 4
Hogan's Heroes
Season 4
First Air Date: September 28, 1968

| | | |
| --- | --- | --- |
| First Aired on | : | 1968 |
| Episodes | : | 26 episodes |
Episodes
4x26 Happy Birthday, Dear Hogan (March 22, 1969)
---
To celebrate Colonel Hogan's birthday with a bang, his men plan to surprise him by blowing up a Nazi ammunition dump. But will the merry celebrants fall into an elaborate trap set by the Germans?
---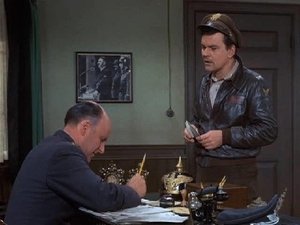 4x25 The Return of Major Bonacelli (March 15, 1969)
---
An Italian officer, who once studied under Colonel Klink, is the ideal candidate to assist Hogan and his men in a daring plan to photograph a new Nazi gun installation.
---
4x24 The Big Dish (March 08, 1969)
---
Hogan's latest mission: destroy an elaborate anti-aircraft defense system designed by a beautiful English woman who has defected to Germany.
---
4x23 The Witness (March 01, 1969)
---
Hogan is stunned to learn that the Germans are planning to send him to England, with a startling message for the Allied forces: surrender, or face the Nazis' "ultimate weapon."
---
4x22 The Purchasing Plan (February 22, 1969)
---
The race is on when Hogan and his men are ordered to collect air-dropped ammunition and distribute it to underground units widely scattered around the region.
---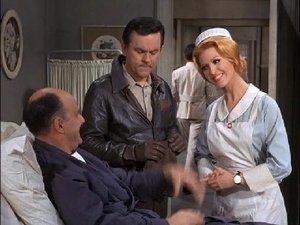 4x21 Up in Klink's Room (February 15, 1969)
---
Hogan must somehow get himself hospitalized so that he can get top-secret information from a wounded British agent who has been posing as a Nazi officer.
---
4x20 Klink's Old Flame (February 08, 1969)
---
The French underground is in desperate need of valuable radios, so Hogan decides to utilize Colonel Klink's former girlfriend to ensure the delivery of the equipment.
---
4x19 Watch the Trains Go By (February 01, 1969)
---
Hogan's plan to sneak out of Stalag 13 and blow up a German train hinges on getting General Burkhalter's lovelorn sister --- the marriage-minded Gertrude --- to distract Colonel Klink.
---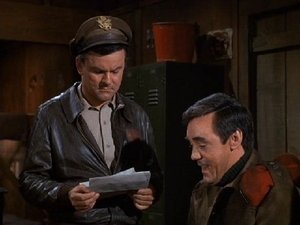 4x18 My Favorite Prisoner (January 25, 1969)
---
When Colonel Klink uses a beautiful baroness to try to wheedle secrets out of Colonel Hogan, he apparently falls under the femme fatale's charms. Or does he?
---
4x17 Operation Hannibal (January 18, 1969)
---
A German general is the mastermind behind a plan designed to prolong the war, so Hogan winds up working with the general's daughter in an effort to photograph the strategic documents.
---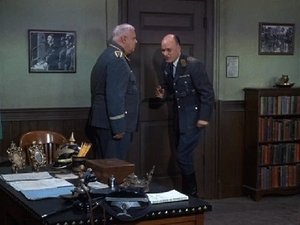 4x16 Who Stole My Copy of Mein Kampf? (January 11, 1969)
---
Hogan and his men plan to eliminate an allied defector, but complications ensue when their target turns out to be a beautiful woman.
---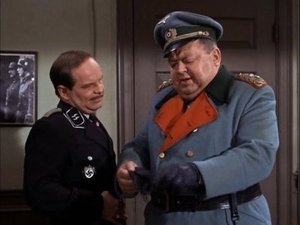 4x15 The Missing Klink (January 04, 1969)
---
Hogan's scheme to kidnap General Burkhalter and trade him for an underground agent goes awry when Colonel Klink --- not the general --- is the one who gets kidnapped.
---
4x14 Man in a Box (December 28, 1968)
---
Hogan is ordered to capture an "escaped" Corporal Louis LeBeau --- but in a manner that will ensure LeBeau's completion of an espionage caper.
---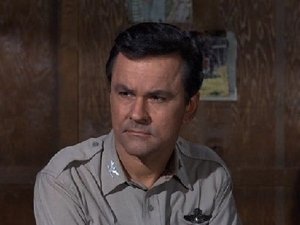 4x13 Will the Real Colonel Klink Please Stand Up Against the Wall? (December 21, 1968)
---
The hapless Colonel Klink lands a date with a German firing squad after Sergeant Carter, disguised as Klink, is spotted at a sabotage site.
---
4x12 Will the Blue Baron Strike Again? (December 14, 1968)
---
Can Hogan locate the secret German air base commanded by a World War I flying ace known as the Blue Baron? Yes --- by convincing Colonel Klink to throw a party for the famed aviator.
---
4x11 Bad Day in Berlin (December 07, 1968)
---
Hogan and his men join forces with an undercover agent and steal away to Berlin to nab a German defector who can compromise their entire operation at Stalag 13.
---
4x10 No Names Please (November 30, 1968)
---
Shortly after Hogan helps a journalist escape to freedom, the Germans are amazed to read an American newspaper story about a sabotage-and-subterfuge unit hard at work right under their noses at one of their POW camps.
---
4x09 Guess Who Came to Dinner? (November 23, 1968)
---
After making arrangements to send her to England, Hogan begins to worry that his beautiful underground contact, Heidi, might actually be a double agent.
---
4x08 Color the Luftwaffe Red (November 16, 1968)
---
How will Hogan steal an important, strategic map from the Germans? By underbidding all competitors for the contract to paint the offices of Luftwaffe headquarters.
---
4x07 Never Play Cards with Strangers (November 09, 1968)
---
Hogan dispatches Sergeant Kinchloe on a mission to warn Newkirk and Carter that the duo's mission to dynamite a newly-established Nazi rocket fuel installation could blow up in their faces.
---
4x06 Man's Best Friend is Not His Dog (November 02, 1968)
---
A canine caper is off and running when a dog buries a bone containing photographic images of a new German tank that Carter had taken with his camera.
---
4x05 To the Gestapo with Love (October 26, 1968)
---
Is love blind? Three beautiful German girls arrive at Stalag 13 and set the men's hearts beating faster --- but their mission is designed to pry secrets out of the love-struck POWs.
---
4x04 Hogan's Trucking Service ... We Deliver the Factory to You (October 19, 1968)
---
The clumsy and annoying Colonel Crittendon inadvertently messes up Hogan's plans to destroy a German ball-bearing plant.
---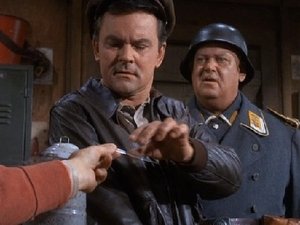 4x03 How to Catch a Papa Bear (October 12, 1968)
---
Colonel Hogan innocently sends Corporal Newkirk off on a mission to rendezvous with an ally --- unaware that the meeting is a trap set up by the Gestapo.
---
4x02 Klink vs. the Gonculator (October 05, 1968)
---
When Sergeant Carter constructs an amazingly complicated rabbit trap, a suspicious Colonel Klink comes to believe that the contraption is a secret electronic spying device.
---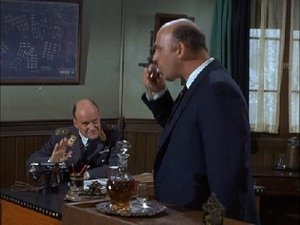 4x01 Clearance Sale at the Black Market (September 28, 1968)
---
It appears Sergeant Schultz will be shipped off to the Russian front after he accidentally interrupts a black market meeting. If he goes, Colonel Hogan will lose his courier of secret messages between Stalag 13 and a female spy.
---