Ӕon Flux
Season 3
Ӕon Flux
Season 3
First Air Date: August 08, 1995

| | | |
| --- | --- | --- |
| First Aired on | : | 1995 |
| Episodes | : | 10 episodes |
Full length episodes with a continuing story.
Episodes
3x10 End Sinister (October 10, 1995)
---
Trevor has designed a satellite, Aldis B which will help speed up the evolution of humanity but could also kill off half the living population of the Earth. Æon, determined to stop Trevor from using the satellite, steals and buries the remote. Æon, avoiding the search parties, finds a hibernation pod holding a strange alien with removable eyes, psionic abilities. The alien does not breathe, eat or have genitals. The Alien is captured by one of the search parties but saves Æon when one of its captor throws a fire bomb. Trevor examines the Alien and sees signs of exposure to Aldis B. Trevor heads off to find the alien's ship. The Alien escapes and follows him, finding both Trevor and Æon at the ship. Aldis B has killed off everyone on the ship leaving only the alien who had been awaiting rescue in its pod. Æon and Trevor make love in the ship while the Alien watches. The next day, the Alien finds Æon and offers her one of its own eyes but Æon refuses. Æon offers to show the Alien human sexual pleasure ...
---
3x09 The Purge (October 03, 1995)
---
The episode opens with Æon chasing Bambara, a vicious man who frequently causes injury or death to those he encounters. Æon, ignoring his victims, pursues him through a train and onto a building site. Bambara escapes Æon killing a construction worker in the process but is captured by Trevor Goodchild. He inserts a strange robot into Bambara through the man's navel and he suddenly loses his darker side, becoming friendly to those around him and quickly befriending an orphan. Trevor says the robot is a 'Custodian', an artificial conscience of his creation which he hopes to implant in all citizens. Æon then meets up with an organization of women who are opposed to Trevor's project who are planning to remove the implanted Custodians and bring the operation to an end. Æon goes after Bambara's Custodian ....
---
3x08 Ether Drift Theory (September 26, 1995)
---
Æon and fellow agent and friend Lindze infiltrate a secret base called the Habitat, a place where mutants and artificial lifeforms live in a stable environment surrounded by a sea of liquid which induces paralysis in any lifeform exposed to it. Lindze and Æon are there both to rescue Lindze's boyfriend and to destroy the facility. Soon after they arrive, Trevor and one of his human experiments arrive, destroying Æon's ship in the process though the experiment is quickly subdued by a swarm of metal-sensitive wasps. It turns out that Lindze's lover, a scientist named Bargeld, is sick from an artificial disease and may have developed a way of changing the composition of the paralyzing fluid around the base ...
---
3x07 Chronophasia (September 19, 1995)
---
This episode begins with Æon lying on a stone slab, waking from a dream where she was screaming. We then flash back to earlier where Æon and Trevor are making their individual ways to a Breen research base researching an ancient virus that apparently causes insanity and formed a basic part of early humanity until humans developed an immunity. Æon is cornered by the Breen soldiers near the base but is sucked down and finds that although the base has been there for under a month, it looks like it has been derelict for centuries. There, Æon finds a young boy who guides her through the base and eventually shows her a vial of virus, the only intact vial out of a set of five. There is also a giant fanged baby, apparently the first test subject for the virus, stalking the caves ....
---
3x06 Reraizure (September 12, 1995)
---
At the start of the episode Æon is preparing to penetrate a Breen prison disguised as a guard. In the prison, Trevor is keeping compromising photographs of himself and Æon having sex with the price of their return being a Narghile. Narghiles are a mysterious controlled species, apparently immortal, that produce a memory-wiping drug called 'Bliss'. During her escape, Æon runs into a female prisoner called Muriel killing her in self defense after mistaking her for a guard. As Æon escapes, she encounters and leaves with a Monican called Rordy ...
---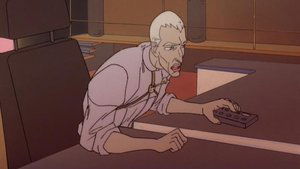 3x05 The Demiurge (September 05, 1995)
---
The story starts with a battle between Monican agents and Breen forces. Æon and the Monicans had captured an astral being called the Demiurge which is threatening to dangerously warp people's view of the world and are preparing to launch it into space aboard a rocket. Trevor is determined to stop them believing that the Demiurge will ensure a lasting peace for humanity. The Demiurge instills parts of itself in earthly Avatars: a cat, a bird and a resurrected Monican agent named Nader before the rocket launch is attempted ....
---
3x04 A Last Time For Everything (August 29, 1995)
---
As the episode starts, Goodchild has perfected a method of copying humans. Determined to put an end to the operation, Æon and a fellow agent, Scaphandra who is a double-agent for Bregna, cross the border into Bregna. Scaphandra has lost parts of her feet during a previous crossing and has had hands transplanted to replace the missing parts of her feet. As Æon rushes towards Trevor's base of operations, Scaphandra is captured and taken to Trevor Goodchild who takes a sample of her for copying. Æon comes in, frees Scaphandra and tackles Trevor about the ethics and inner purposes of his operation. Deliberately presenting an opportunity for Trevor, Æon allows him to take a sample of her though Æon smashes Scaphandra's sample. After Æon leaves, Trevor copies Æon for himself. It is revealed to be a complex plot by Æon to ...
---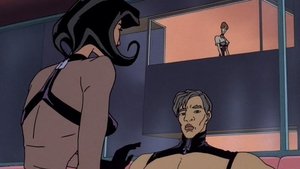 3x03 Thanatophobia (August 22, 1995)
---
The episode starts with a pair of boys play-fighting while another claps to mimic the sound of heavy punches. That boy later flicks a pebble into the path of one of the border turrets activating it and watching the resulting spectacle. Trevor Goodchild is being pressured by the government into making the border more intimidating, despite his desire to make people stay in Bregna through the 'power of ideas'. To this end, he secretly allows Æon to come in and bomb the factory where the parts for the wall are being made. In a parallel and intertwined storyline, two Breen lovers, Onan and Sybil, seek to escape from Bregna into Monica through a gap in the frontier ...
---
3x02 Isthmus Crypticus (August 15, 1995)
---
Trevor has a pair of humanoid birds called Seraph-Trevs held captive, a Male and Female. Trevor is attempting to seduce the Female. Meanwhile, another scientist named Ilbren is planning to have his way with the Female even going as far as trying to employ Æon to capture the Female offering the Male in return. Their meeting is interrupted by a mechanical tentacle which Ilbren fends off with a swarm of robot wasps. The Male Seraph-Trev is securely held in a separate cell and reduced to a state of abject misery by the separation from his mate. Æon plans to free them from Ilbren and Trevor's designs and to do so she employs an old friend of hers, Una, to translate directions to the Birds' chambers. Una is a social misfit like Æon and has apparently fallen in love with the Male Bird ...
---
3x01 Utopia or Deutoronopia (August 08, 1995)
---
In the episode, Æon has infiltrated Bregna at a time when Trevor Goodchild has accepted power 'temporarily' from the kidnapped chairman Clavius. Trevor quickly enacts a policy of 'complete openness', installing cameras all across Bregna which gives him ultimate control over the people. Gildemere, a Breen soldier loyal to Clavius, is plotting against the new Chairman guessing rightly that Trevor was the mastermind behind the kidnapping. Trevor's reasons for the coup are two-fold; he gains ultimate power in Bregna, and uses Clavius' body to create an isolated place locked with a strange ornate key ...
---